Reliable Plumber in
Waltham, MA
$199 Automatic Water Shut-Off System Prevent water damage during emergencies.
Get $100 Off Whole-House Water Filters. A Cleaner Tap Every Time
We Are Waltham's Go-To Plumbing Company!
When it comes to finding the finest residential and commercial plumbers in town, New Era is your friendly neighborhood plumbing company with over 15 years of industry experience! Our team of plumbing contractors is dedicated to delivering dependable solutions to the wonderful residents of Waltham. From emergency plumber services to garbage disposal repair and drain cleaning, we've got you covered!
In need of urgent air duct cleaning? Our 24-hour plumbers are here to assist you, day or night, all throughout the Waltham community. And if you're planning a grand bathroom transformation, count on us for expert shower installations and toilet replacements!
So, the next time you're seeking trustworthy residential and commercial plumbing contractors with experience in the Waltham area, turn to New Era. We're prepared to handle all your plumbing needs with professionalism and a genuine smile!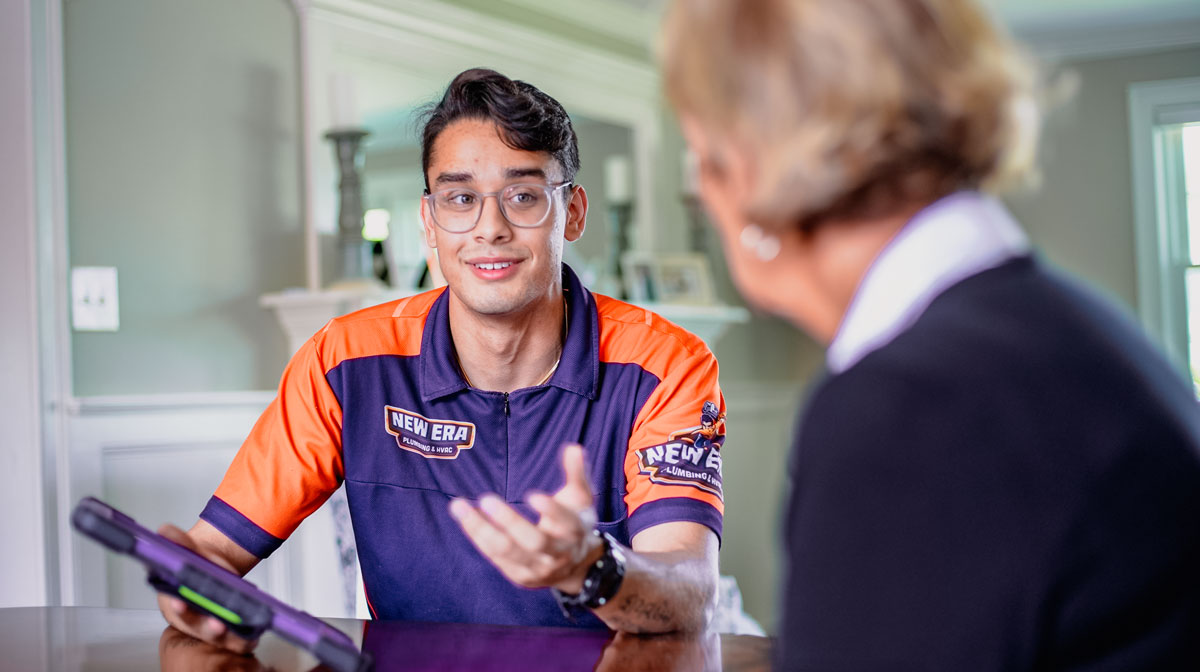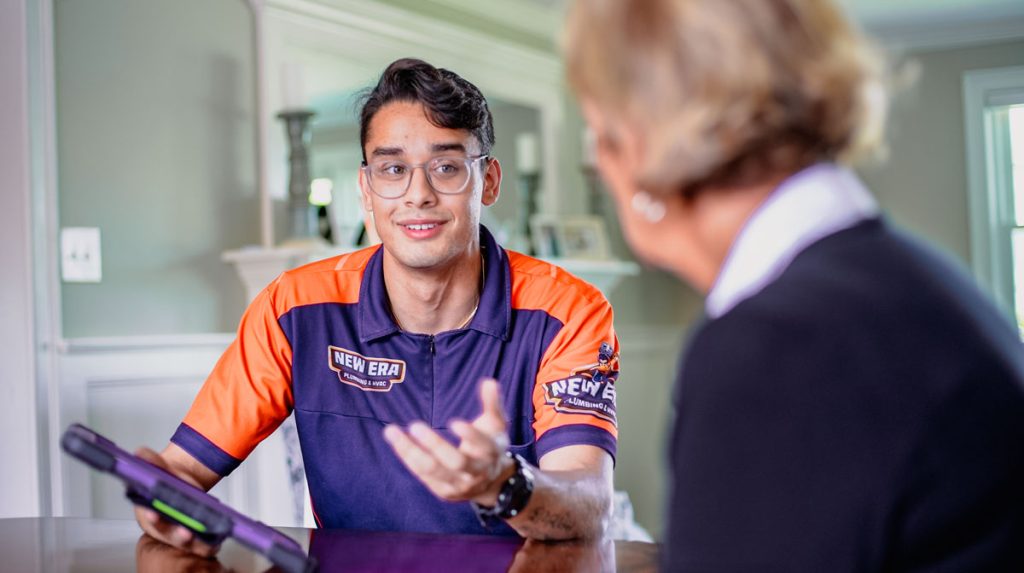 Common Questions About Waltham Plumbers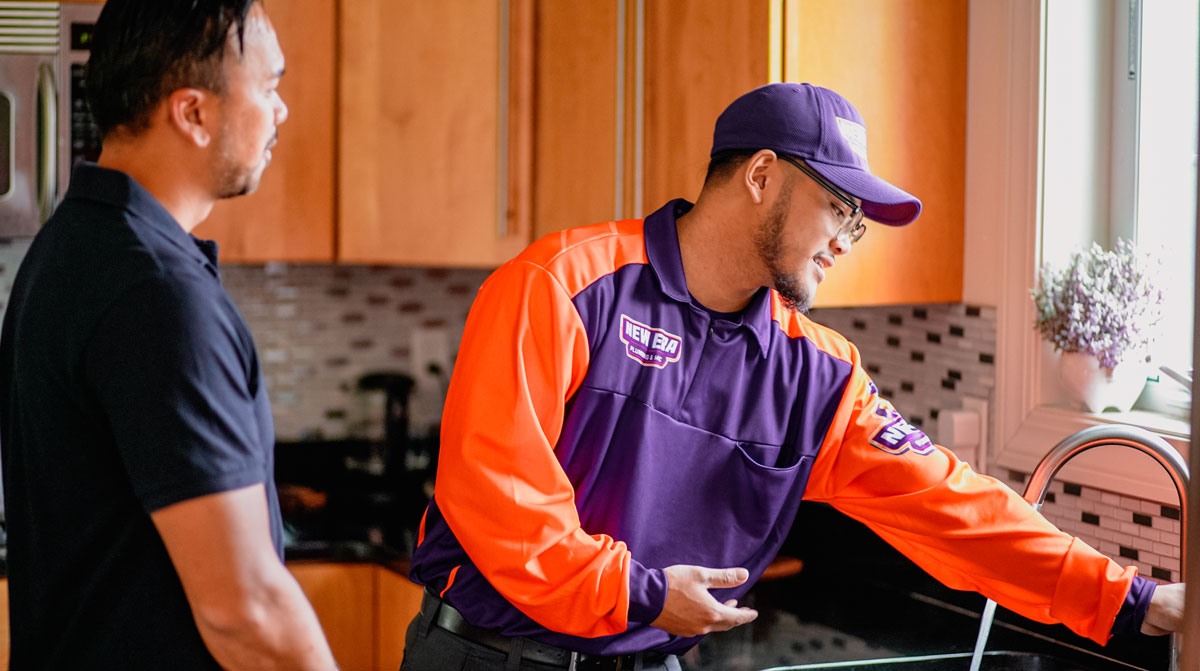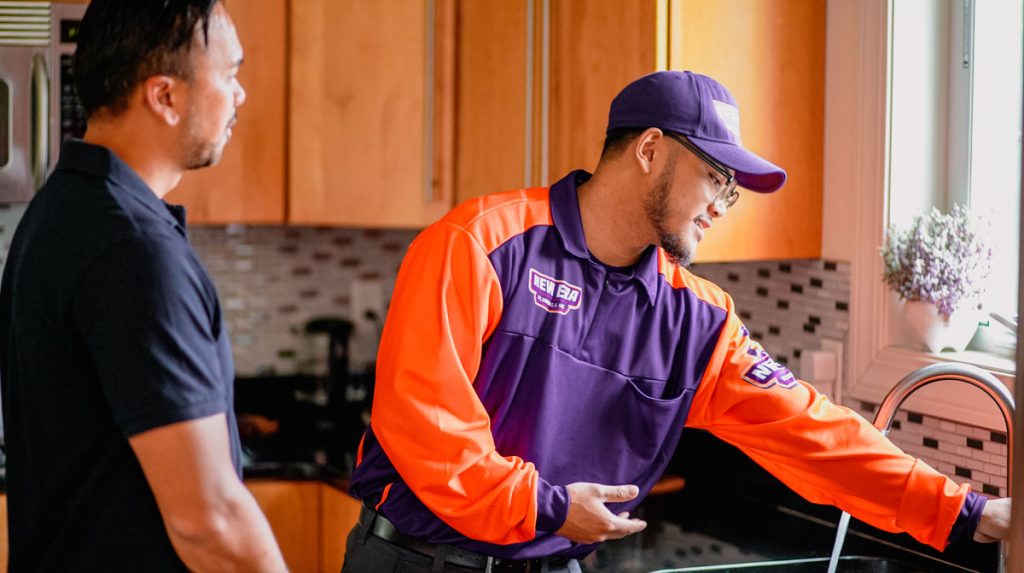 Comprehensive Plumbing Services For the Waltham Community
As one of the leading residential and commercial plumbers in Massachusetts, New Era delivers high-quality services to keep your home and business running smooth. Our plumbing contractors are always there for you, ready to fix any plumbing repair or tackle any installation in and around the Waltham area.
Need an emergency plumber during odd hours? No problem! Beautifying your kitchen or bathroom? Our plumbing fixture installation is the best you'll find, guaranteed. Concerned about leaks? Our plumbing leak detection service is as efficient as it gets.
Think big? So do we. With our trenchless sewer repair and sump pump installation, any commercial plumbing job too, we'll get it done with minimum fuss, maximum efficiency.
From tub installations to faucet repairs, we're your go-to guys. So, for your next plumbing need in and around Waltham, think New Era – Massachusetts' choice for reliable commercial and residential plumbers!
Reliable Residential Plumbing For Your Waltham Home
For efficient residential plumbing in Waltham, look no further than New Era! Our highly skilled plumbing contractors are ready to turn your home into the place of your dreams. Here are just a few of the plumbing services we offer to our Waltham neighbors:
Plumbing fixture installation: We'll dial up the style and function in your home, no sweat.
Sump pump installation and replacement: Your basement tends to flood? We're on it.
Shower replacement and setup: Longing for a tranquil retreat? We'll morph your bathroom into an oasis.
Drain cleaning: Because no one likes a clogged drain, right?
Air duct cleaning: Breathe easy, we've got this one covered too.
Garbage disposal services: From installation to repair, we keep things running smoothly.
We're not just your neighborhood plumbing company – we're your friends, and we're all about building lasting relationships while providing Massachusetts with stellar residential plumbing services. Here at New Era, it's not just about fixing pipes, it's about making lives better!
Our commercial plumbers are the ideal partners for your business
Our seasoned commercial plumbing contractors deliver a wide array of services to ensure that your business operation runs smoothly. Here's the lowdown:
Looking to rev up your commercial system? Our plumbing system upgrades take performance and cost-saving to the max.
Want to keep your water supply safe? Count on our backflow preventer installation and repair service.
Need a facelift for your property? Our plumbing fixture installation and replacement will do just that, and then some.
Gas line giving you the jitters? No worries, our gas line installation and repair service is all about safety and efficiency.
And how about keeping those sudden glitches at bay? Our regular maintenance services are the preventative medicine your business plumbing system needs to stay in tip-top shape.
Whether you're a bustling restaurant or a sleek office building, our commercial plumbers tailor their expertise to fit your unique needs.
Drain Cleaning? Garbage Disposal Installation? We Handle It All!
At New Era, we're the folks you want for specialized commercial and residential plumbing jobs like tub installation, toilet replacement, drain cleaning, and yes, even garbage disposal replacement. Here's how we roll:
First, we get to the bottom of the issue. Whether it's installing a brand-new shower or giving a thorough air duct cleaning, we don't just skim the surface.
Next, our expert plumbers whip up a solution custom-made for your specific problem. We weigh up what's needed pronto and what fits your budget to bring you the best results.
And finally, the fun part – getting it done! We're all about precision and efficiency, causing minimal disruption. With our arsenal of high-tech gear, we deliver a smooth, hassle-free service from start to finish.
So, whether it's transforming your bathroom or giving your piping system an upgrade, trust the folks at New Era, Waltham's trusted plumbing contractors. We're all about bringing that professional touch!
For drain cleanings and more, be sure to check out what special promotions we are currently offering.
24-hour Emergency Plumbers At Your Service
Like anywhere else, life in Waltham can be unpredictable. You never know when you might need emergency plumber services. Thankfully, the Waltham community can count on New Era's 24-hour plumbers. They are always ready to dive into action, any time of day or night.
Need urgent drain cleaning or facing a sudden plumbing leak in and around Waltham? New Era's plumbers are all over it. Our ace team of plumbing contractors knows the importance of quick action to keep damage and repair costs to a minimum.
But you know what makes New Era special? We're not just about the nuts and bolts. We're a plumbing company with a big heart, where every customer and every employee is a part of our extended family. We genuinely care about our Waltham community, which means we put your safety, comfort, and peace of mind at the forefront of all we do.
So, whether you're caught up in a residential plumbing emergency, or your business needs a swift hand from a skilled commercial plumber, remember – New Era's 24-hour plumbers have got your back.
At New Era, we don't see emergency plumber calls as a problem – it's our opportunity to be there for our community when they need us most!
Why Choose a New Era Plumber?
At New Era, we're not just plumbers, but part of the fabric of Waltham, MA. We're a plumbing company that genuinely values its community.
Whether it's a quick surprise plumbing hiccup, a total shower replacement, or a routine professional air duct cleaning, New Era's team of residential and commercial plumbing contractors are the pros you need. Our services cover everything from sharp gas leak detection to smooth garbage disposal repairs.
But what really sets New Era apart are our more than 600 5-star reviews – a true testament to commitment and unmatched professionalism. It's not just about fixing pipes for us, we strive to make a difference in Waltham's community with every job we nail.
With New Era, you're not just getting plumbing solutions – you're starting a lasting relationship, based on trust and quality service.
And for shower replacements and more, be sure to check out our latest promotions.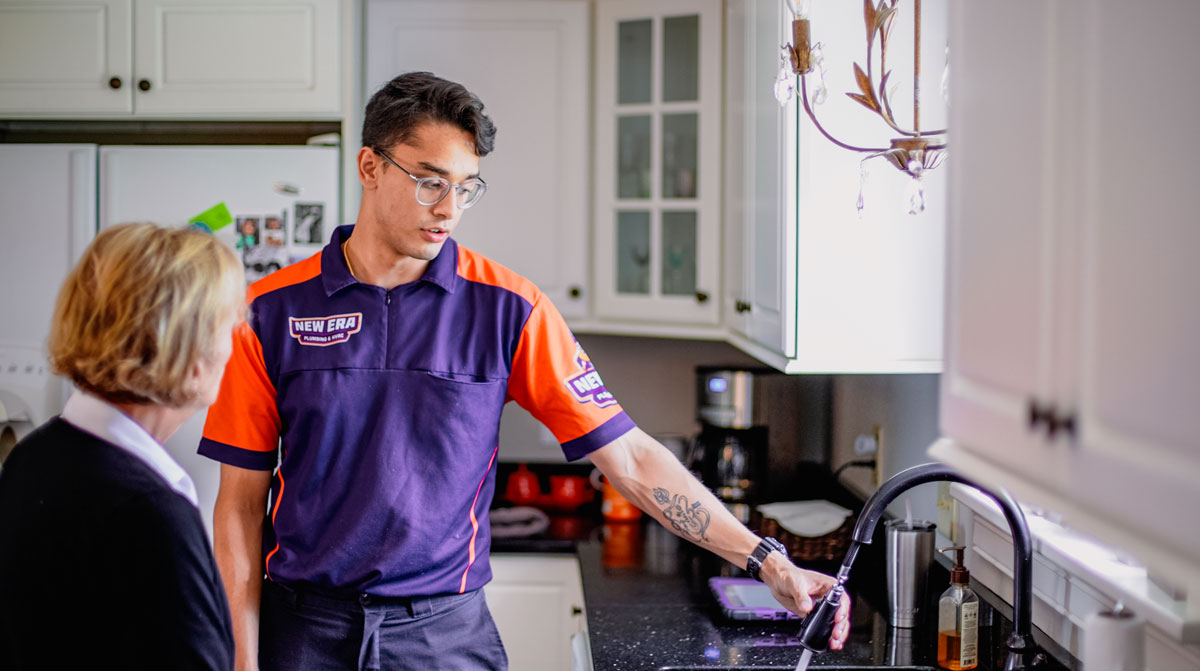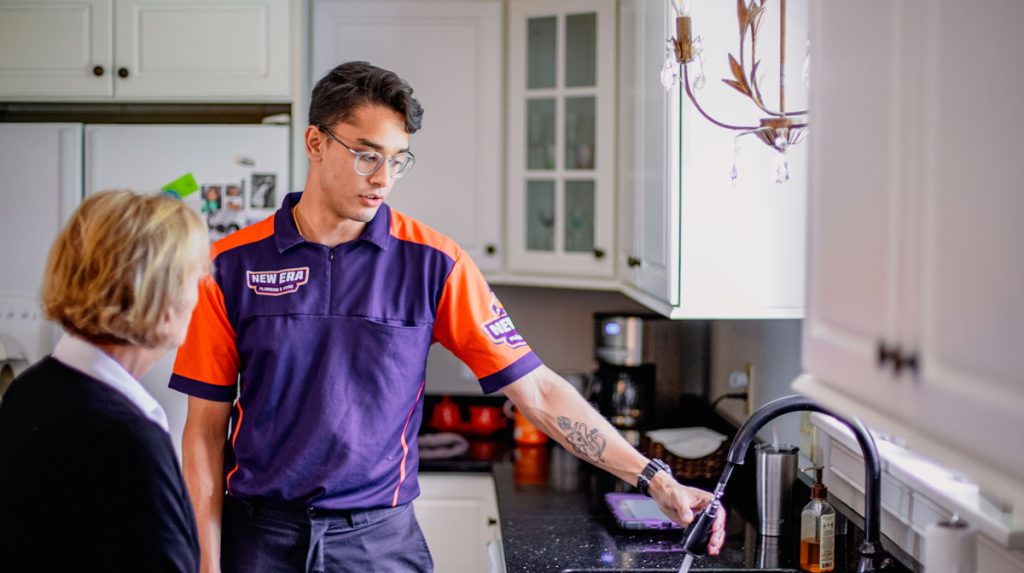 Other services in Waltham, MA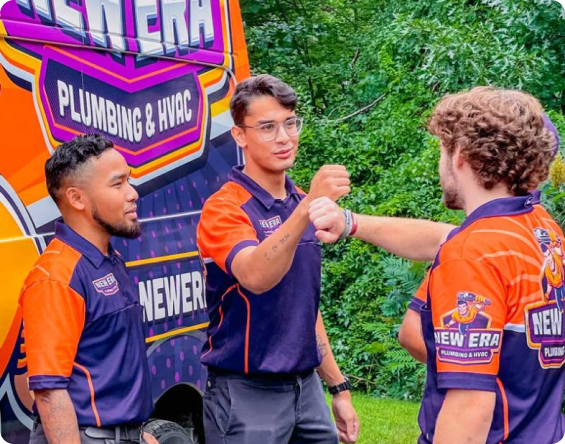 Top-Notch Plumbing Services Near Waltham, MA
Got a plumbing hiccup? Don't sweat it, New Era is the real deal in Waltham! Our trusted 24-hour plumbers are just a phone call away, ready to tackle anything from a simple faucet repair to a top-tier shower installation.
Experience a new level of service with a plumbing company that truly cares about our community. Reach out to New Era today for reliable, fast, and budget-friendly plumbing solutions. You won't be disappointed!
Acton
Amesbury
Andover

Burlington
Chelmsford
Concord
Georgetown
Haverhill
Lawrence
Pelham
Rowley
Salem
Tyngsborough
Westford
Windham