AC Compressor Replacement
Serving Dracut, MA residents for 15+ years!
AC Compressor Replacement
#1 AC Compressor Replacement in Dracut, MA, with Over 600 5-Star Reviews
New Era Plumbing & HVAC is your go-to provider for AC compressor replacement in Dracut, MA — call us today(978) 593-2294!
As summer rolls around the corner, you'll want to ensure your air conditioner is working in top condition. AC malfunctions, such as a broken air compressor, can cause indoor temperatures to become uncomfortable. 
If you need AC compressor replacement in Dracut, MA, look no further. Our team at New Era Plumbing & HVAC has helped hundreds of homeowners with their AC compressor problems. Our experienced team can work with any modern HVAC system and provide quality services at an affordable price.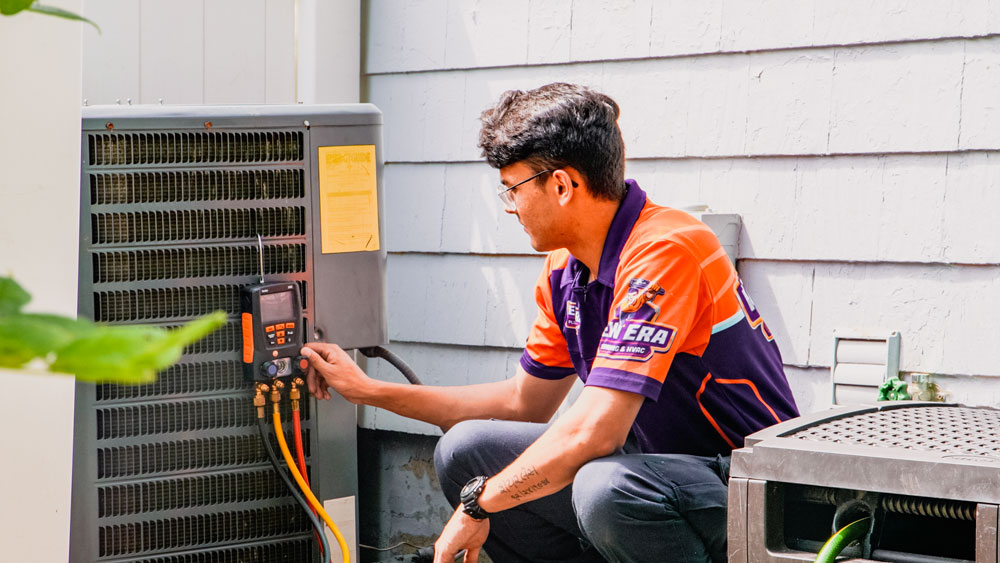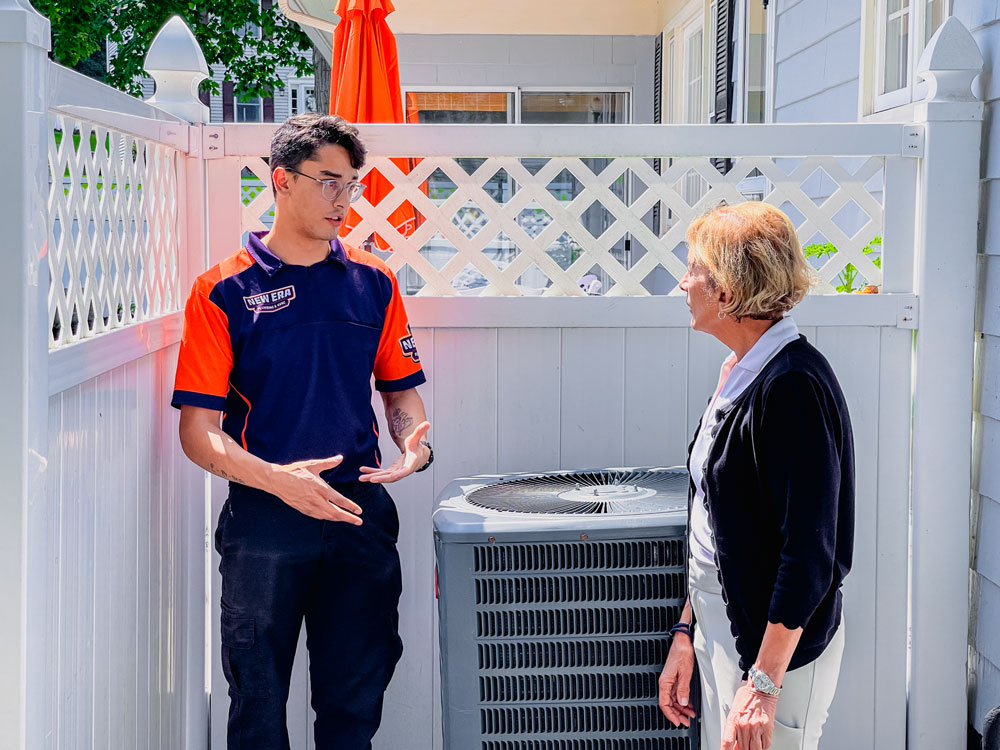 Functions of AC Compressor
How Does an AC Compressor Work?
AC compressors pressurize coolant fluid into a liquid so it can extract heat, creating the cold air your AC unit distributes through your home. Without a working compressor, your AC system has a hard time producing cold air. There are several types of AC compressors, but they all work the same way—they draw in air to pressurize AC refrigerants. 
Below is a list of the most common types of AC compressors:
Reciprocating compressors

contain a small cylinder that moves up and down to pressurize the chamber. These are the oldest and most efficient types of compressors but are prone to failure. 

Rotary compressors

have a rotating blade that moves around an internal shaft. As the blade rotates, it pushes air into the chamber, compressing it. Rotary compressors are very quiet and do not vibrate as much as other compressors. 
Screw compressors

have a series of helical screws that turn against one another to move air. Screw compressors are very powerful and reliable, so they are most common in industrial applications. 
Free replacement
estimate
Furnace replacement as low as $5,500.*Price may vary depending on the system. Terms and conditions apply. Contact us today for a personalized quote tailored to your specific system needs.
Signs of a Bad AC Compressor
If you notice any of the following symptoms, you should call a professional to discuss AC compressor replacement.
AC Compressor Replacement Cost
So how much does it cost to replace AC compressors?
According to HomeGuide, the national average AC compressor cost is $1,900, with most homeowners paying between $1,300 and $2,000. The total cost depends on the size and placement of your HVAC system. We understand that AC repair costs can concern any homeowner, so we strive to offer affordable and competitive pricing, so you can get the services you need without breaking the bank. 
AC Compressor Not Turning On? Call the Pros!
Our New Era Plumbing & HVAC team has several years of experience serving homeowners in Dracut, MA. We hold our work to an incredibly high standard and dedicate ourselves to providing 100% customer satisfaction. Fill out our contact form or give us a call today at (978) 593-2294 to schedule an AC compressor replacement!