Whole Home Water Filtration
Serving Dracut, MA residents for 15+ years!
whole home water filtration
#1 Whole-Home Water Filtration Company in Dracut, MA, with Over 600 5-star Reviews
Improve your water quality with one of our water filtration systems. Contact us at (978) 593-2294 to find out which system works best for your home.
While local water treatment facilities effectively remove many contaminants, they don't eliminate all of them. So our goal is to help households in Dracut, MA, and surrounding areas obtain the cleanest tap water possible. Professionally installed water filtration systems help us achieve that.
If you've ever wondered what your water contains, our plumbing technicians at New Era Plumbing & HVAC can help you find out. We can also help you choose a water filtration system that best suits your needs. Contact us at (978) 593-2294 to learn more about our whole-home water filtration solutions.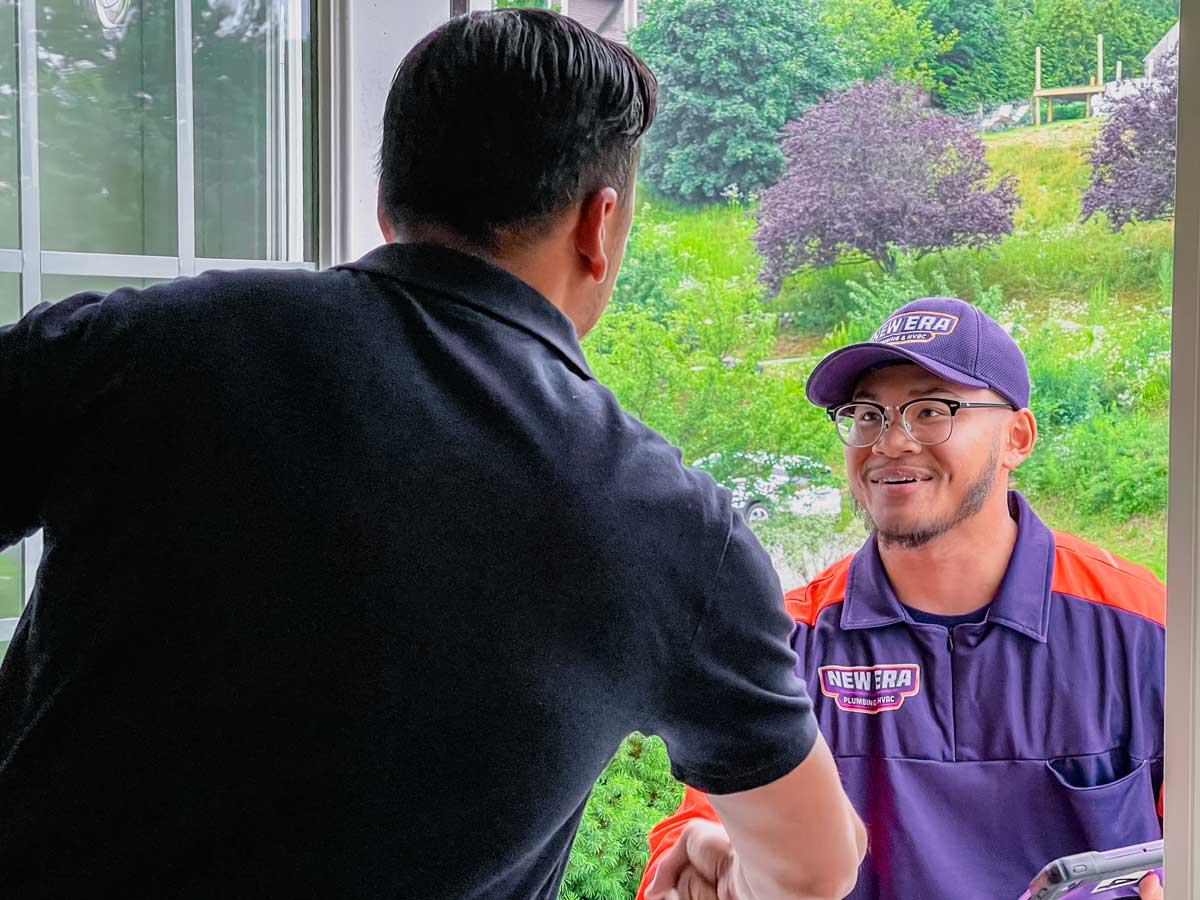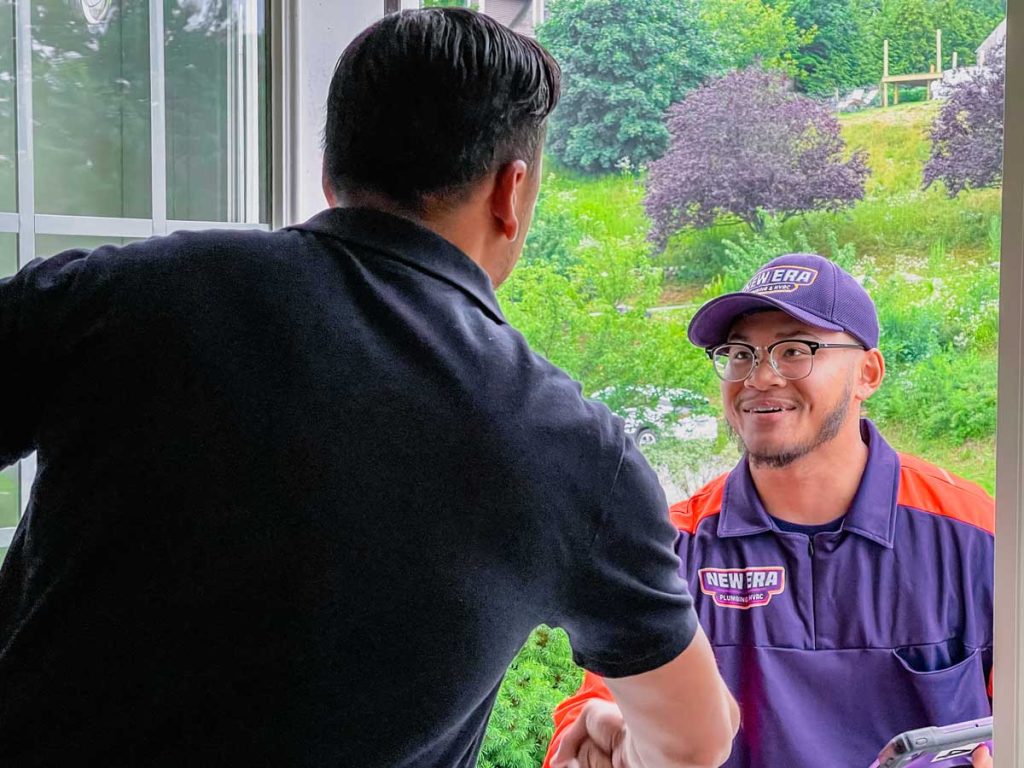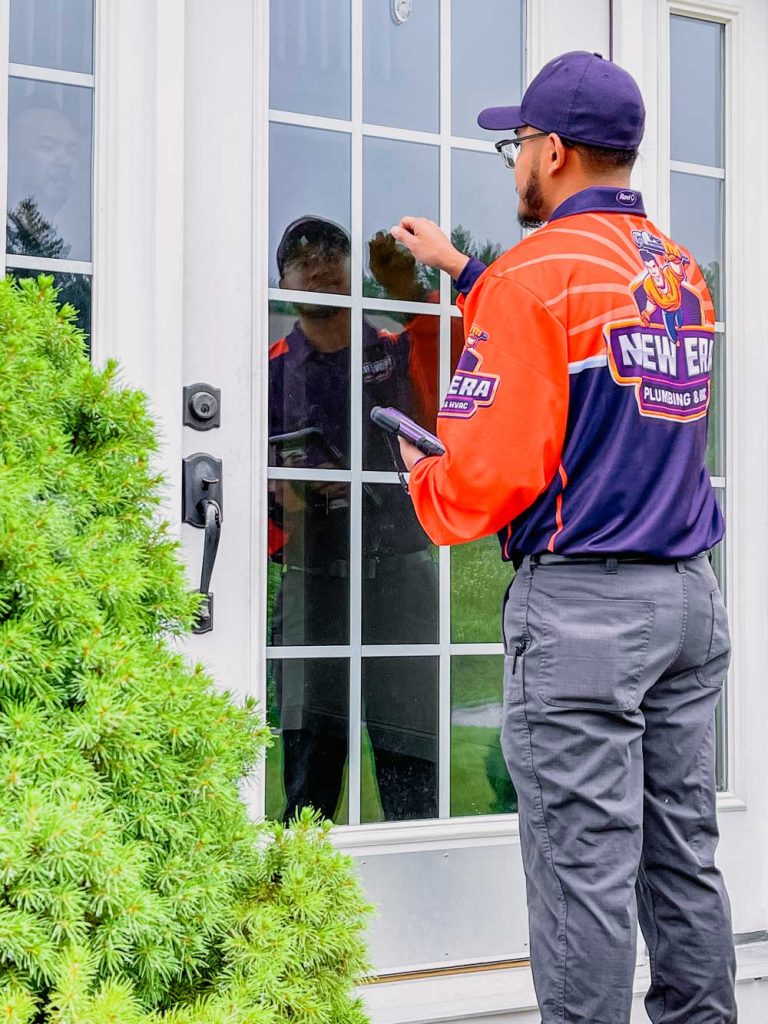 Signs You Need a Water Filtration System
Like many homeowners, you probably don't give your tap water much thought. You grab a glass, fill it up, and quench your thirst. As preferred filtration experts in Dracut, we know what substances public water treatment might leave behind.
In homes that lack a filtration system, we often notice the following issues:
A chalky, white film on clear glassware
Mineral buildup on shower heads, faucets, and hot water heaters
Limescale and soap scum in sinks, bathtubs, and showers
Tap water with an unpleasant aftertaste
Clothes that still appear unclean after a wash
This happens because minerals and other particles prevent soaps and detergents from lathering and rinsing cleanly. These particles stay behind and stick to your belongings, which causes unsightly stains and crusty buildup.
Fortunately, we can recommend an excellent, cost-effective solution. Personal water filtration comes with numerous advantages.  
Free replacement
estimate
Need Boiler Repairs? Get $100 OFF!
The Advantages of Water Filtration Systems
The water treatment process doesn't eliminate all harmful microbes and particles from your drinking water. Under most circumstances, water treatment removes just enough to maintain drinkable tap water. However, a home water filtration system can remove the following remaining particles from your drinking water:
Radioactive elements derived from soil and rock runoff
Minerals and metals that negatively impact your health
Chemicals used in pesticides, fungicides, and herbicides
Bacteria, viruses, and parasites that resist treatment chemicals
Once we install your new filtration system, you'll notice your tap water tastes cleaner, and dish and laundry cycles are more effective at removing residue. Plus, major plumbing components, such as hot water heaters, pipes, and drainage systems, last longer. Since water filtration systems remove hard minerals, those minerals won't clog your plumbing system. 
Our Home Water Filtration Services
We offer comprehensive filtration services to ensure you select the best system and have access to continued maintenance and repairs to ensure its longevity. We designed each service to ensure you and your family enjoy the best, healthiest water quality. Our process begins with an in-depth water quality analysis. 
After you request more information about home filtration, our technicians will visit your home to perform a water quality analysis. This analysis helps us determine what your water contains and which type of system you'll need. We'll test for the following contaminants:
Bacterial, ferric, and ferrous irons
Minerals like calcium, manganese, and magnesium
If we discover sufficient levels of these solids in your water, we'll recommend installing a water filtration system. We also use analyses to ensure your filtration system works properly. 
After a complete water analysis, we'll have a better idea of what type of system your home needs. You can choose high-performance systems that leave your water pure and crisp or a more economical option that fits your budget.
Our installation process typically takes four hours or less, depending on the type of system you choose. Our technicians will ensure the filtration aligns perfectly with your plumbing system's connections. You'll enjoy the freshest water you've ever tasted on the same day as our installation. 
Every three to six months, you should schedule our maintenance services to ensure your filtration system works properly. We'll use a water quality analysis to determine whether you need a new filter. If you do, we'll replace it.
If you don't switch the filter regularly, issues like dull clothes, streaked dishes, and dry, irritated skin and hair will return. 
Types of Water Filtration Systems
You can select a filtration system based on your water quality analysis results. Some of the most commonly used filtration systems include:
PH neutralizers 

Chemical filters
While some filters remove a combination of particles, others only filter certain particles. 
Reputable Services That Improve Your Home from New Era Plumbing
Drinking tap water can be a refreshing experience with effective water filtration systems. If you want to have more confidence in your water, call our New Era Plumbing & HVAC team at (978) 593-2294  to schedule a water quality analysis.