Serving Dracut, MA residents for 15+ years!
Enjoy a Beautiful, Functional Kitchen Space
Transform Your Kitchen with Expert Kitchen Plumbing Solutions
Welcome to New Era Plumbing & HVAC, your trusted partner in kitchen plumbing services. With over 15 years of experience, our dedicated team has been serving the communities of Hudson, Pelham, Salem, and Windham, New Hampshire, providing top-notch plumbing solutions for a variety of kitchen needs.
We take pride in our commitment to the community, and our mission is to help you enjoy a beautiful, functional kitchen space without any hassles. Whether you need a fixture upgrade or a complete kitchen plumbing overhaul, our professional technicians have got you covered. Let us help you transform your kitchen into the heart of your home!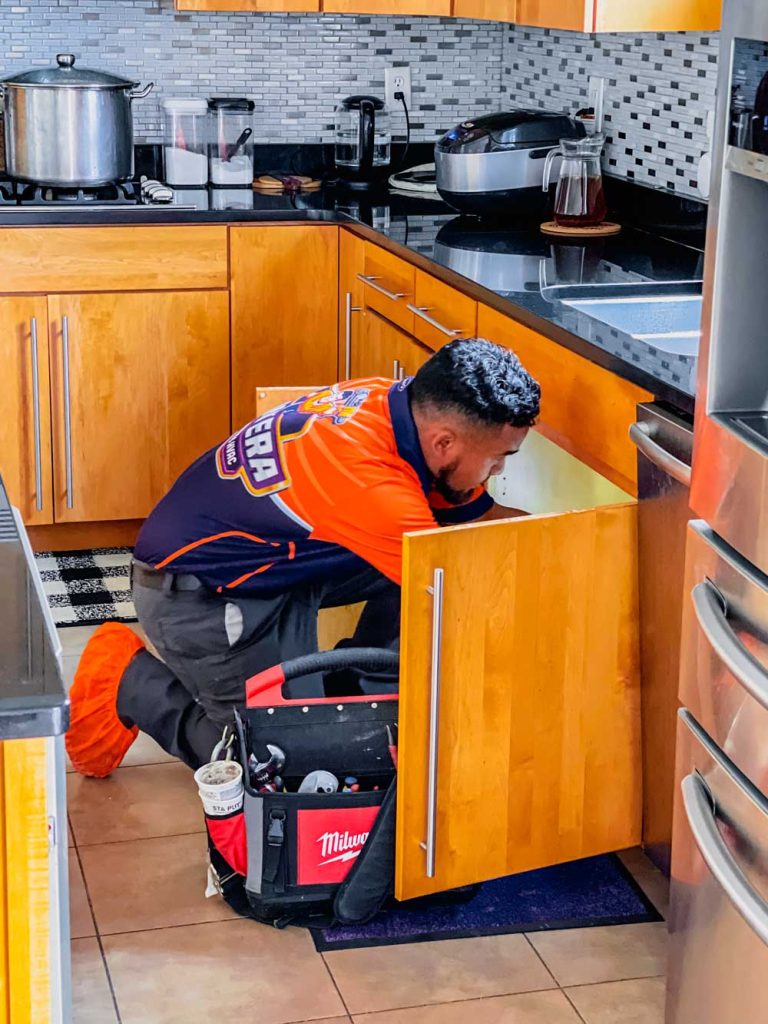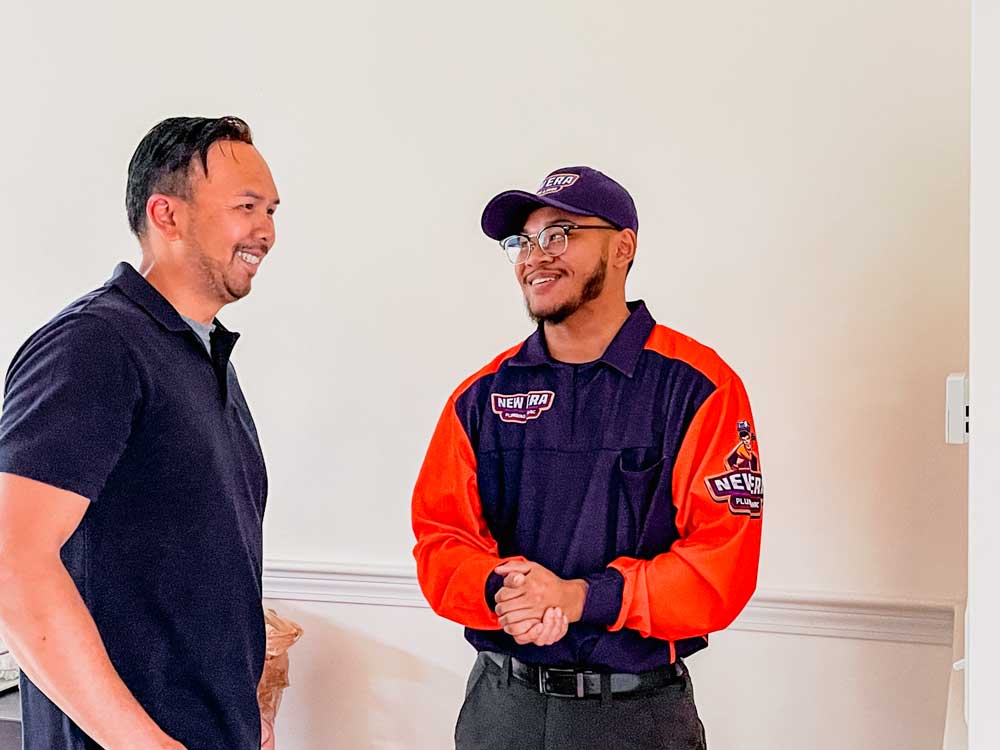 Outdated Kitchen Plumbing? Unreliable Fixtures Causing Frustration?
Dealing with outdated kitchen plumbing or faulty fixtures can be a real headache. Dripping faucets, slow-draining sinks, and poor water pressure can throw a wrench in your daily routine, making even the simplest tasks a challenge. These issues not only cause inconvenience but can also lead to wasted water and increased utility bills.
Don't let these common kitchen plumbing problems dampen your spirits or disrupt your day-to-day life. It's essential to address these issues promptly to prevent more significant damage, ensure a smooth-functioning kitchen, and get back to enjoying your home.
Free replacement
estimate
Need Boiler Repairs? Get $100 OFF!
kitchen plumbing problems
Don't Let Kitchen Plumbing Problems Disrupt Your Home Life
Kitchen plumbing issues can be a real pain, making your daily life much more complicated than it needs to be. Imagine trying to prepare a delicious meal or clean up after dinner with a clogged sink or leaking faucet. These issues can quickly turn your kitchen into a source of frustration instead of a place to create and enjoy.
It's time to say goodbye to the stress and inconvenience caused by persistent kitchen plumbing problems. Tackling these issues head-on with the help of a professional will ensure a more comfortable, functional kitchen space for you and your family to enjoy.
kitchen plumbing services
Expert Kitchen Plumbing Services Can Restore Functionality and Beauty
Don't settle for a less-than-perfect kitchen experience. When you call in the professionals, they'll not only fix your plumbing issues but also enhance the overall functionality and beauty of your kitchen space. Expert plumbers have the skills and experience to identify and repair problems efficiently, preventing future issues from arising and disrupting your daily life.
With the right plumbing services, you can enjoy a stress-free kitchen where everything runs smoothly. This not only makes your home more enjoyable to live in but also adds value to your property. So, trust the experts at New Era Plumbing & HVAC to get your kitchen plumbing in tip-top shape!
Why Choose New Era Plumbing & HVAC for Your Kitchen Plumbing Needs?
There are plenty of reasons to choose New Era Plumbing & HVAC for all your kitchen plumbing needs. Our team prides itself on delivering exceptional service that goes above and beyond. Here are just a few key benefits you can expect when working with us:
Experienced technicians: Our highly skilled team has over 15 years of experience in the industry, ensuring your kitchen plumbing is in good hands.
Quality materials: We use only the best materials available, ensuring long-lasting and durable solutions for your kitchen plumbing.
Cutting-edge technology: Our technicians stay up-to-date with the latest industry tools and techniques, allowing us to provide efficient and effective services for your kitchen plumbing needs.
With New Era Plumbing & HVAC, you'll receive top-notch service from a locally-owned and operated company that genuinely cares about the community. Our dedication to superior service and commitment to the communities we serve make us the go-to choice for all your kitchen plumbing needs.
Affordable, Transparent Pricing for Kitchen Plumbing Services
At New Era Plumbing & HVAC, we believe in providing quality kitchen plumbing services at a fair and transparent price. We understand that your budget is important, and we're committed to offering the best value for your money. Here's how we do it:
Competitive pricing: We regularly review and adjust our pricing to ensure we remain competitive within the industry, offering you the best possible value.
Transparent quotes: Before we begin any work, we provide a clear and detailed quote, so you know exactly what to expect and can budget accordingly.
Our commitment to affordability and transparency means you can trust us to provide top-quality kitchen plumbing services without breaking the bank. With New Era Plumbing & HVAC, you'll get the peace of mind knowing that your kitchen plumbing is in the hands of experienced professionals who care about your satisfaction and your wallet.
Maintain Your Kitchen Plumbing with These Essential Tips
A well-maintained kitchen plumbing system can save you time, money, and headaches in the long run. Follow these essential tips to keep your kitchen plumbing in tip-top shape and prevent future issues:
Regularly check for leaks: Inspect your pipes, faucets, and other fixtures for any signs of leaks, and address them promptly to prevent water damage.
Avoid putting grease down the drain: Grease can solidify and clog your pipes, so always dispose of it in the trash instead.
Use a drain strainer: Prevent food particles from entering your pipes by using a strainer in your sink to catch debris.
Run cold water when using the garbage disposal: This helps solidify grease and other debris, making it easier for the disposal to break them down.
Schedule routine maintenance: Having a professional plumber inspect and maintain your kitchen plumbing can help identify potential issues before they become major problems.
kitchen plumbing contractor
Selecting the Right Kitchen Plumbing Contractor: A Simple Guide
When it comes to choosing a kitchen plumbing contractor, it's important to find someone you can trust to get the job done right. Here are five tips to help you make the right choice:
Look for experience: Choose a contractor with a proven track record and extensive experience in kitchen plumbing services.
Check for licensing and insurance: Ensure the contractor is licensed and insured to protect yourself and your property.
Read reviews and testimonials: Look for feedback from previous clients to gauge the quality of work and customer service.
Get multiple quotes: Compare pricing from different contractors to ensure you're getting a fair and competitive rate.
Assess communication and professionalism: A reliable contractor should be easy to communicate with, responsive, and professional in all interactions.
By following these tips, you'll be well on your way to finding the perfect kitchen plumbing contractor to address your needs and ensure the longevity of your plumbing system.
Revitalize Your Kitchen with New Era Plumbing & HVAC's Expert Kitchen Plumbing Services
At New Era Plumbing & HVAC, we're committed to providing top-notch kitchen plumbing services to revitalize your kitchen and make it a space you love. Our experienced technicians, dedication to superior service, and commitment to the communities we serve are just a few reasons why we're the go-to choice for your kitchen plumbing needs. Don't let plumbing issues hold you back—give us a call at (978) 593-2294 and let us help you create the beautiful, functional kitchen you deserve.
Kitchen Plumbing FAQs: Get the Answers You Need
Navigating kitchen plumbing issues can be confusing, but we're here to help. Check out these frequently asked questions to get the information you need to maintain a healthy plumbing system: