Serving Dracut, MA residents for 15+ years!
#1 AC Repair Company in Dracut, MA, with Over 600 Five-star Reviews
For Dracut AC repair services you can count on, call New Era Plumbing & HVAC at (978) 593-2294.
Is your air conditioner not working as it should, or has it stopped working altogether? Unfortunately, AC systems don't last forever and can leave you in a predicament during the hottest part of the year. If you're struggling with a faulty air conditioning unit, reach out to New Era Plumbing & HVAC for top-quality AC repair services in Dracut, MA.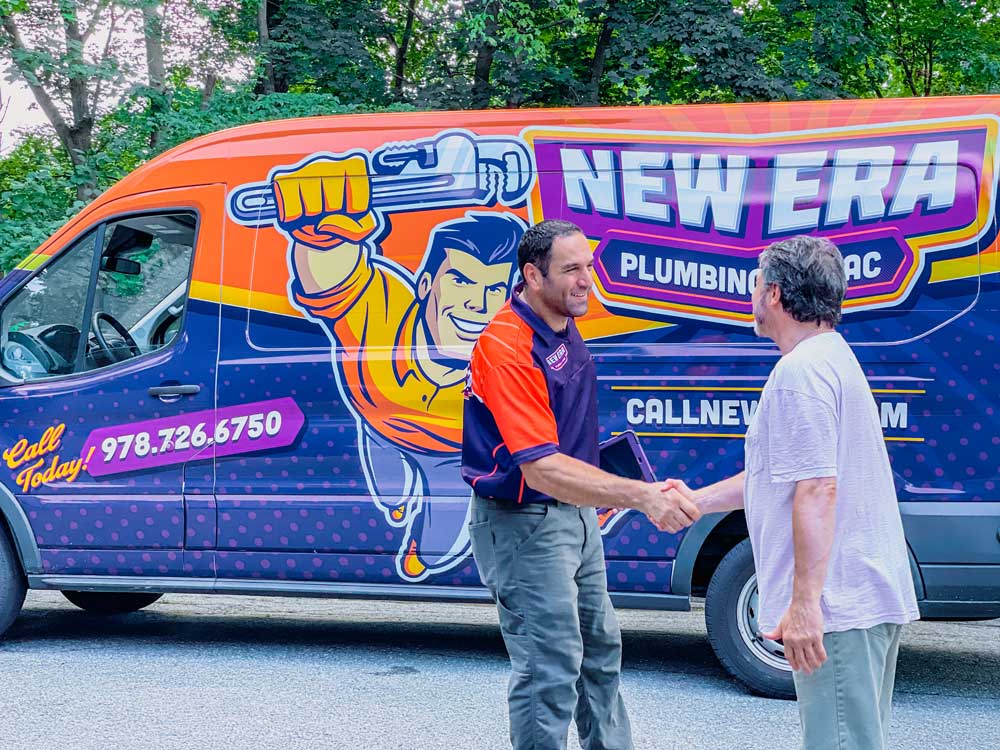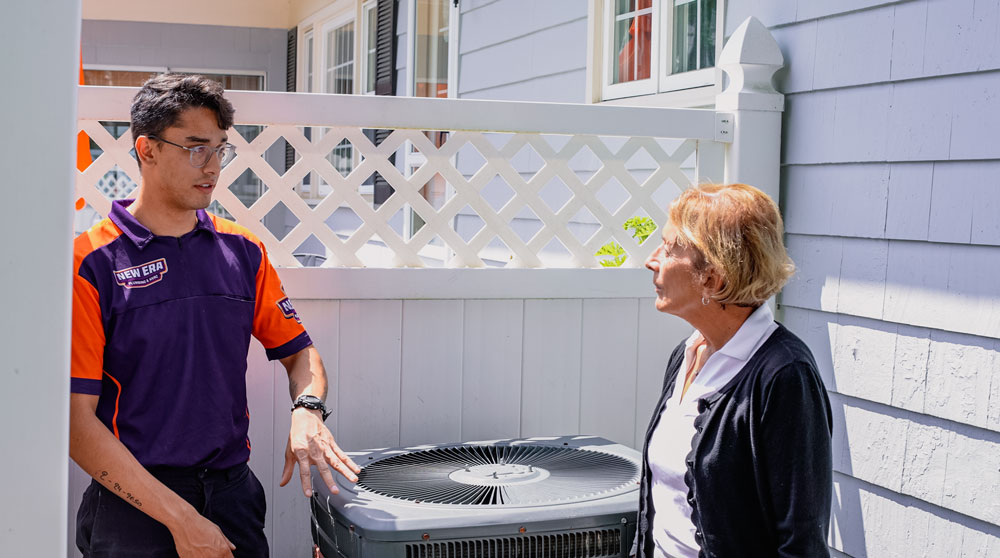 Top-rated Air Conditioning Service Company in Dracut
When it comes to AC repair, Dracut residents turn to the experts at New Era Plumbing & HVAC. Our team has over 15 years of industry experience, providing exceptional services with a customer-first approach. We bring state-of-the-art equipment and decades of combined knowledge to every job to ensure efficient repairs with long-lasting results.
New Era Plumbing & HVAC is the number one air conditioning service company in the Dracut, MA, area. Don't just take our word for it — take the word of over 600 customers who gave us five-star reviews. Customers love how our technicians spot issues quickly, pay attention to details throughout the repair process, and apply solutions that prevent long-term damage.
Free replacement
estimate
Furnace replacement as low as $5,500.*Price may vary depending on the system. Terms and conditions apply. Contact us today for a personalized quote tailored to your specific system needs.
Reasons Your AC Unit May Stop Working
Like most things, air conditioning systems will grow old and wear out over time. Storm damage and improper use can cause your AC unit to break long before it should. However, there are many other reasons why your system might stop working.
Signs You May Need AC Repair
Most air conditioner problems don't happen overnight. More often than not, the system will show warning signs that something is wrong and needs attention. Don't hesitate to call New Era Plumbing & HVAC for AC repair services if you notice any of the following red flags.
FAQs Regarding Air Conditioning Repair
Do you have questions about AC repair? Below, we answer a few FAQs regarding air conditioning repair to help you know what to expect. Feel free to call us at (978) 593-2294 if you don't find the answers you're looking for — our friendly staff would be happy to help!
Get Reliable AC Repair From New Era Plumbing & HVAC
Regular maintenance and repair can help keep your AC unit in tip-top condition all year long. Some things you can do yourself, but others will require the dedicated attention of an experienced professional. When you get top-quality AC repairs from New Era Plumbing & HVAC, you get the following benefits:
Improved functionality

Increased efficiency

Better air quality

Extended lifespan

Decreased energy bills
New Era Plumbing & HVAC is your go-to option for AC repair in Dracut, MA, and the surrounding areas. We offer hassle-free services with a personal touch, ensuring every job goes as smoothly as possible with minimal inconvenience. Our team will not only solve the problem, but we will implement solutions that keep it from escalating and leading to costly, frequent repairs in the future.
Are you looking for AC repair services in Dracut, MA? Call New Era Plumbing & HVAC at (978) 593-2294 to get a quote today!