Serving Dracut, MA residents for 15+ years!
Keep Your Cool, All Summer Long!
Stay Cool and Breathe Easy with Expert AC Maintenance Services
Is your AC acting up again? Don't sweat it! At New Era Plumbing & HVAC, we've got your back. With over 15 years of experience, we're experts in AC maintenance, keeping you cool and comfy throughout the hottest months.
Ditch the stress, save on energy bills, and extend your AC's lifespan. Give us a call at (978) 593-2294 and let's get your AC back in tip-top shape! Serving Dracut and surrounding regions – you've got a friend in the AC biz!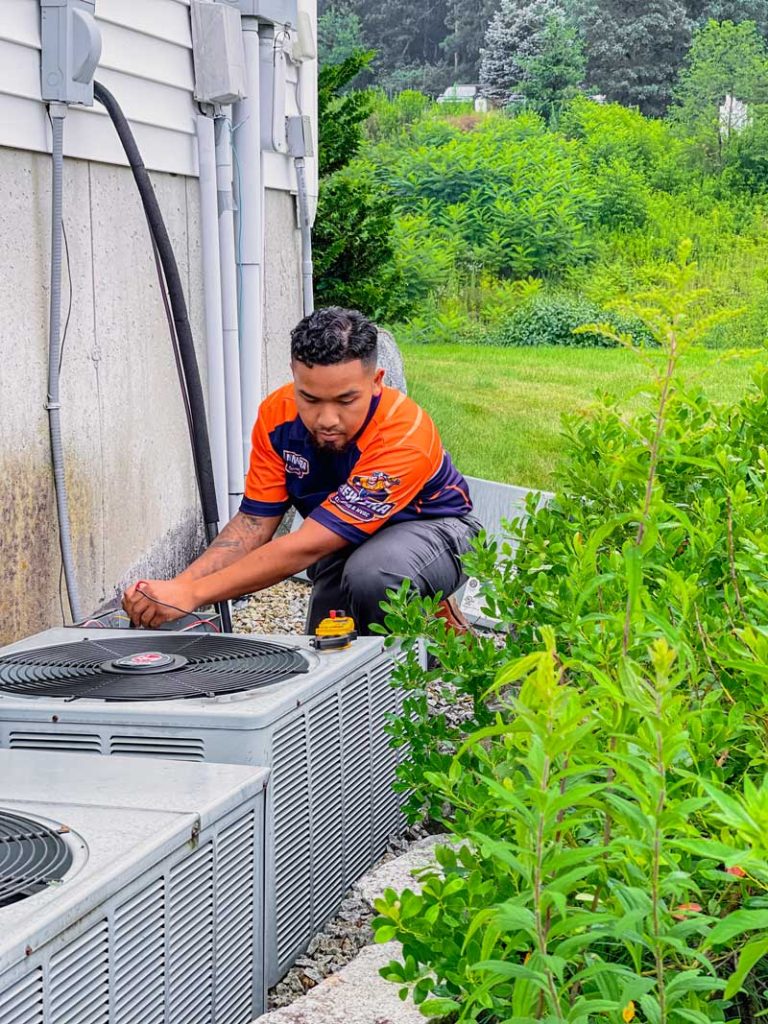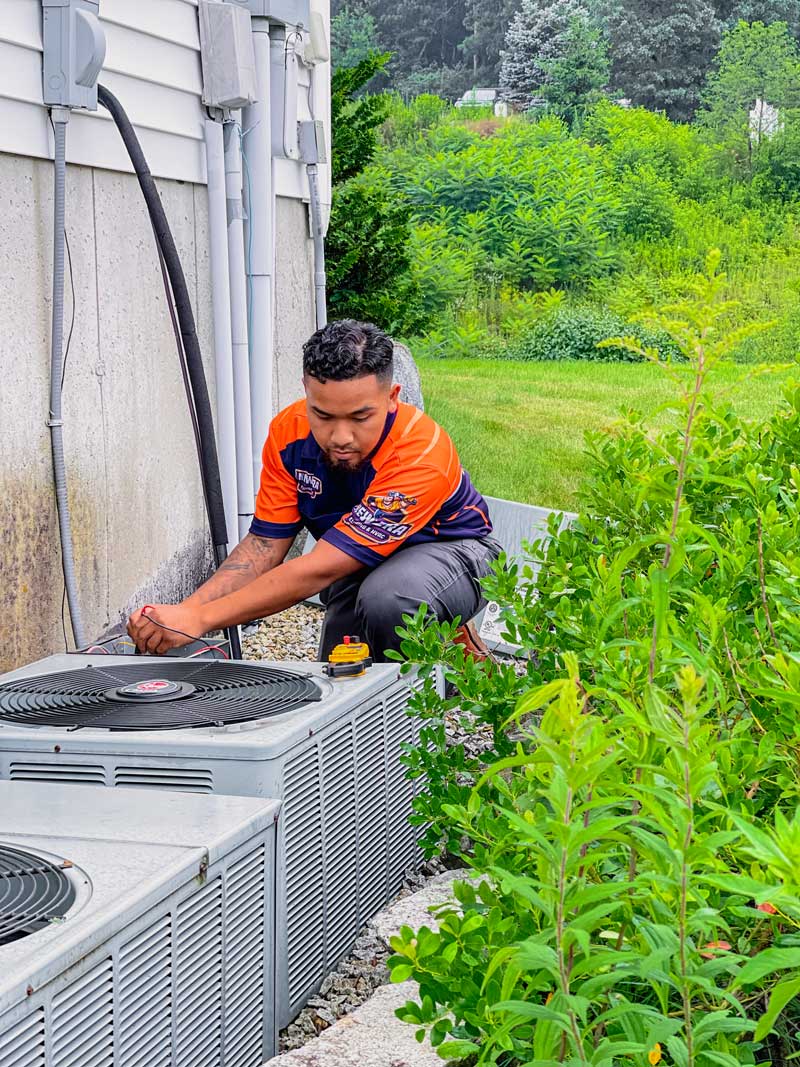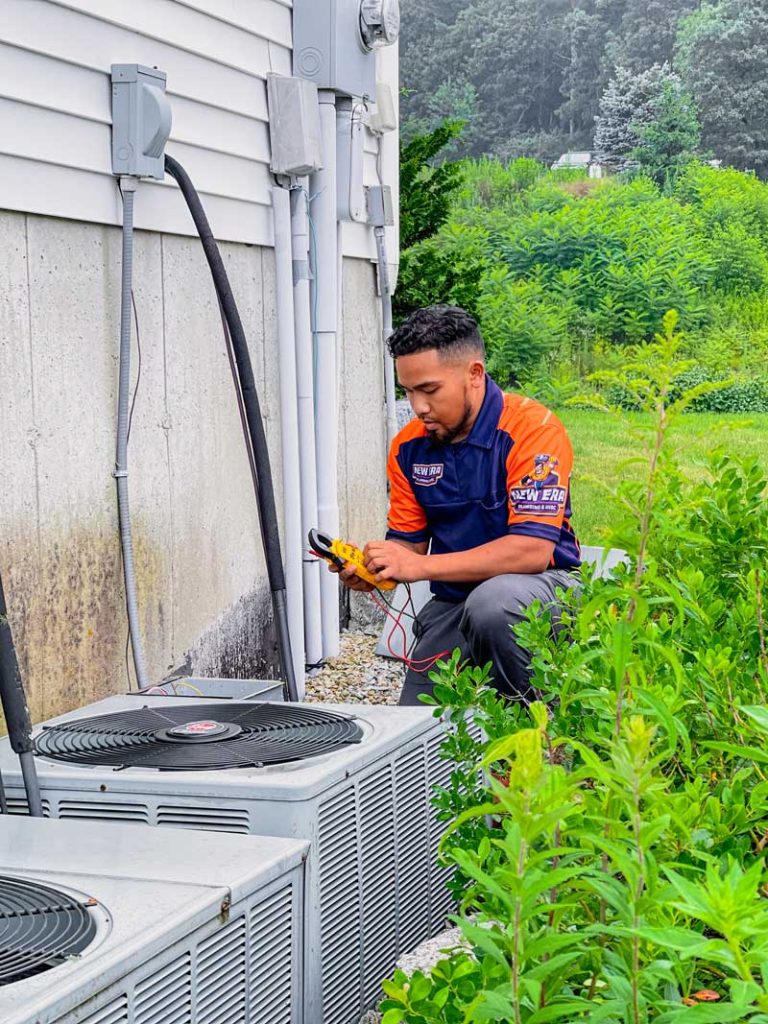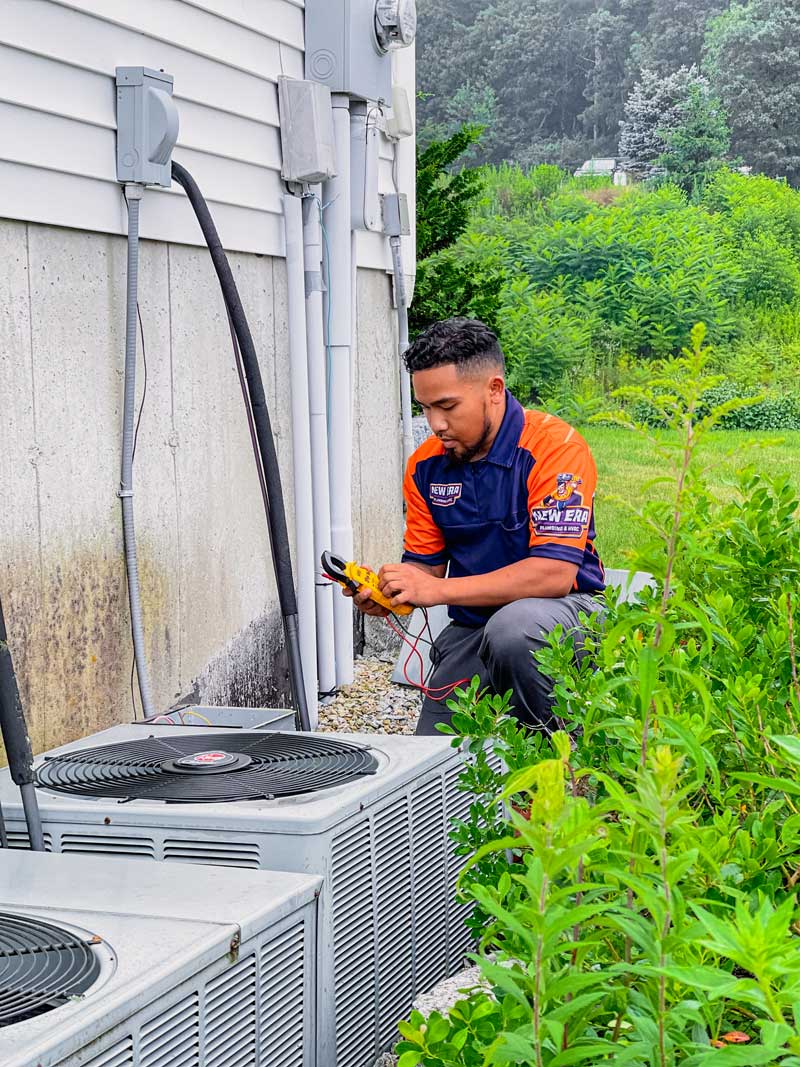 Is Your AC System Underperforming or Breaking Down?
Picture this: it's blazing hot outside, and all you want is to chill in the comfort of your home. But, your AC isn't cooling like it used to. You're stuck with uneven temperatures, rooms that feel like saunas, and others that resemble the Arctic. And those weird noises? It's like your AC is hosting a tiny orchestra inside!
You've tried everything – adjusting the thermostat, cleaning the vents, even doing a little dance for good luck. But nothing works, and sometimes, the whole system just shuts down. Talk about a total bummer.
You deserve a cozy space to relax and unwind, where you can kick back and enjoy the summer without breaking a sweat. But a neglected AC is leaving you hot, bothered, and searching for any hint of a breeze. Don't let a poorly maintained system ruin your summer vibes! It's time to get your AC back in shape and reclaim your cool, comfortable sanctuary.
Free replacement
estimate
Furnace replacement as low as $5,500.*Price may vary depending on the system. Terms and conditions apply. Contact us today for a personalized quote tailored to your specific system needs.
Don't Let AC Problems Put Your Comfort and Wallet at Risk
Ever had that sinking feeling when you open your energy bill? Yeah, we get it. An underperforming AC doesn't just make you sweat – it's also burning a hole in your wallet! And let's face it, nobody wants to shell out extra cash for repairs or, worse, a brand-new system.
But here's the thing: ignoring those pesky AC issues won't make them go away. In fact, they'll just keep getting worse. Your system will work harder, guzzle more energy, and before you know it, you're stuck with a hefty bill and a whole lot of regret.
Don't let a lack of regular maintenance compromise your comfort and cost you more in the long run. It's not just about staying cool; it's about protecting your wallet and keeping your home in tip-top shape. Let's tackle those AC problems head-on and save you from the heat – and the financial headache.
Trust New Era Plumbing & HVAC for Reliable AC Maintenance
Hey, we know AC problems are a drag. But guess what? We've been tackling them for over 15 years, and we're darn good at it. New Era Plumbing & HVAC is your local go-to for everything plumbing, HVAC, and drain-related. And we're not just talking about a quick fix – we're committed to delivering top-notch service and quality work that'll last.
We get it; you want your home to be your cool, comfy haven during those hot summer months. That's why we're here to make sure your AC system is running smoothly, efficiently, and effectively – no more sweating it out!
So, let's give your AC the TLC it deserves, shall we? With our trusty team by your side, you can kick back and enjoy the breeze – all summer long.
What Sets Our AC Maintenance Services Apart?
You might be wondering, "Why should I choose New Era Plumbing & HVAC for my AC maintenance?" Well, let us tell you what makes us stand out from the crowd:
Top-to-bottom inspections

: We don't just give your AC a quick once-over. Nope, we dig deep to find any hidden issues and make sure everything's running like a dream.

Expert cleaning and fine-tuning

: Our skilled techs know their stuff! They'll get your AC spick-and-span, and fine-tune it to purr like a kitten. The result? Lower energy bills and a cooler, happier you.

Customized advice

: We don't believe in one-size-fits-all solutions. We'll take the time to get to know your AC system and give you personalized tips on how to keep it in peak condition.

Scheduling that works for you

: Busy life? We get it. That's why we offer flexible appointments to fit your schedule. Plus, we'll always show up on time, tools in hand, and ready to get your AC back on track.
So, why wait? Give your AC the VIP treatment it deserves with New Era Plumbing & HVAC – your local AC maintenance pros.
Get More Bang for Your Buck with Regular AC Maintenance
You might be wondering, "Is AC maintenance really worth it?" You bet it is! Regular AC maintenance saves you money both in the short-term and long-term. Here's how:
Avoid expensive repairs: A well-maintained AC is less likely to break down. That means fewer costly repairs and a whole lot less stress for you.
Extend your system's life: Taking care of your AC helps it last longer, so you won't need to replace it as soon. That's more money in your pocket, friend!
Boost energy efficiency: A clean and properly-tuned AC runs more efficiently, which means lower energy bills. Who doesn't love saving on utilities, right?
So, investing in regular AC maintenance is a smart move. It keeps your system running smoothly, saves you money, and gives you peace of mind. Now that's a win-win!
Helpful Tips for Homeowners: Keep Your AC in Tip-Top Shape
Hey, homeowners! Want to keep your AC running smoothly between professional maintenance visits? Check out these practical tips that'll help you maintain your system and keep it in great shape:
Change those filters: Dirty filters can mess with your AC's performance. So, make sure to change or clean them every 1-3 months, depending on your system's needs.
Give your outdoor unit some TLC: Keep the area around your outdoor unit clean and clear of debris. Trim back any plants or bushes, and remove leaves or dirt to ensure proper airflow.
Keep an eye on your thermostat: Make sure your thermostat settings are just right for your home. Not too hot, not too cold, but just perfect. Consider upgrading to a programmable thermostat for even better energy efficiency!
Follow these simple tips, and your AC will thank you by keeping your home comfy and cool all season long. And when it's time for a professional tune-up, you know who to call!
How to Choose the Best HVAC Contractor: A Quick Guide
Selecting the right HVAC contractor is crucial for ensuring your AC is well-maintained and efficient. To help you make the best choice, follow these five tips:
Check their experience: Look for a contractor with a proven track record and years of experience in the industry.
Read customer reviews: Browse online reviews and testimonials to gauge the contractor's reputation for quality work and customer satisfaction.
Verify licenses and insurance: Confirm that the contractor holds proper licensing and insurance to protect you and your property.
Request written estimates: Obtain written quotes from multiple contractors to compare prices and services.
Assess their communication and professionalism: Gauge the contractor's responsiveness, punctuality, and willingness to answer your questions.
Keep these tips in mind, and you'll find the best HVAC contractor for your needs in no time! And remember, we're always here to help – just give us a shout at (978) 593-2294.
Get Your AC System Back on Track with New Era Plumbing & HVAC
Say goodbye to AC woes and hello to a cool, comfy home! Give New Era Plumbing & HVAC a buzz at (978) 593-2294 to book your AC maintenance appointment today. We're all about helping our neighbors in Hudson, Pelham, Salem, and Windham, New Hampshire stay chill and breathe easy all summer long.
So, let's team up and get your AC back in fighting shape. With our expert touch, you can kick back, relax, and enjoy a perfectly cool home – no more sweating, no more stress. Just good vibes and icy-cold air all season long.
Frequently Asked Questions: Get the Scoop on AC Maintenance
Got questions about AC maintenance? No problem! We've got answers to some of the most common questions we hear from homeowners like you:
Got more questions? Don't hesitate to give us a call. We're here to help you stay cool and comfortable all summer long!