Serving Dracut, MA residents for 15+ years!
#1 Drain Cleaning Company in Dracut, MA, With Over 600 5-Star Reviews
Clogged drains don't have to ruin your day—our drain cleaning service provides instant relief for your Dracut, MA, home!
Drains and sewer systems are integral to some of the conveniences we enjoy. Without them, you can't enjoy that hot shower, do the laundry, clean dirty dishes, or use the toilet conveniently. These drain and sewer systems work together to channel waste and wastewater safely away from your property, so when there's a problem, it affects everything!
Homeowners are bound to notice clogged drains as odors and water issues surface, but you don't have to endure these unsanitary conditions or discomfort for a minute longer than necessary. Let New Era Plumbing & HVAC drain cleaning experts come to your rescue! Our experienced team is highly equipped to handle stubborn drain clogs in all types of plumbing systems.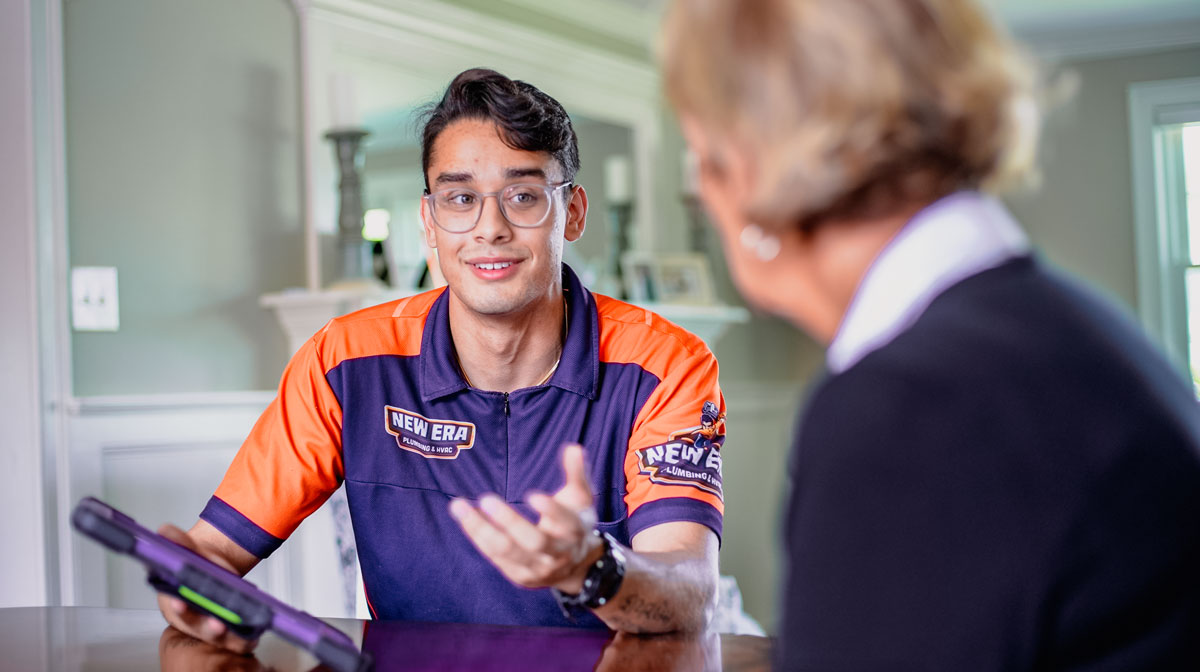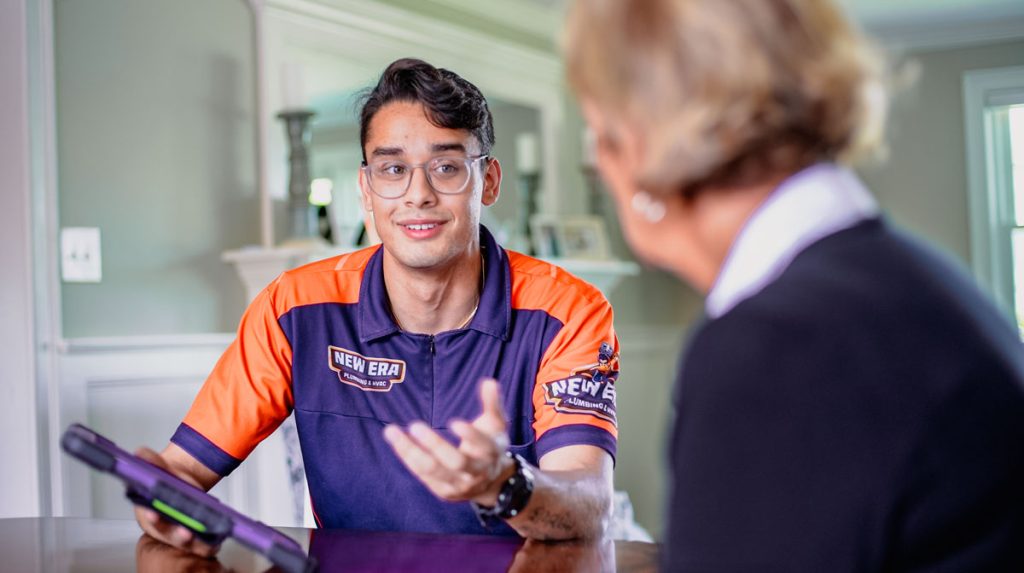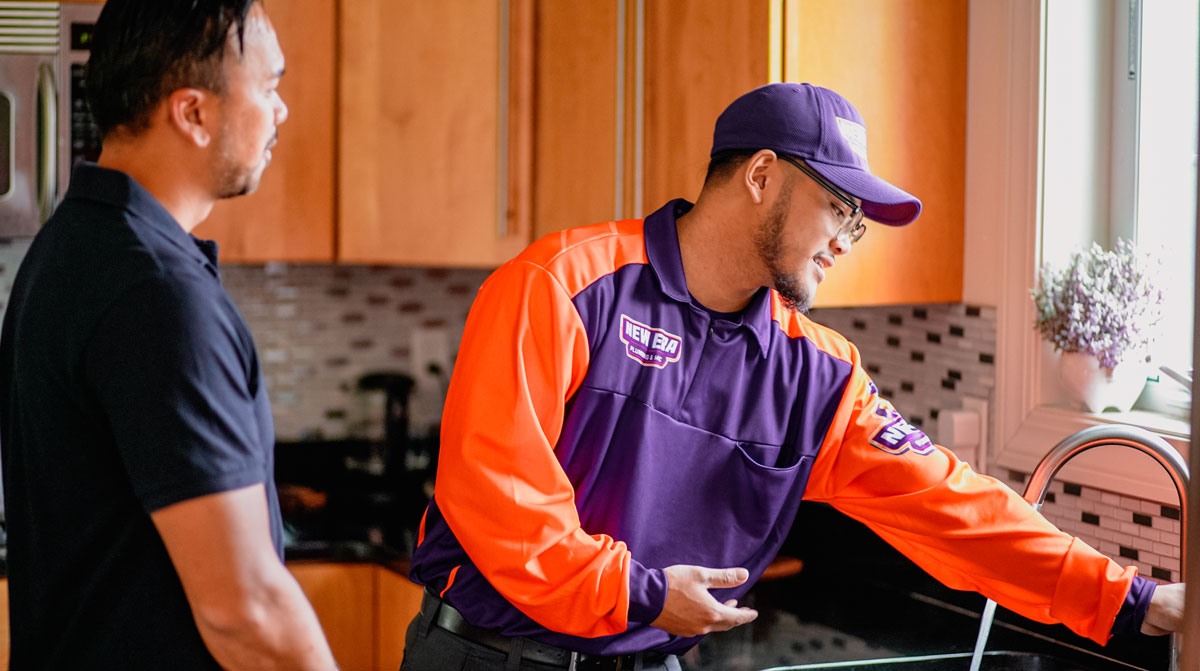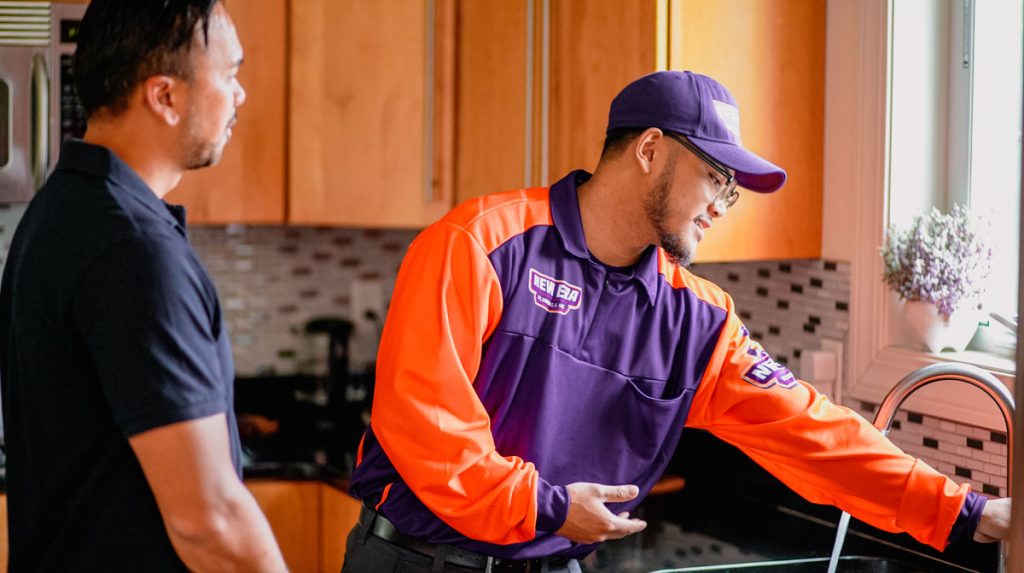 What Are the Causes of Drain Clogs?
Drain clogs often seem unavoidable, but they happen because of our actions and inactions. For example, common causes of drain clogs include the following:
Flushing insoluble items

. You will have clogs if anyone flushes baby wipes and feminine hygiene products down your drains. Even soluble items like toilet paper can clog your drains in large quantities.
Incorrect use of your garbage disposal

. Garbage disposal systems prevent pieces of food from clogging the drain. However, blockages will occur if you send down too much food waste and overwhelm the system. The clogs also happen faster if you're in the habit of sending waste down the garbage disposal that should go into the bin.
Human and pet hair in the shower

. Hair is insoluble. That means, it will accumulate in drains and pipe systems after you shave or wash your hair (or your pet's hair) in the bath, shower, or sink.
Tree roots

. The roots of trees in your yard will grow toward sources of water. If you have a leaky pipe, underground roots will grow toward it. If they reach the pipework, they will break through it and cause clogs.
Signs You Need a Drain Cleaning Service
Complete drain blockages rarely happen overnight. Most times, homeowners will be able to see a few telltale signs long before it happens. So, if you notice any of the following signs, request a drain clearing service immediately:
Slow-draining sinks, bathtubs, or shower

Gurgling noise in the drains after using your plumbing system

Water backup in the bathtub, shower, or sink

Water pooling on your lawn

Sewage smell coming through your bathtub drain or sink opening
DIY vs Hiring a Drain Cleaning Service
It's tempting to start cleaning your clogged drain on your own instead of scheduling a qualified drain cleaning company for the service. However, most homeowners don't have the necessary tools or expertise to do the job well and avoid damages at the same time. 
You won't see a qualified drain cleaning plumber dislodging a drain clog with a plunger, a bottle of chemical cleaner, or homemade cleaning agents, like vinegar and baking soda. Home-based fixes might partially remove the clogs, but there's a strong possibility you could end up moving the clog further down pipeline or cause severe damage to your entire plumbing system.
Before you go ahead with DIY drain cleaning, here are some important pointers:
Avoid store-bought chemicals

. Using chemical drain cleaners from local stores risks cleaners, bleach, or solvents that can significantly damage your home's pipework.
Don't mix different drain cleaners

. An adverse chemical reaction can be dangerous for your plumbing system. It also affects your health if inhaled.
Hand Over Your Drain Cleaning Needs to Your Local Experts
At New Era Plumbing & HVAC, we solve all kinds of plumbing issues using state-of-the-art drain cleaning tools. Our local drain cleaning service may include the following:
Drain camera inspection

. We use high-quality fiber optic cameras to look deep inside your drains and locate the clog with pinpoint accuracy.
Drain snaking

. Snaking equipment bends to move smoothly through your pipes so that we can clean your drain lines while avoiding further damage.

Hydro jetting

. With this option, we use a high-pressure water jet to clear any tough blockage by forcing it through the pipes. The blast of water can eliminate blockages due to fats and oil buildup, hair, soap residue, bulky food waste, and more. We tightly control the water pressure to avoid damage to your pipework.
Tree root removal

. If our inspections point to an errant root as the cause of the drain clog, we can dig around the affected area to remove it and repair the damaged section.
How to Prevent Repeat Drain Clogs in Dracut, MA
Looking back at the causes of clogs we highlighted above, it's easy to see how a homeowner could work to prevent future clogs. Here are a few other things to consider if you want to avoid a serious drain clog on your Dracut, MA, property:
Be selective about sending objects down your garbage disposal.

Flush only toilet paper down your toilet (in reasonable amounts).

Install drain strainers to catch hair, food, and other common causes of blockage.

Shave your hair and cut your nails in a location where you can sweep up and dispose of the waste in a bin.

Avoid planting trees or larger shrubs near major plumbing lines.
We also recommend requesting professional drain cleaning service as soon as you notice the signs of a drain clog. Waiting too long could lead to numerous issues, including messy backup issues and damaged pipes.
Why Choose New Era Plumbing & HVAC?
What are the top reasons homeowners trust our drain cleaning professionals in Dracut, MA, and surrounding areas?
We are licensed plumbers who are bonded and insured.

We are local, friendly experts

We are honest and dependable

We guarantee competitive, upfront pricing

We offer emergency drain cleaning service when you need us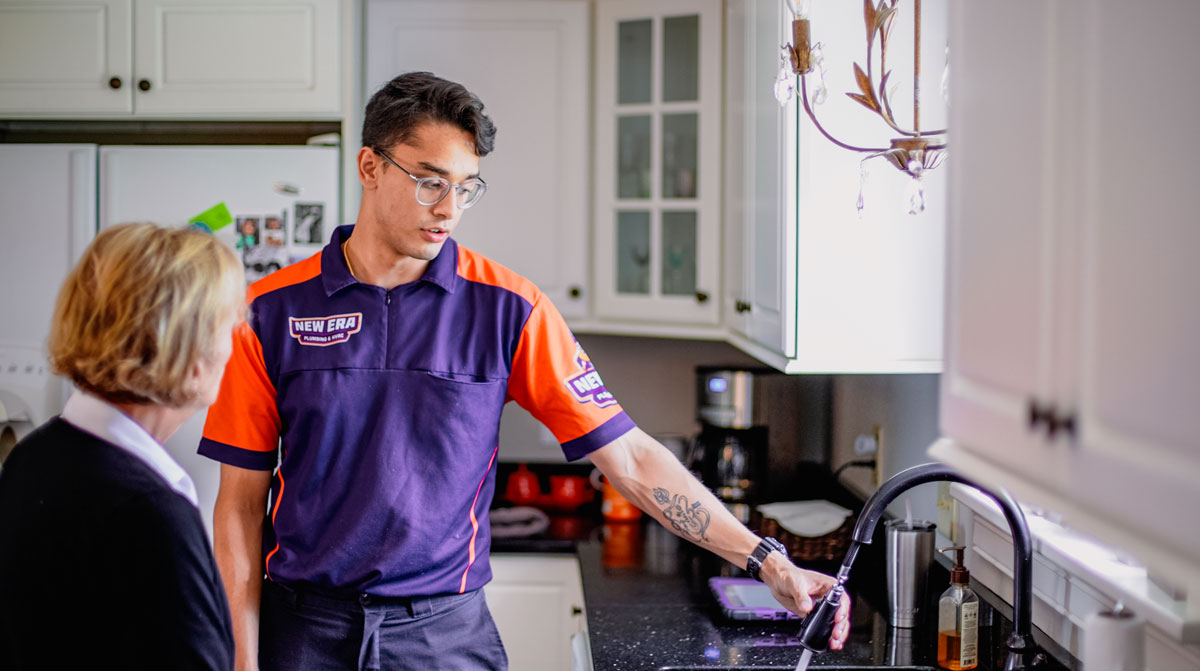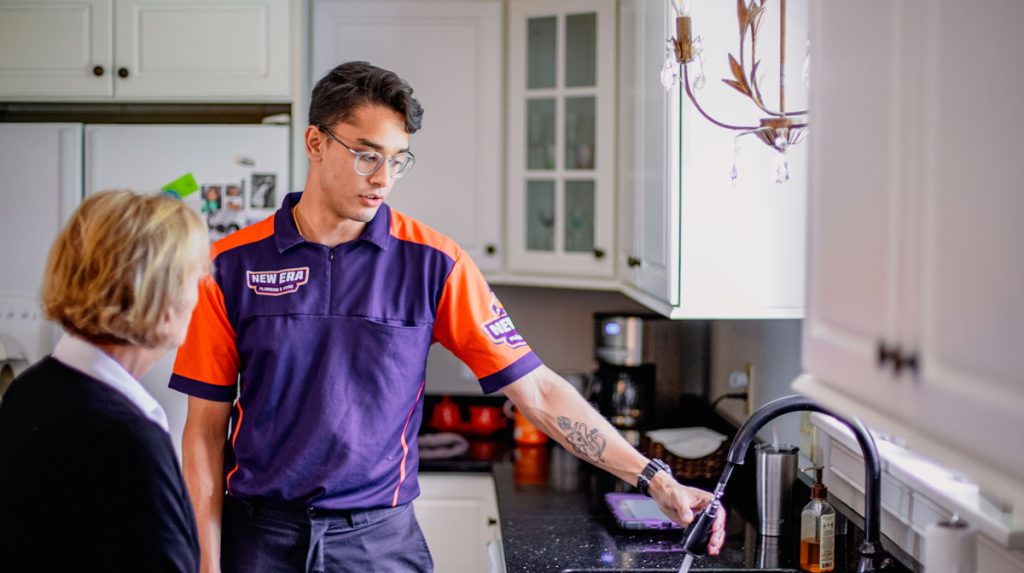 Top-notch Drain Cleaning Services Near Me in Dracut, MA
Are clogged drains making life difficult? We have a quick and easy solution if you're in Dracut, MA, or the surrounding communities.
Call New Era Plumbing & HVAC at (978) 593-2294 today for top-class drain cleaning service and any other plumbing services you need!