Expert Plumbers in
Methuen, MA
Upgrade To High Efficiency Boiler And SAVE $3,000!
Need Boiler Repairs? Get $100 OFF!
Experience and expertise in every plumbing service
At New Era, we're more than just plumbers – we're your neighbors. We live and work right here in Methuen, so we know the plumbing needs of our community inside and out. Our reputation depends on every single job we do, and we're dedicated to getting it right, no exceptions.
We value the relationships we build with our clients, and being local has its perks. When time is of the essence, our plumbers can get to you in a flash, especially when you're facing a plumbing emergency.
Remember, we're just a call away, always ready to deliver quality service with a friendly smile!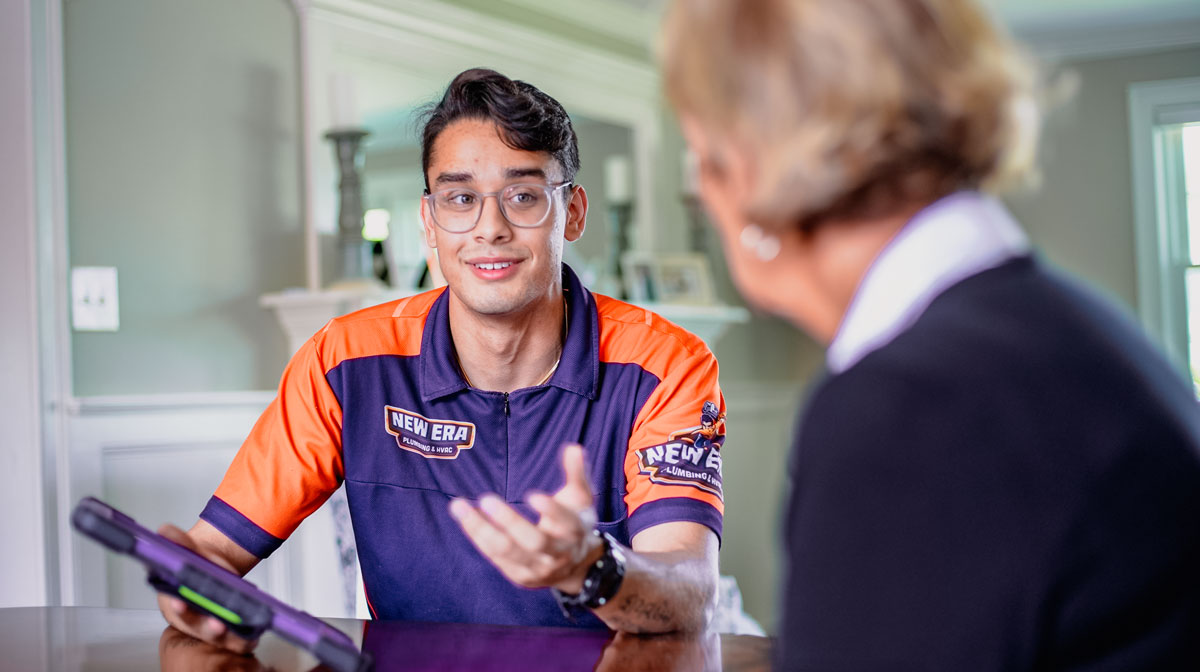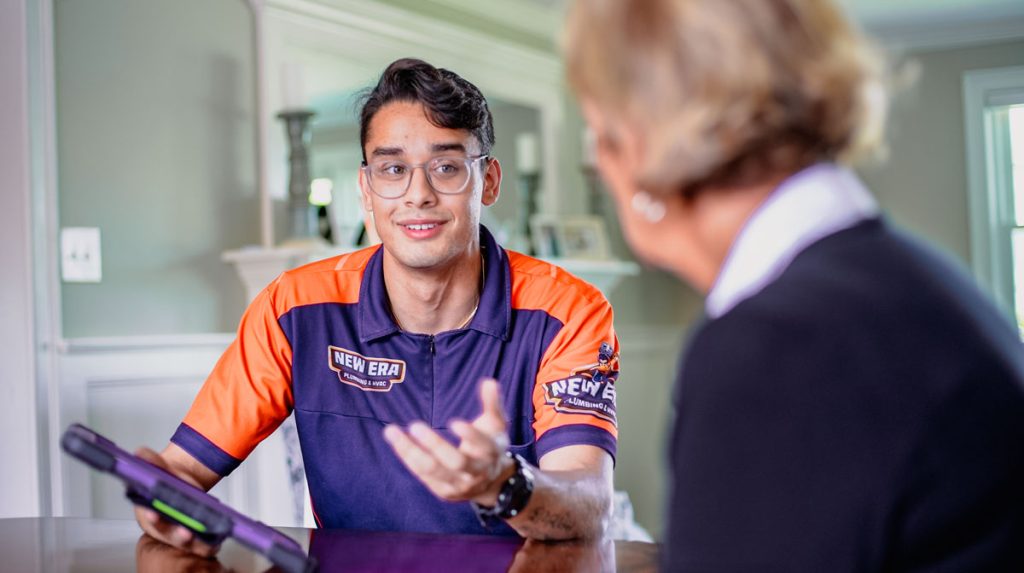 FAQ about plumbers in Methuen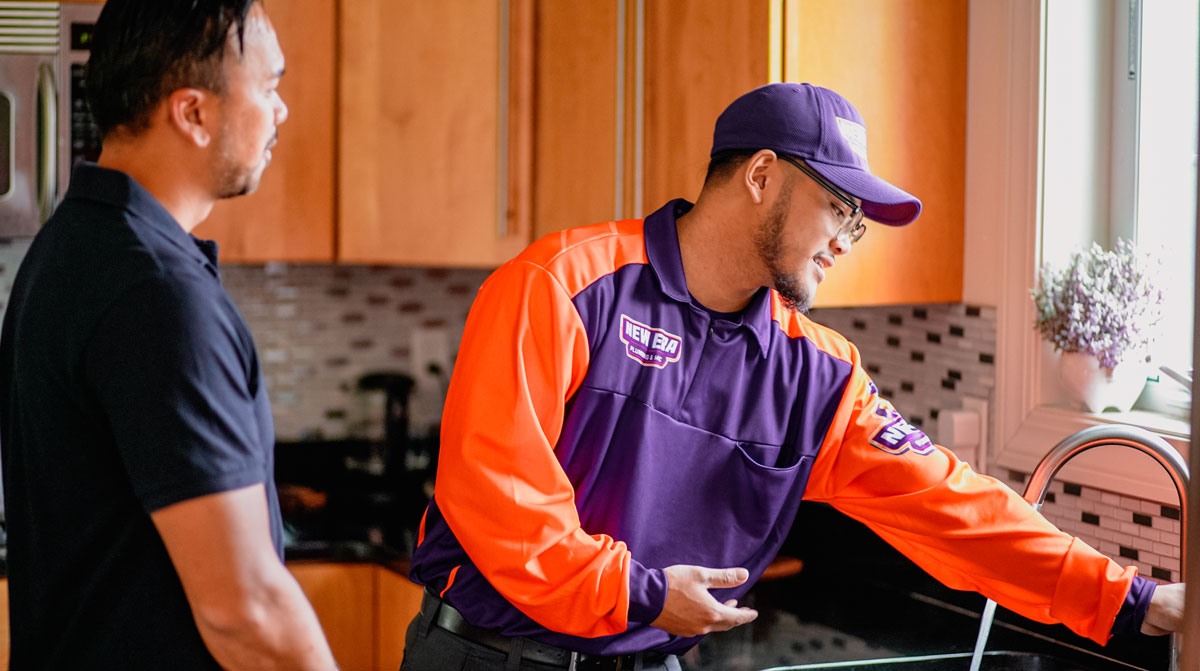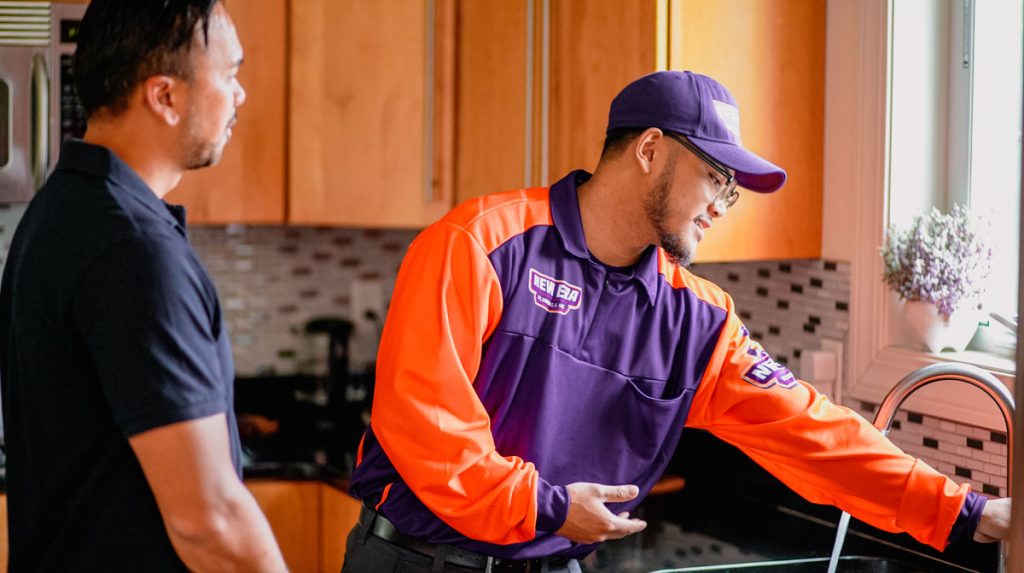 Our comprehensive plumbing services
Looking for a reliable plumber Methuen residents can count on? Well, look no further. We provide a wide range of plumbing services for both residential and commercial needs.
Whether it's routine maintenance or a plumbing emergency, we've got you covered. Here's a list of our comprehensive plumbing services:
Bathroom plumbing services
Pipework and repair services
Kitchen Plumbing
Sump pump repair and installation
Tankless water heater
Water heater installation, repair, and replacement
Whole home water filtration
Plumbing emergencies

We know your time is valuable, so we offer flexible scheduling options to make our services convenient for you. When you need a friendly, knowledgeable, and dedicated plumber, Methuen trusts us. Give us a call or schedule a visit online, and we'll be there to help!
Residential plumbers ready to assist you!
We're your go-to plumbers in Methuen, the ones you can trust to take care of your home. We don't just rush in and start fixing things; we listen to your concerns, evaluate the situation, and then provide you with personalized advice tailored to your home's specific needs.
Our expertise goes beyond quick fixes. We make sure your entire plumbing system is running smoothly because we know that's what really matters. And when it comes to pricing, we believe in transparency. What we quote is what you pay—no hidden surprises, just honest work at fair prices.
So, when you need plumbing services that are caring, professional, and backed by knowledge, you know who to call. We're just a phone call away, ready to lend a hand!
Commercial plumbers committed to helping your business
Methuen's businesses have unique plumbing needs that require special attention. When a plumbing emergency hits, you can't afford to shut down your operations. That's where we come in. Our team is all about quick and efficient service, so you can get back to what you do best—serving your customers and running your business.
We know budgets matter, too. That's why we offer financing options to make sure you can get the plumbing solutions you need without breaking the bank.
Whether you run a cozy café, a private practice, or a bustling diner, our plumber team has the right solutions tailored to your commercial space. We're here to make sure your specific plumbing needs are met with precision.
We employ the latest in plumbing technology
Plumbing takes real know-how. Sure, you can try a DIY fix, but it's often just a temporary fix on a bigger issue.
At New Era, we're all about using the latest technology to diagnose and fix your plumbing problems. That means faster, more efficient solutions. Our plumbers in Methuen aren't just there to patch things up; they're on a mission to find the root cause and tackle it head-on.
We're in the business of making sure those problems don't come back to haunt you. Our commitment is to provide high-quality service, understanding your unique needs, and giving you personalized, effective plumbing advice that really works.
Reliable and fast emergency plumber services
When it comes to crises, you need a plumber you can rely on. That's where we come in. Our team of dedicated emergency plumbers in Methuen is always ready to jump into action.
When we get to your place, we don't waste any time. We'll assess the situation and come up with a solution that's tailored to your plumbing needs. Once we've got the plan in place, it's all hands on deck to fix the issue promptly and efficiently. Our goal is to deliver top-notch quality and make sure you're satisfied with the results.
So, remember, the next time you're in a plumbing emergency, whether it's the middle of the day or the dead of night, New Era's plumbers have got your back 24/7.
When your plumbing goes haywire, don't hesitate to call us – your dependable 24/7 emergency plumbers in Methuen.
Signs you need an emergency plumbing service
A well-functioning plumbing system is crucial, not just for the comfort of our homes but also for our health and overall well-being. When this system fails, it's not only inconvenient; it's a genuine threat to our daily lives.
Here are some signs you might need an emergency plumbing service:
Unexpected drops in water pressure
Sudden sky-rocketing water bills
Recurring clogs
Noticeable water damage or damp spots

If you spot any of these signs, call our expert team of plumbers inMethuen. While you wait for them to arrive, make sure to shut off your main water valve, avoid using all water fixtures, and clear the area of any valuables if there's a risk of flooding.
To stay ahead of emergencies, our White Glove Club Membership offers various benefits, ensuring you're always our top priority.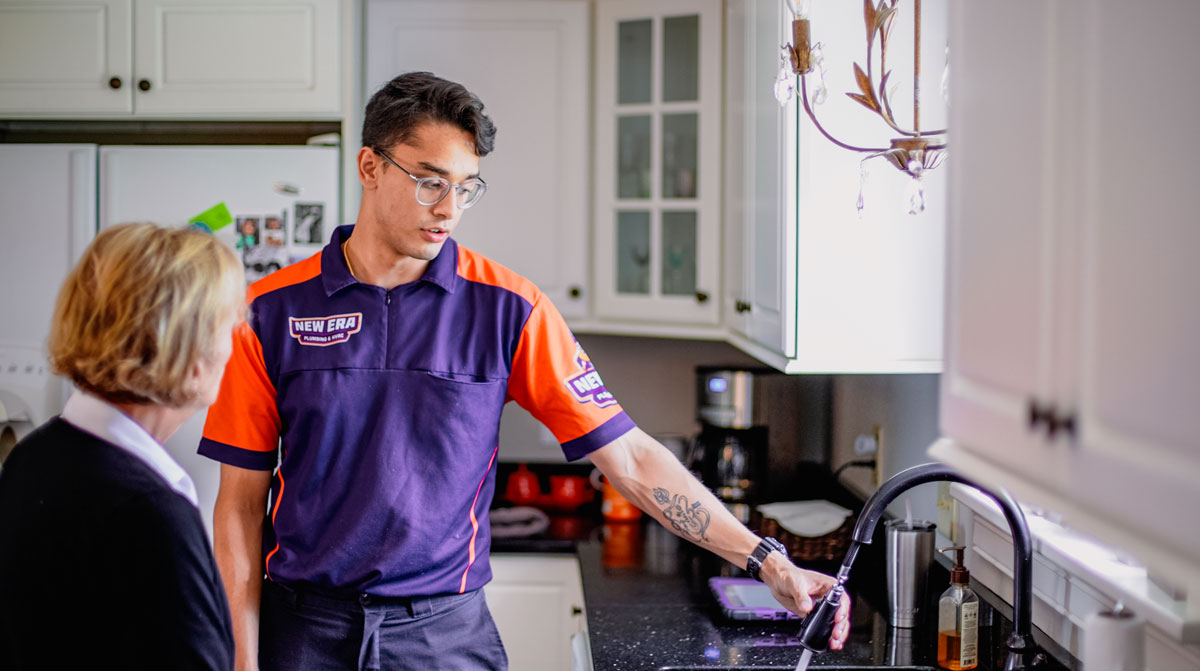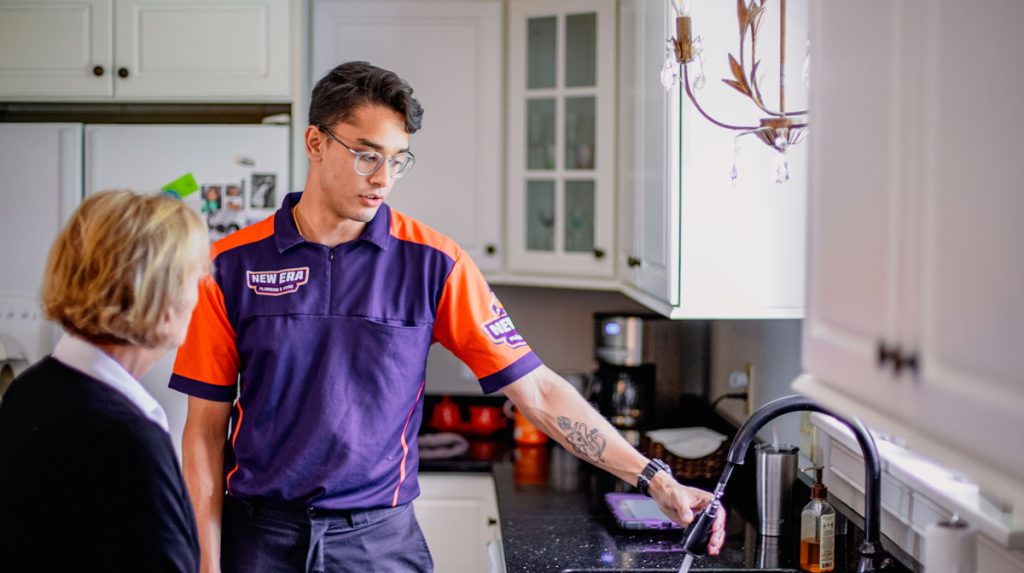 Other services in Methuen, MA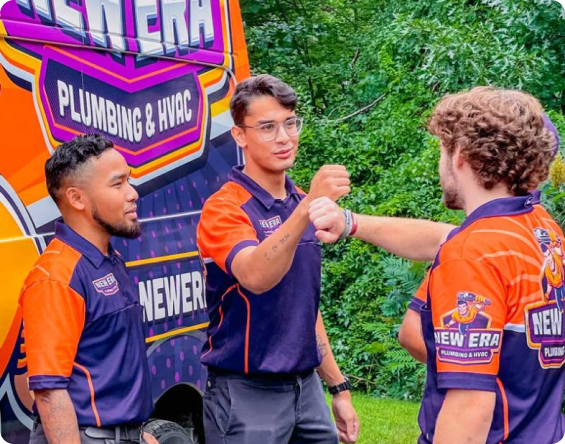 Experienced local plumbers in Methuen, MA
We're always here to help. Whether you have a question, need an emergency service, or just want some plumbing advice, we are your go-to team of plumbers in Methuen. Call us and we'll be at your doorstep in no time!