Emergency plumbing services
Expert Plumbers in
Derry, NH
Upgrade To High Efficiency Boiler And SAVE $3,000!
Need Boiler Repairs? Get $100 OFF!
Reliable plumbing services
We are the plumbers you can trust!
In Derry, NH, when it comes to plumbing services, you're looking at the best in the business. New Era's plumbers have tackled every plumbing crisis thrown our way. We bring confidence and precision to even the trickiest emergency plumbing scenarios, with over 15 years under our belts
After decades in the area, we've not just honed our skills, but we've built relationships. For us, it's all about keeping our customers in the loop. Clear communication? Check. Making sure you're part of the process? Absolutely.
We treat you home like it's ours. Plumbing emergencies don't clock out at 5 pm, that's why we're on standby, ready to jump into action whenever you need us. So, for any emergency plumbing need, give us a call. We got your back!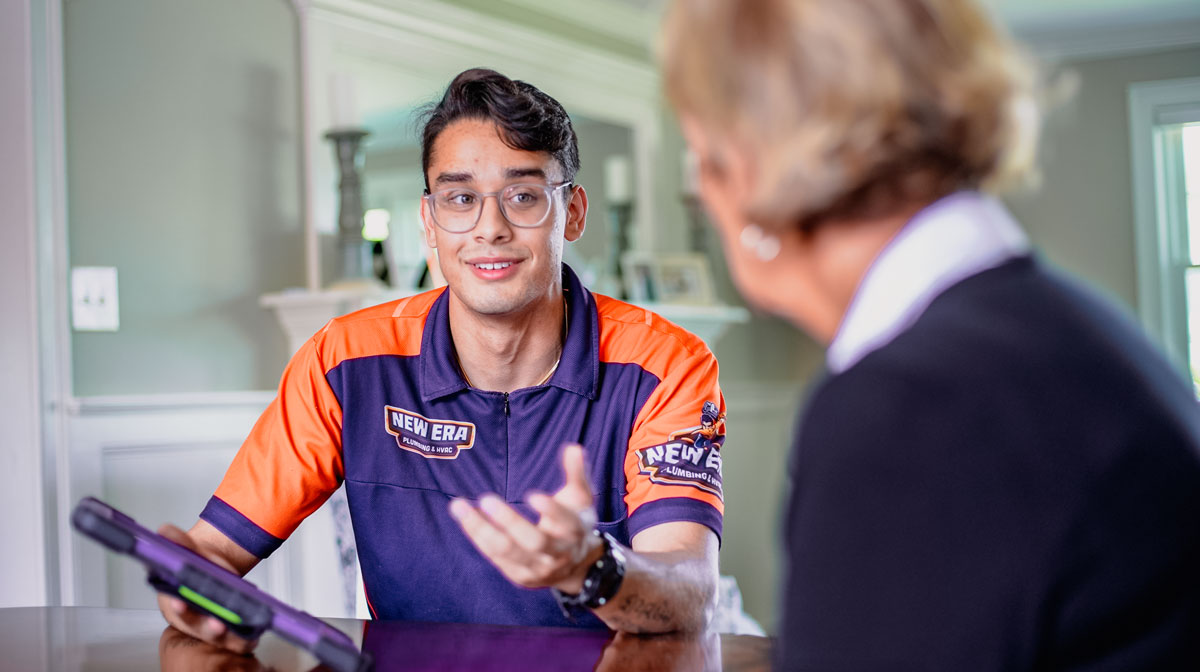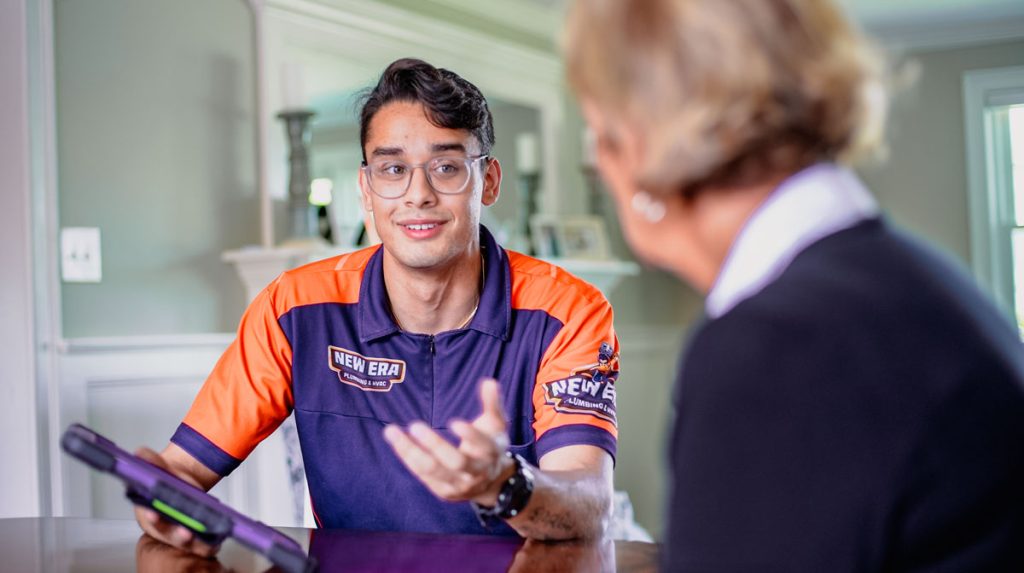 Plumber services in Derry - FAQ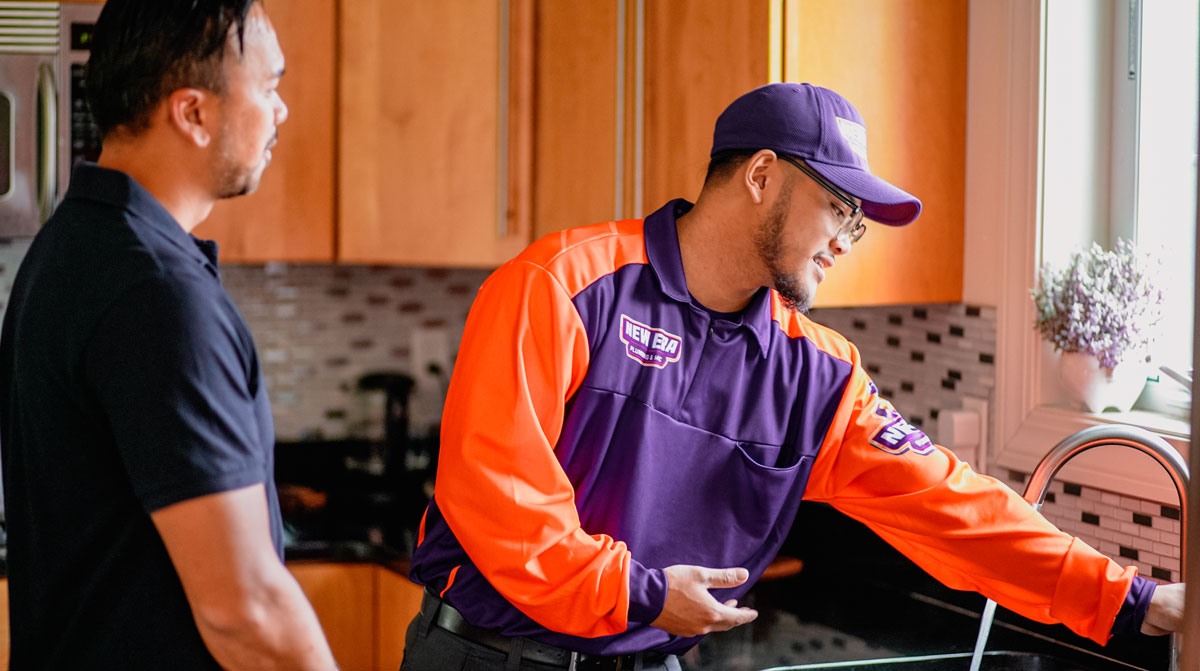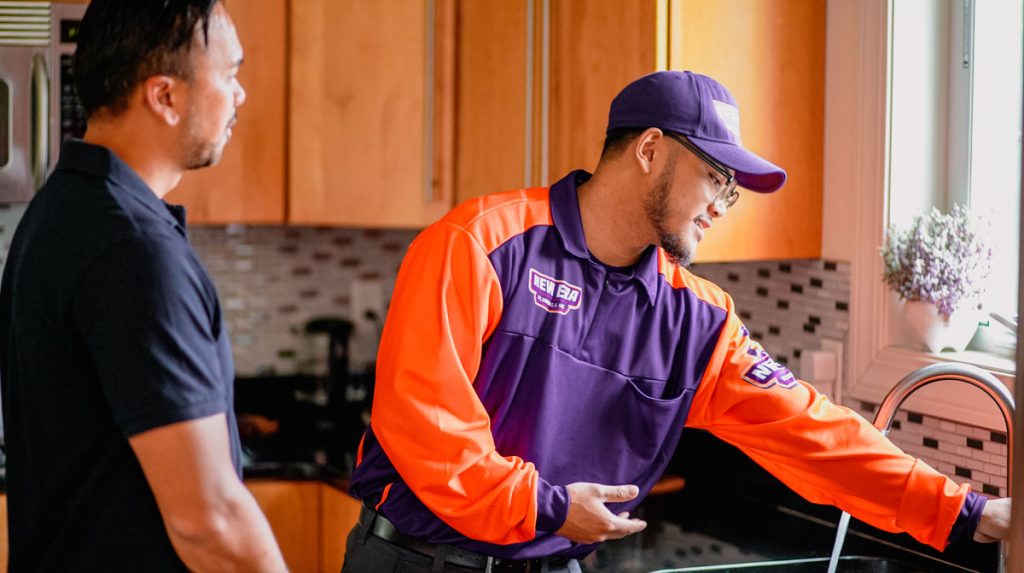 Emergency plumbers available 24/7
Few things can disrupt your day like a broken plumbing system. It's not just about the mess – it's your comfort, your health, and your peace of mind. That's where our team of emergency plumbers steps in. They are ready and waiting 24/7 to make sure you're taken care of.
Here's a heads-up on some red flags that say you might need emergency plumbing services:
Sudden leaks or burst pipes
Sewage backup or foul odors
No hot water, especially during the chilly New Hampshire winters
Unexplained water stains or moisture on walls and ceilings

Spot any of this going on? Don't wait. Give our emergency plumbers a call and we're on it, making sure your issue doesn't complicate further.
Flexible scheduling and cutting-edge solutions
For over 15 years, New Era has been the go-to company for plumbing in Derry. We've seen it all, tackled it all, and we know the ins and outs of what our neighbors need, plumbing-wise.
We know you're busy. So, we work around your schedule, making sure we're not throwing off your day. Punctuality is one of our core values: when we say we'll be there, we mean it. Gear in hand, ready to sort out whatever's gone sideways with your pipes.
From advanced diagnostic tools to efficient repair techniques, we use technology to provide you with the best plumbing solutions, staying ahead in the industry by incorporating cutting-edge technology.
So when you've got plumbing issues, remember Derry's #1 emergency plumber company. Give New Era a call, we're here for you.
Plumbing services in Derry
Our comprehensive plumbing services
At New Era, we handle everything plumbing-related, be it for your home or your business. You got a plumbing problem? Big or small, we got you covered.
We dive deep, figure out the root causes, and provide personalized advice for your specific system. Our pros will give you the full picture, so you can make informed decisions. We're all about keeping it transparent.
Our comprehensive plumbing services include:
Emergency plumber services
Bathroom plumbing
Kitchen plumbing
Repiping, frozen, and leaking pipe repair
Gas line repair and installation
Tankless water heater installation
Water heater installation, repair, and replacement
Whole home water filtration

Our commitment to excellence means we don't consider the job done until you're fully satisfied. Plus, with our White Glove Club, you can get faster services and deals on fixes and replacements. So when you think plumbing in Derry, think New Era. Give us a call!
Need plumbing for your business? Let us handle it
If you're running a business, the last thing you want is a plumbing crisis turning off your customers, stalling your productivity, and hitting your pocket. Don't worry, our plumbers, specially trained for commercial gigs, will be in and out before you know it, keeping things flowing so you can get back to business.
Our team will be clear and professional with their advice, tailoring it to what your place needs. We want to help keep your business efficient and cost-effective.
Yes, businesses may face financial challenges when dealing with unexpected plumbing repairs or installations. That's why we got flexible financing to help you out.
Got a commercial plumbing issue in the middle of the night? We're there. Trust New Era's emergency plumbers to be on the scene fast, getting your business up and running in no time.
Residential plumbing services
Residential plumbers at your service in Derry
Your home's plumbing is the backbone of your family's health and comfort. When issues arise, you need someone you can trust. That's where we come in with our emergency plumbing services.
Our plumbers will provide tailored advice to make sure everything in your home's plumbing system is running like a charm. We provide flexible scheduling, working around your day to fix things up without any fuss.
So, if you've got any hiccups with your pipes or drains, don't wait. Our emergency plumbers are here 24/7 to jump in and sort things out.
Need a hand with your residential plumbing? Give us a call!
We've got your back in every plumbing emergency!
When a plumbing emergency strikes, like a surprise leak or a busted pipe, it can throw a wrench into your day or even shut your business down. That's where New Era steps in.
We've seen it all with our 15 years of experience. Here you get honesty, expertise, and a straight-up approach. No hidden fees, just upfront pricing. And if something needs replacing, the estimate is free.
So, remember, we're not just here to fix pipes. We're here to be your partner in making sure everything's on point in your home or business. Got an emergency plumbing issue? Reach out. We've got your back!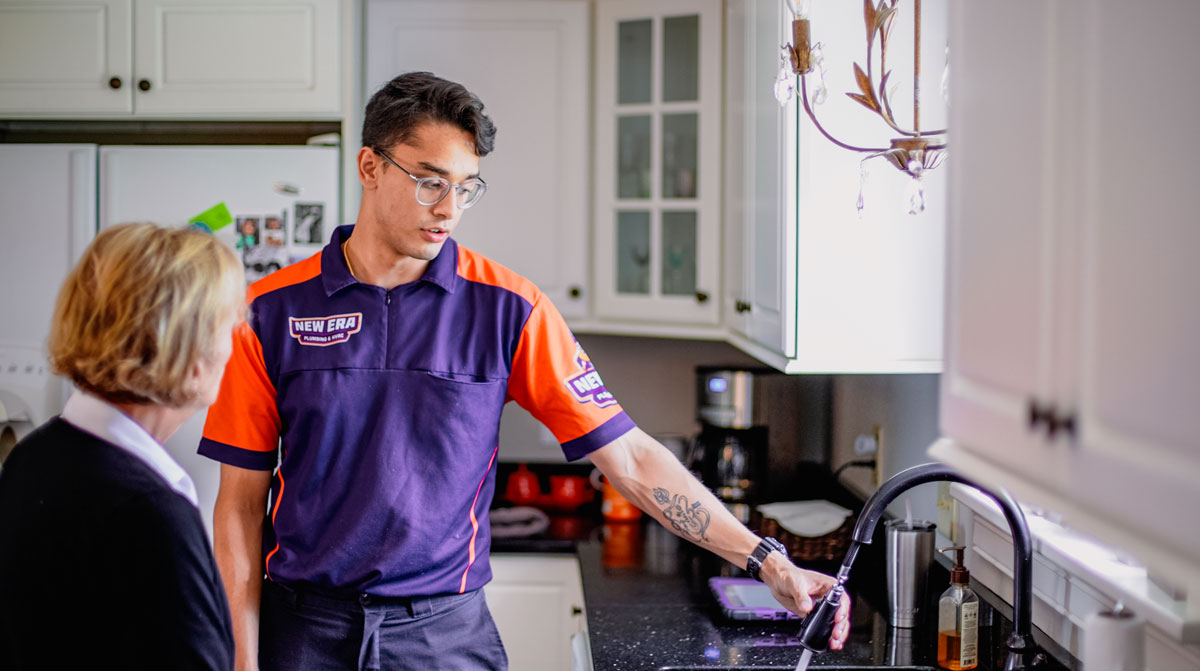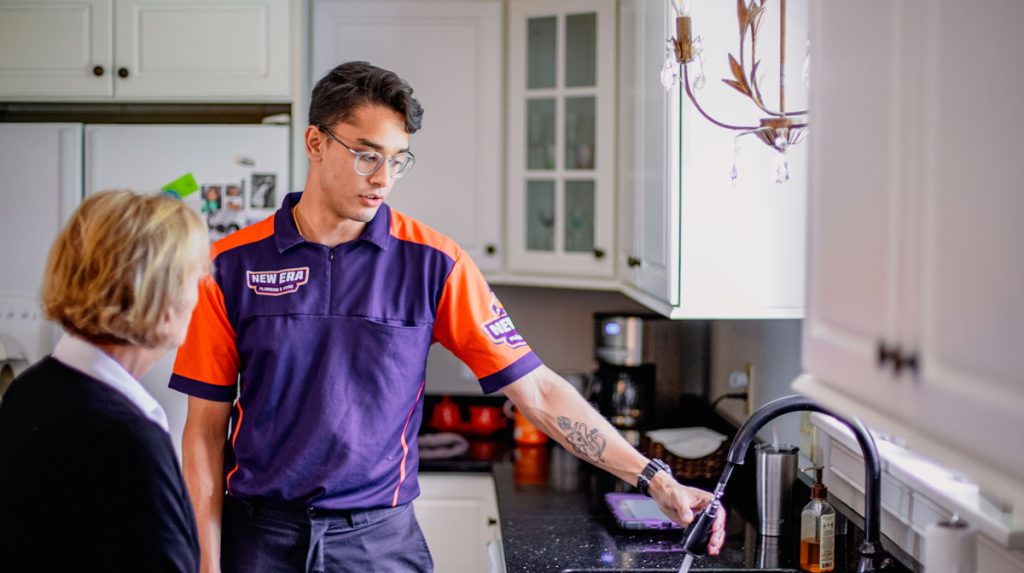 Other services in Derry, NH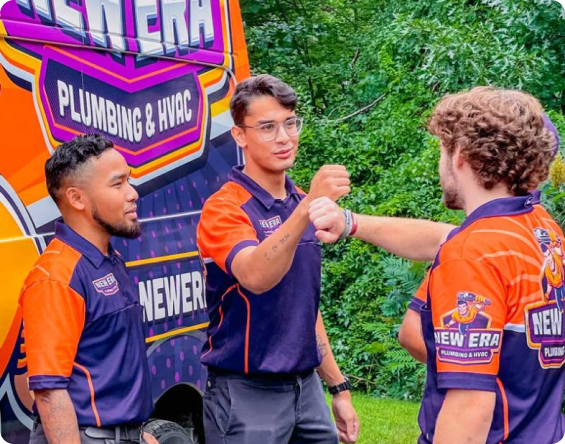 24/7 emergency plumbers in Derry
Got a plumbing emergency in Derry, NH? We're here for you 24/7. You can count on New Era to get the job done right and fast. Sleep easy knowing we're just a phone call away. Let's get your peace of mind back on track!