Plumbing Professionals in
Salem, NH
Upgrade To High Efficiency Boiler And SAVE $3,000!
Need Boiler Repairs? Get $100 OFF!
Expert plumbing services by New Era
At New Era, plumbing isn't just a service; it's a testament to our deep-rooted commitment to our customers and community members. With a proud legacy of being among the best plumbers in Salem, we consistently deliver high-quality plumbing solutions tailored to meet the area's diverse needs. From emergency plumber services to routine maintenance, New Era stands as a beacon of expertise in the world of plumbing services.
Our plumbing contractors are experts in offering service for both residential and commercial plumbing properties, ensuring every faucet, drain, and pipe receives the gold-standard treatment. Choose New Era, Salem's trusted plumbing company, and witness firsthand the hallmark of exceptional plumbing repair and service.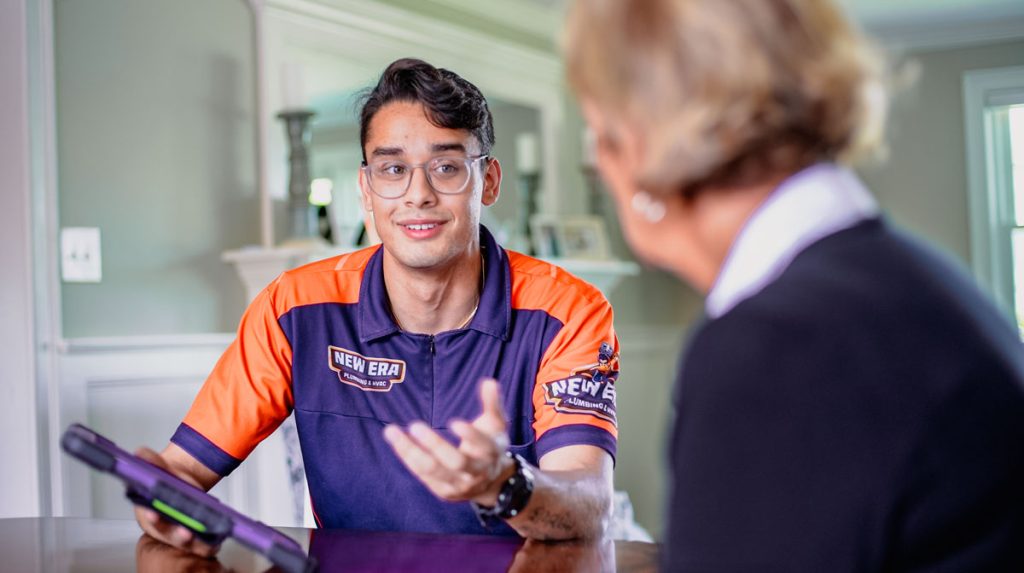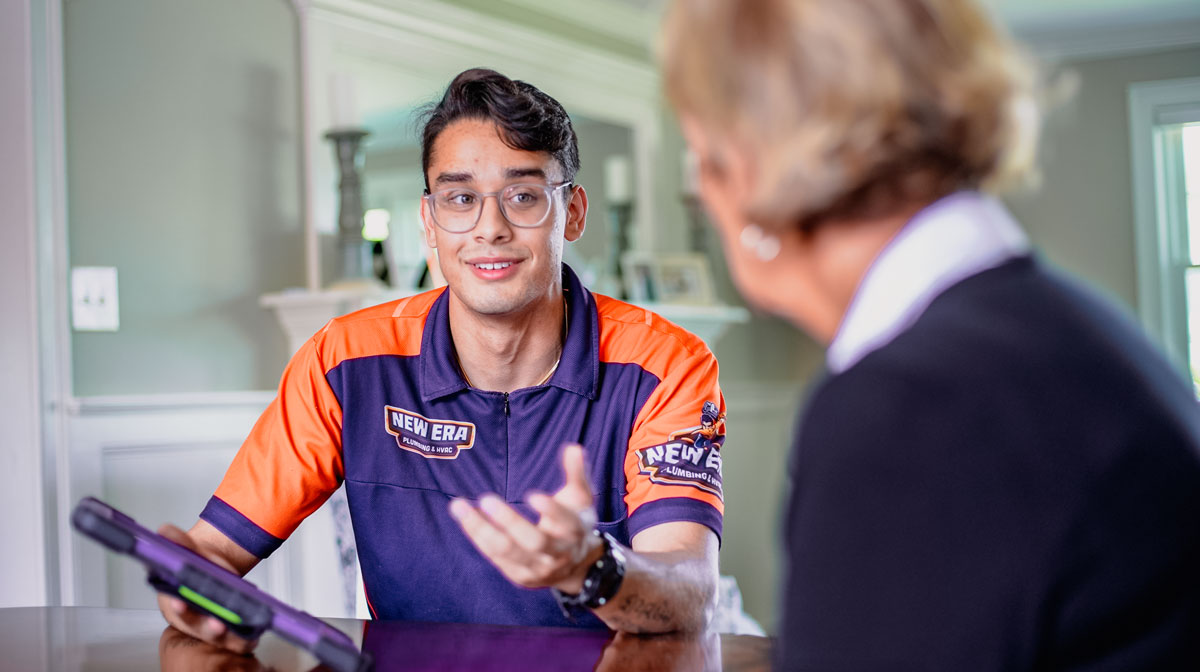 Frequently Asked Questions
Plumbing services: Everything you need to know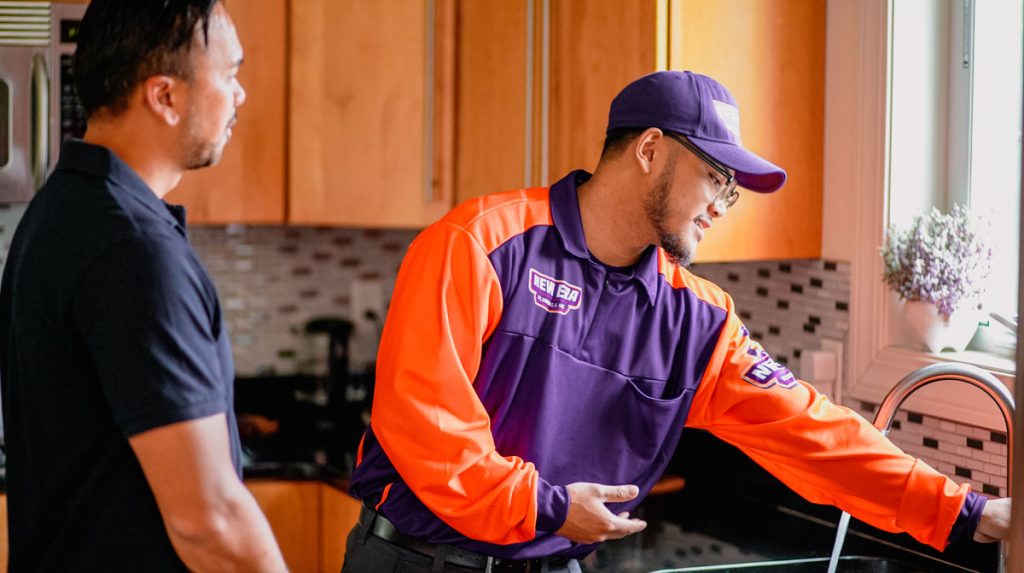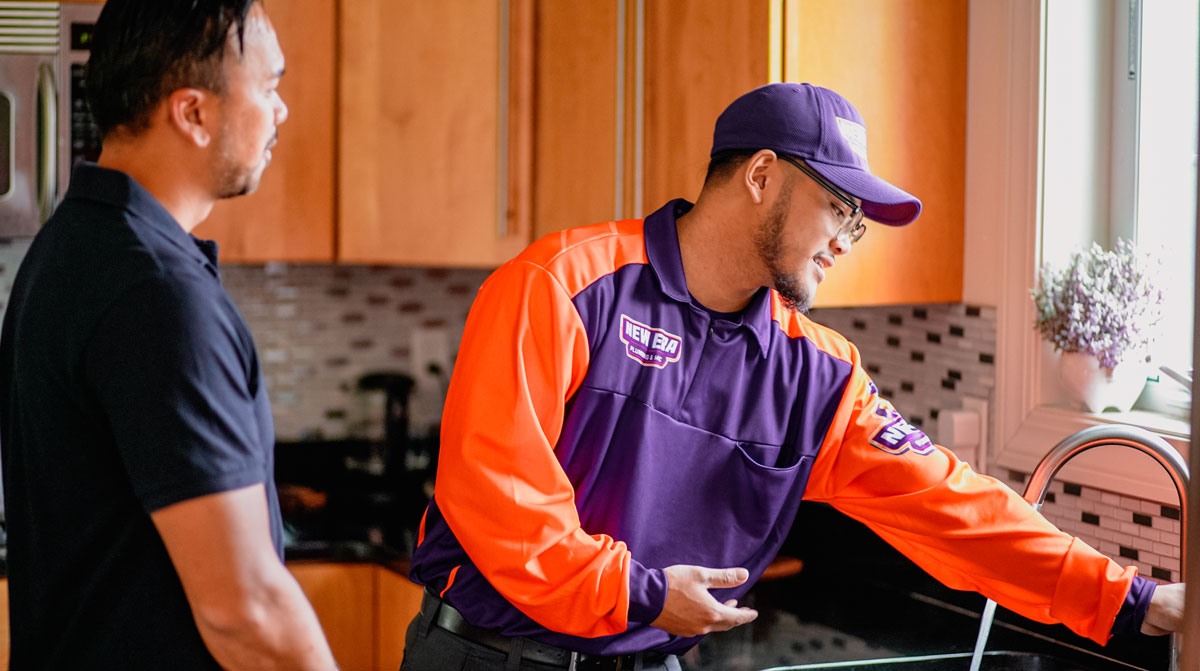 Efficient plumbing repairs
We pride ourselves on our adeptness in swiftly diagnosing plumbing issues, ensuring that our customers aren't left pondering over persistent leaks or blockages. Our array of plumbing services includes the essentials and the more complex: leak detection, pipe repairs, and plumbing fixture installations and repairs; to name just a few.
But what truly distinguishes New Era as the area's best plumber is our unyielding commitment to quality 24-hour plumbing services you can count on. When we repair, we delve deep, addressing the root of the problem, so you can rest assured that the issue is fixed for good!
24-Hour emergency plumbing services
Our dedication is not bound by the clock; we offer 24-hour plumbing services to cater to those unforeseen plumbing issues that demand immediate attention. As Salem's trusted 24-hour plumbing company, we're here when you need us. With swift response times and expert plumbers standing by, we're ready to tackle any plumbing issue thoroughly and efficiently.
Whether it's a midnight pipe burst or an early morning drain blockage, our emergency plumber specialists ensure seamless resolutions. With New Era, your emergency plumbing issue is in expert hands.
The trusted commercial plumbing contractors in Salem, NH
An expert plumbing contractor knows that residential and commercial plumbing systems have distinct characteristics. Residential plumbing caters primarily to the needs of households, ensuring daily conveniences. Commercial plumbing, on the other hand, navigates the complexities of businesses, industries, and large establishments, requiring specific expertise.
At New Era, our commercial plumbing contractors are highly experienced and knowledgeable in all types of plumbing systems. From complex installations to meticulous plumbing repairs, our plumbers ensure that commercial spaces operate without a hitch. Entrust your business plumbing needs to the best plumber in town and experience unwavering quality and professionalism.
Choosing the best plumber
With over 15 years in the plumbing industry, New Era has continually been Salem's top choice when it comes to local plumbing companies. This isn't by chance; it's our unwavering commitment to the community. We prioritize local residents, ensuring each interaction is tailored and every client feels valued. Our core values of faith, family, and collaboration are reflected in every service, backed by our knowledge and experience in plumbing repair, maintenance, installation, and comprehensive plumbing services.
Being an active participant in the community, we've fostered a bond that only local plumbing companies can appreciate. With 600+ positive reviews and plumbing contractors you can count on for 24-hour emergency responses, our reputation stands unchallenged. New Era isn't just a plumber; we're Salem's trusted partner.
The importance of regular plumbing maintenance: Tips from New Era's plumbing contractors
Often overlooked, routine plumbing inspections are an important part of keeping your home or business running smoothly. Regular plumbing service ensures that minor plumbing issues don't evolve into significant, costly problems. An efficiently maintained plumbing system, backed by a reliable plumbing company like New Era, not only lasts longer but also guarantees optimal water pressure and reduces blockages and leaks.
New Era, among the top plumbing companies in Salem, recommends frequent checks, vigilance for early signs of wear and tear, and simple DIY maintenance techniques. Above all, routine plumbing care provides both homeowners and business owners with peace of mind, ensuring their residential and commercial plumbing systems remain in pristine condition.
When you notice anything irregular happening in your plumbing system, don't hesitate to contact a professional plumber today. Timely plumbing repair can drastically reduce the amount of time and money invested in re-establishing a functioning plumbing system.
New Era: Your trusted plumbing partners
In Salem, NH, New Era stands out, not just as a plumbing company, but as a hallmark of quality and trust. What makes us the best plumber in the area? Three fundamental attributes: reliability, exceptional customer service, and an uncompromising commitment to the gold standard of service.
Our plumbers use advanced tools and state-of-the-art techniques to ensure accurate diagnostics, offering solutions that stand the test of time. Whether you're a business seeking commercial plumbing or a homeowner in need of seasoned plumbing contractors, our focus remains unchanged: excellence in every drop.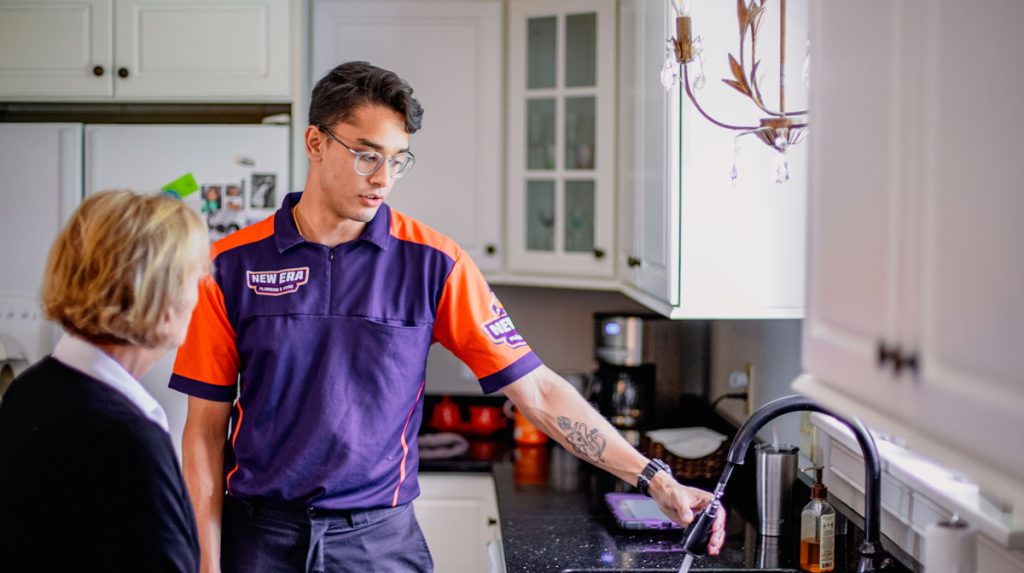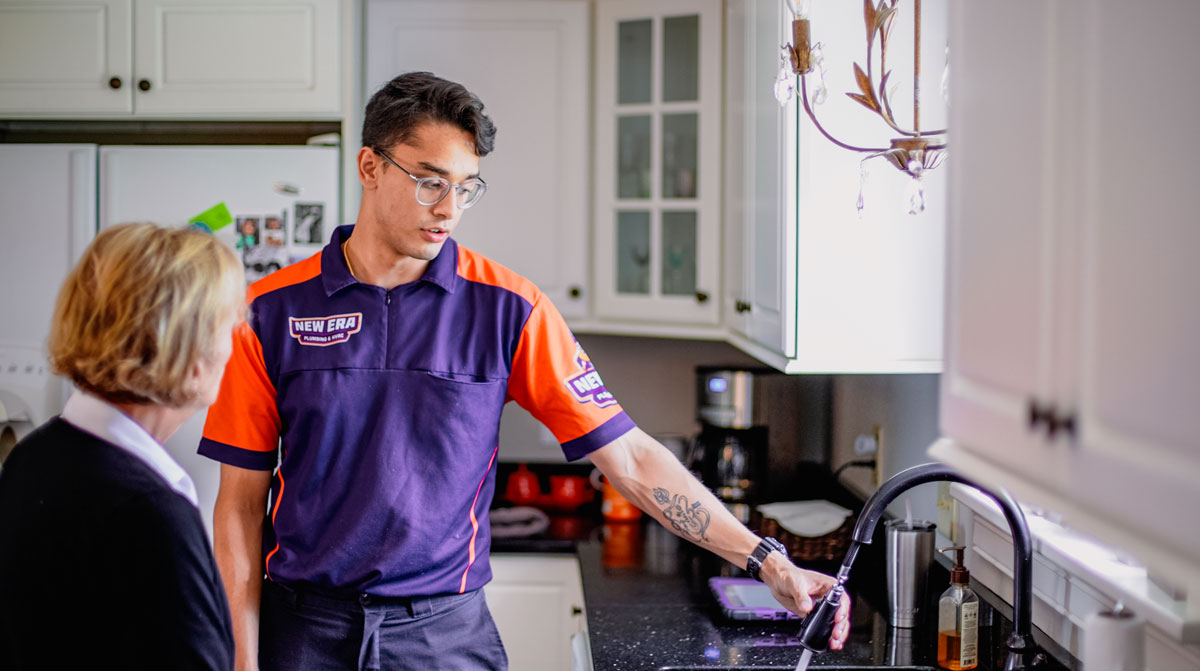 Other services in Salem, NH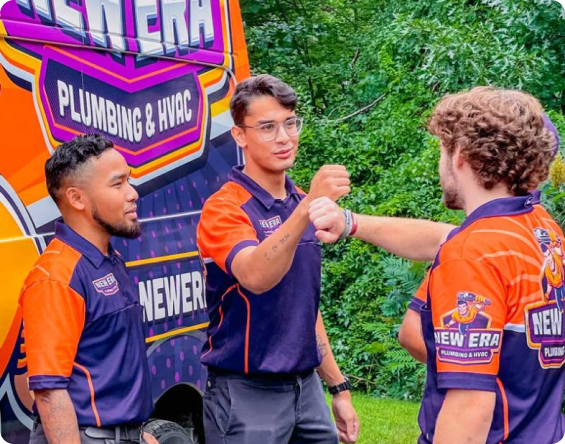 The best plumbers in Salem, NH
Don't let plumbing emergencies disrupt the peace in your home. At New Era, we know that plumbing repair can be unexpected and time-consuming; this is why we're here as your reliable 24-hour plumbing company in Salem.
Call us today for expert assistance and unparalleled plumbing services in Salem, NH!