Plumbing Services in
Burlington, MA
$199 Automatic Water Shut-Off System Prevent water damage during emergencies.
Get $100 Off Whole-House Water Filters. A Cleaner Tap Every Time
Meet the Leading Plumbing Company in Burlington, MA!
If you're on the lookout for the best plumbers in town, meet New Era, your friendly neighborhood plumbing company! With over 15 years in the industry, our crew of expert plumbing contractors is all about providing reliable 24-hour plumbing services to the good people of Burlington. We're the go-to experts for everything from emergency plumbing issues and repiping, to fixture installations and sump pump replacements – you name it!
Got frozen pipes on Christmas Day? Need a plumbing repair service in the middle of the night? Our 24-hour plumbing service has got your back, no matter the time or day. And if you've got a grand bathroom remodel in mind, we're the masters of shower installations and toilet replacements too!
We understand the unique needs of Burlington residents, both for residential plumbing and commercial plumbing. A large national company just won't know how Massachusetts winters affect your pipes, or what the local codes and regulations are in the same way that New Era does. Whether you need trenchless sewer repair or require gas leak detection, our plumbing contractors have the skills and expertise to ace the job.
So, next time you're searching for reliable "plumbing repair near me," head straight to New Era. We're ready to tackle all your plumbing needs with a touch of professionalism and a big friendly smile!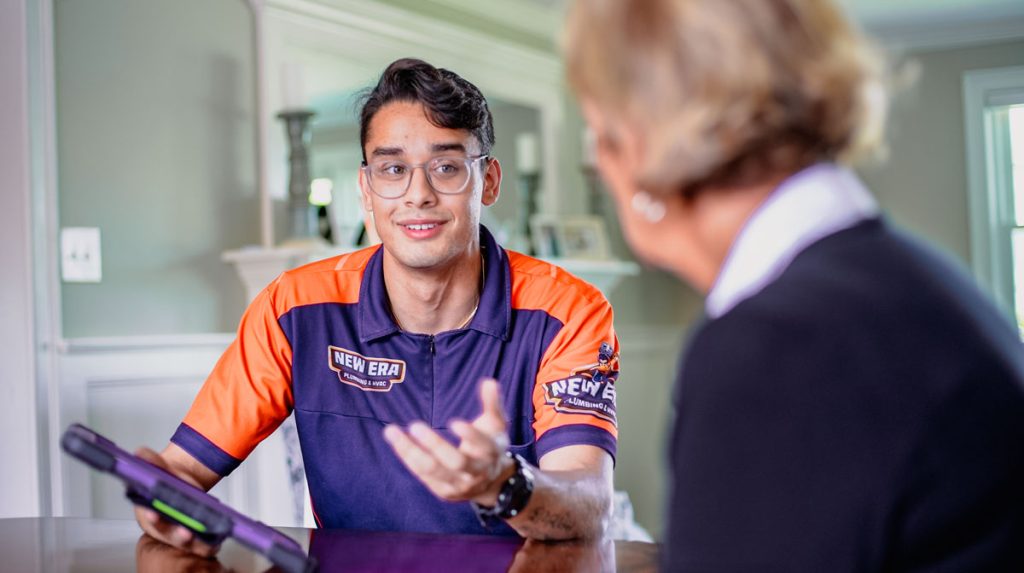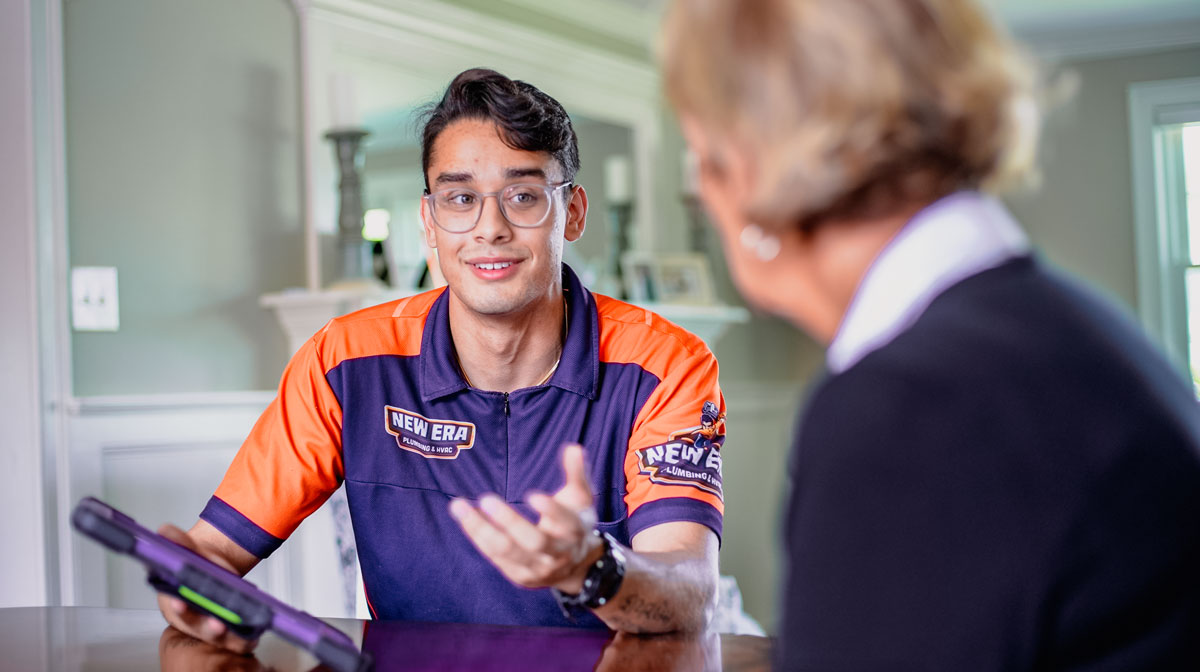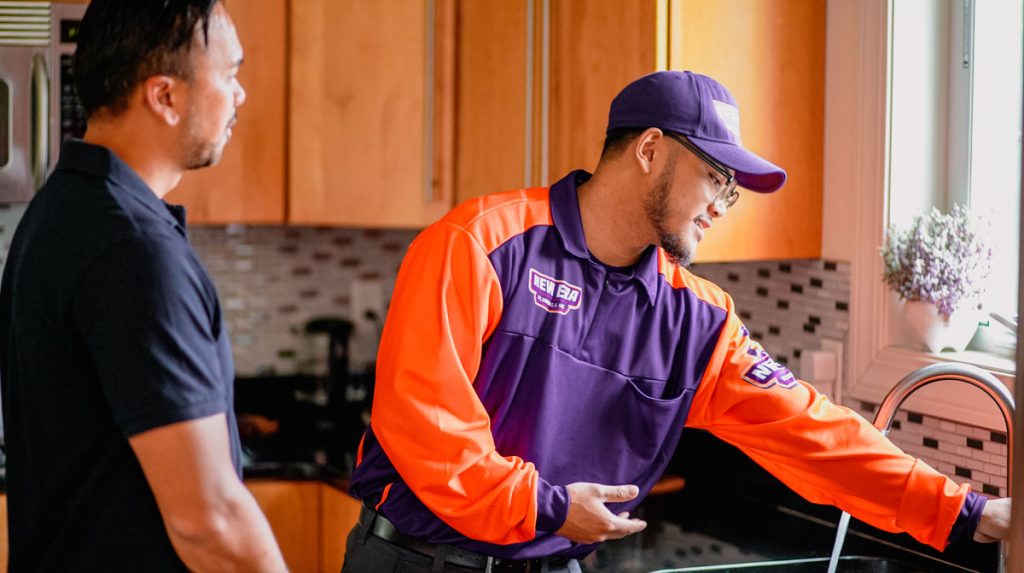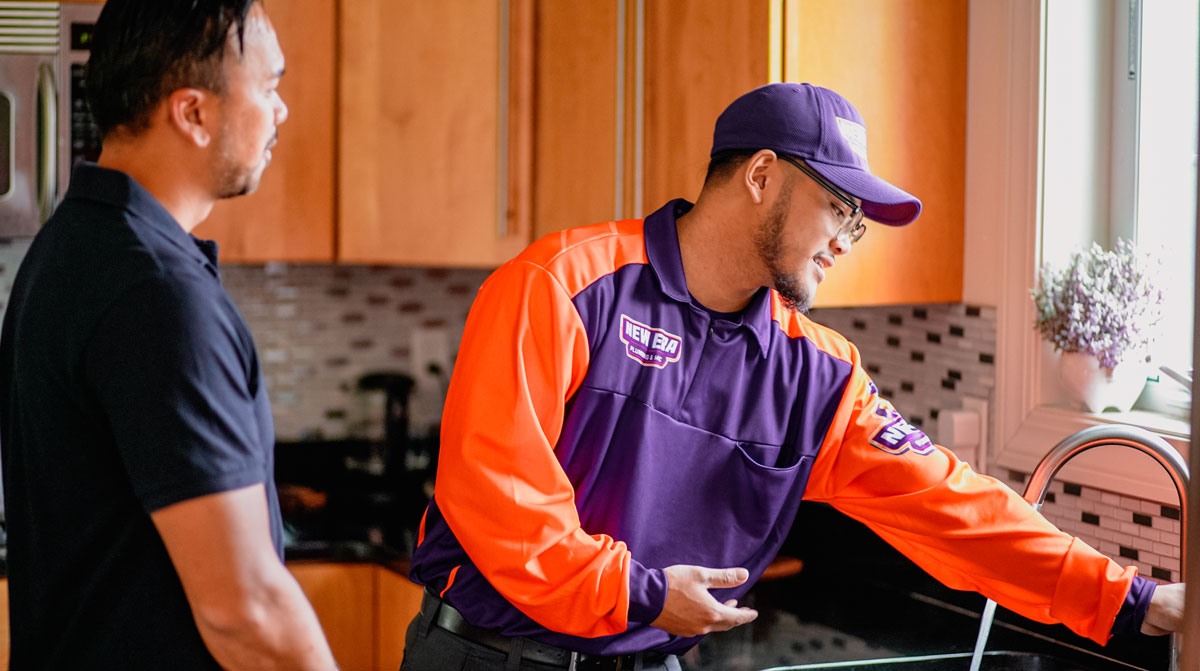 A Wide Range of Professional Plumbing Services in Burlington, MA
We're the best plumbers in this side of Massachusetts, offering a wide range of high-end plumbing services to keep your home or business running like a well-oiled machine. Our crew is always on standby to tackle any of your plumbing needs.
We've got your back with round-the-clock emergency plumbing services. And when it comes to adding those perfect finishing touches to your bathroom or kitchen, our plumbing fixture and shower installation skills are second to none. Worried about leaks? Our plumbing leak detector service will track down the culprit in no time.
Got bigger projects in mind? Our trenchless sewer repair and sump pump installation services will do the trick with minimal fuss and maximum efficiency. Does your house need complete repiping? We can handle it. And for all your commercial plumbing needs, we've got you covered too, keeping your company's plumbing system in tip-top shape.
Whether you need a shiny new toilet installation, or a quick faucet repair, the company to call is New Era, your reliable residential and commercial plumbers in Burlington!
Residential Plumbing Solutions Tailored To Your Home's Needs
New Era has the top residential plumbers in Burlington! Whether it's a simple plumbing repair or a complete bathroom makeover, our expert plumbing contractors have the skills to get the job done right. Here's a taste of what we offer:
Plumbing fixture installation services
Sump pump installation and replacement solutions
Water leak detection
Faucet repairs
Shower installations and replacements
Gas line installations
Toilet installation and replacement services
Repiping services
Water line installation and repair
Sewage line and ejector pump services
Backflow preventer services

And more!
As your friendly neighbors, we're dedicated to delivering exceptional residential plumbing service in Massachusetts.
Your Reliable Commercial Plumbing Partner in Burlington!
At New Era, our experienced team specializes in a wide range of commercial plumbing services, conducting plumbing repairs and installations to ensure your company operations run smoothly. Here's what we bring to the table:
Plumbing system upgrades: We revamp your plumbing system to optimize performance and save on costs. From a small fixture change to a water-saving toilet installation to full repiping, we always deliver.
Backflow preventer installation and repair: Trust our experts to keep your water supply safe and compliant.
Plumbing fixture Installation and replacement: We bring a fresh and functional look to your commercial property.
Gas line installation and repair: Your business's safety and efficiency are our top priorities when it comes to gas services.
Regular maintenance: We believe in proactive care to avoid unexpected breakdowns. Our regular maintenance services help identify and address issues early on, ensuring uninterrupted operations.

From restaurants to office buildings, our commercial plumbing services cater to the unique needs of your business. We're not just your average commercial and residential plumbers—we're your dedicated partners in maintaining the plumbing integrity of your commercial property.
Need Specialized Plumbing Repairs and Installations? Give Us A Call!
When it comes to specialized plumbing services, no one does it better than New Era, your reliable Burlington-based plumbing company! Here's how we bring the best to your home:
Thorough Inspection: We start by delving deep into the issue, whether it's a new shower installation or a complete repiping project. You can also trust us to be expert plumbing leak detectors. We leave no stone unturned in understanding your plumbing needs.
Customized Solutions: Our expert 24-hour plumbers design tailored solutions that fit your specific problem. We consider both the urgency of the issue and your budget to deliver the perfect outcome.
Seamless Execution: We handle installations, repairs, and replacements with precision and efficiency, minimizing any disruptions. Using cutting-edge technology, we ensure a seamless experience from start to finish.

As the trusted plumbing contractor in Burlington, we take pride in our specialized plumbing services. With New Era, you can expect professionalism at its finest!
24/7 Emergency Plumbers Ready to Assist You!
Life is never predictable, and that's particularly true when it comes to emergency plumbing issues. That's why New Era is here, around the clock, to tackle those surprises with an emergency plumber always on standby for 24-hour plumbing services.
Whether it's an unexpected burst pipe, a gas leak, or an issue with your sewer line, we act fast to minimize damage and reduce your plumbing repair service costs. Our well-trained and experienced plumbing contractors understand the importance of immediate response and are fully equipped to handle any situation.
But our emergency plumbers go beyond just the technical. We are a plumbing company that truly cares about our community. Every customer, every employee – you're all a part of the New Era family. We prioritize your safety, your comfort, and your peace of mind in every service we provide.
So whether you're in need of a residential plumber for your home's emergency plumbing needs or require a commercial plumber for unexpected issues at your business premises, remember that New Era has got your back with 24-hour plumbing services in Burlington, MA!
With New Era's round-the-clock services, emergency plumbing is never an inconvenience, but an opportunity for us to help our community.
Why Choose New Era's Plumbers?
Looking for reliable, trusted, and experienced plumbers in Burlington, MA? Call New Era, the plumbing company renowned for its exceptional service and unwavering commitment to customer satisfaction. We're not just your average plumbers, we genuinely care about you and our community!
Whether you need a simple toilet installation, expert shower replacement, or comprehensive trenchless sewer repair, we've got your back. Our team of dedicated plumbing contractors is equipped to handle it all. From precise gas leak detection to efficient sump pump installation and even faucet repair for companies, we offer a comprehensive range of services to meet your every plumbing need.
We take great pride in our more than 600 5-star reviews, a true testament to our unwavering commitment and unmatched professionalism. We also actively participate in community initiatives because every successful job strengthens the bond we share with the people we serve.
At New Era, we don't simply provide plumbing services, we build lasting relationships, one job at a time!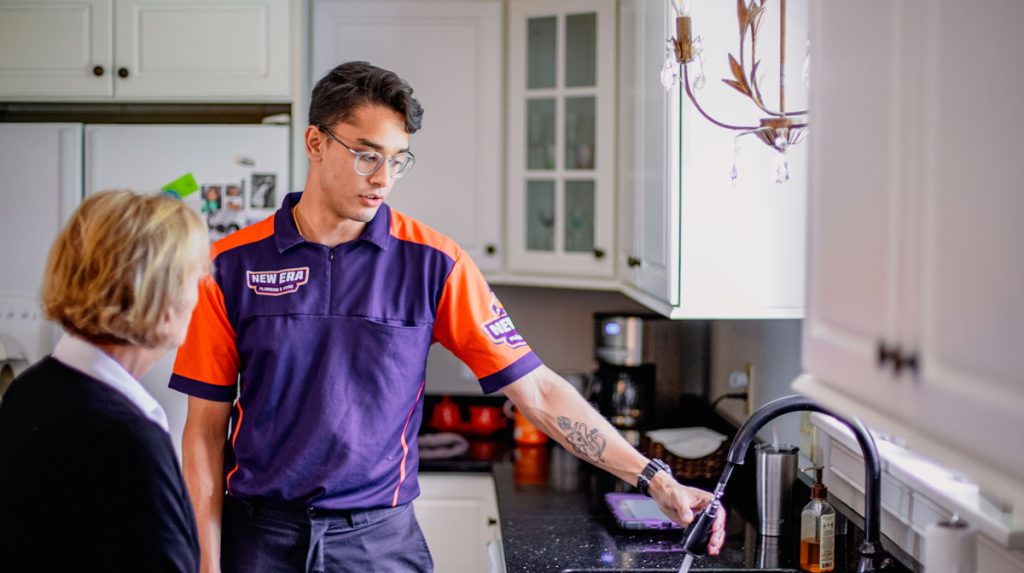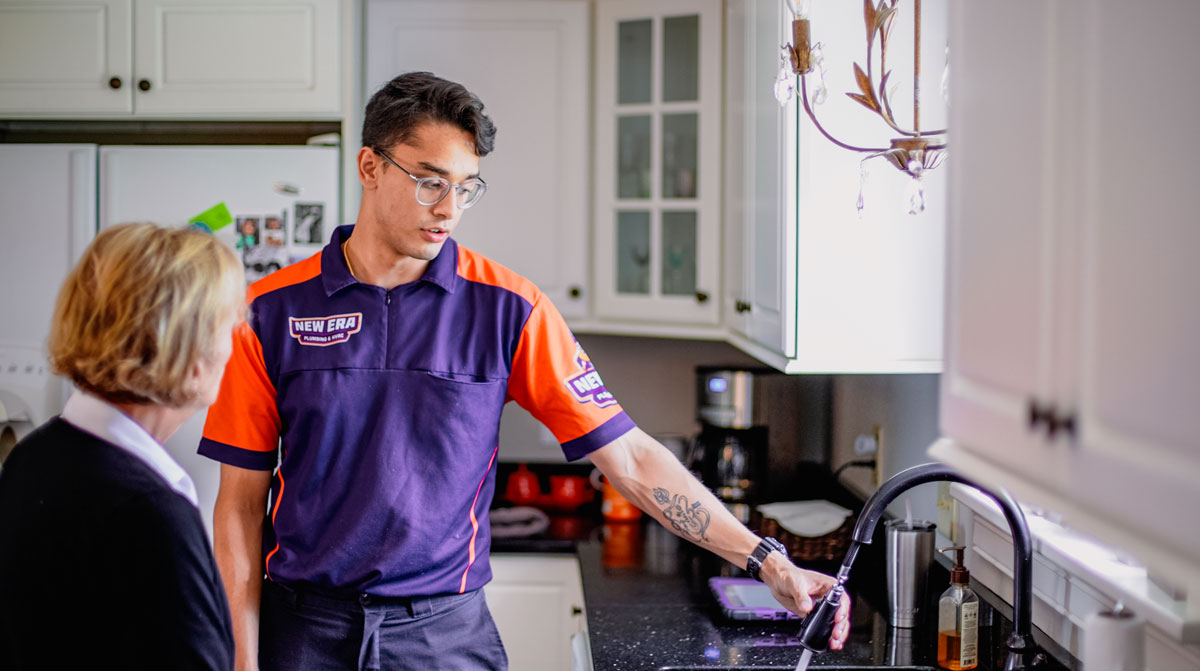 Other services in Burlington, MA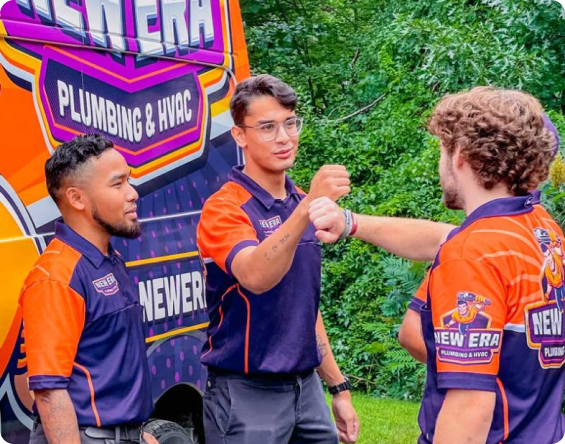 Top-notch Plumbing Services in Burlington, MA
Got a plumbing issue? New Era is here for you! The best plumbers in Burlington are just a call away.
Experience the difference with a plumbing company that truly cares about our community. Reach out to New Era today for quick, reliable, and affordable plumbing solutions!
Plumbing Service Near You
Acton
Amesbury
Andover
Burlington
Chelmsford
Concord
Georgetown
Haverhill
Lawrence
Pelham
Rowley
Salem
Tyngsborough
Westford
Windham