Serving Dracut, MA residents for 15+ years!
#1 Furnace Repair Company in Dracut, MA, with Over 600 5-Star Reviews
Do you need fast furnace repair services in Dracut, MA? Call New Era Plumbing & HVAC at (978) 593-2294 to schedule an appointment!
You depend on your furnace to keep your Massachusetts home or business warm in the cold winter months. New England's harsh weather can be even more unbearable when your heater or furnace stops working or needs repairs. Fortunately, New Era Plumbing & HVAC is a trusted HVAC and plumbing company with 600+ 5-star reviews serving Dracut, MA, and the surrounding areas.
New Era Plumbing & HVAC is the best business to call when your furnace isn't working properly. We have over 15 years of experience helping clients in the community, diagnosing furnace issues and performing skillful repairs. There's no HVAC problem our team can't resolve. Call us today, and we'll ensure your furnace is in excellent condition!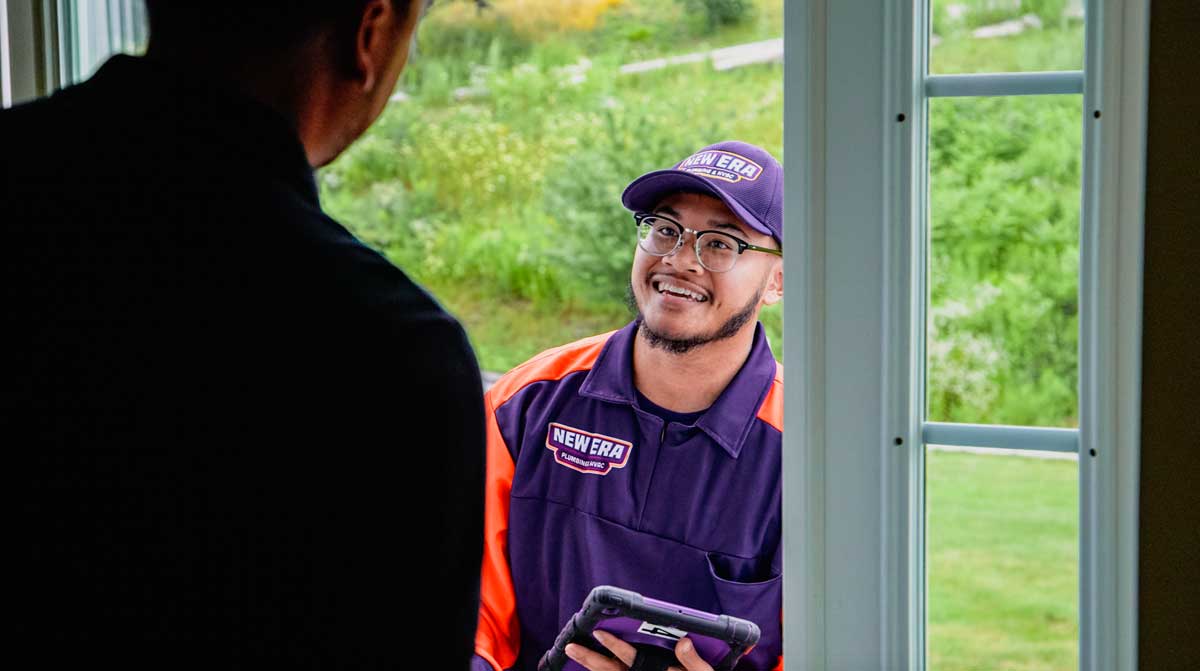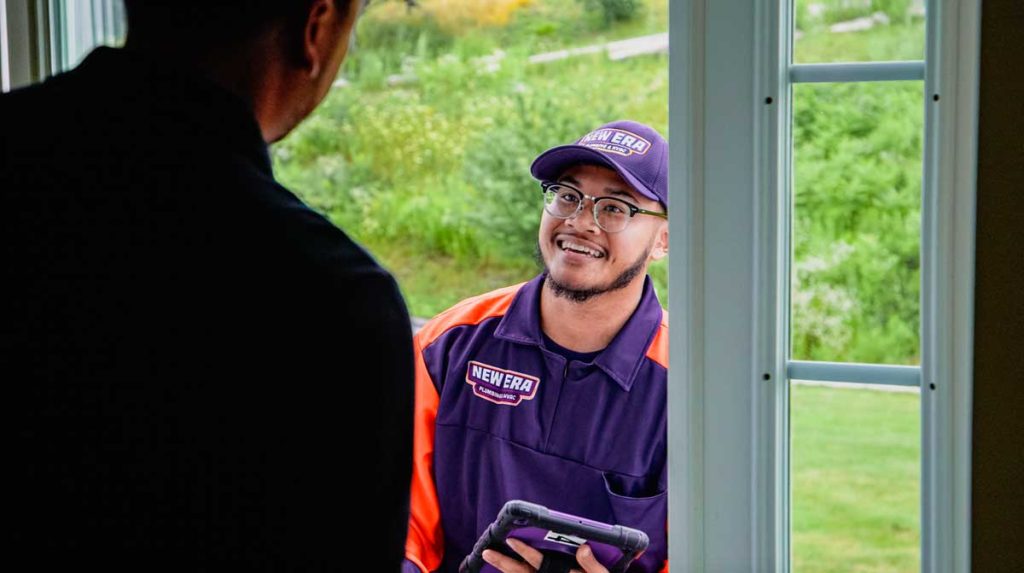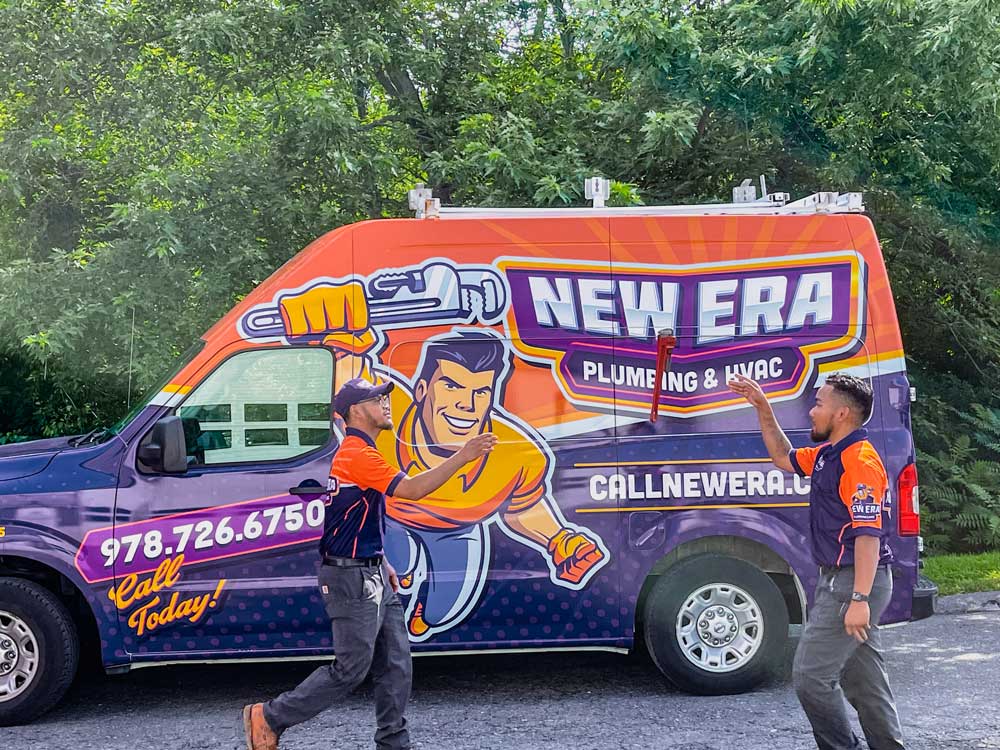 Signs You Need Furnace Repair Services
You don't have to wait until your furnace is on its last leg to call our company for repairs. Repairs can show up in a multitude of ways and range in severity, but you must immediately tackle them. Our team will inspect your unit, determine its condition, and propose a plan to address your concerns.
Not everyone knows when they need furnace repair, but learning the signs can help you catch problems before they worsen. For example, a broken blower motor can lead to expensive energy bills and a lack of airflow from your system. You could avoid spending hundreds of dollars on costly repairs if you detect issues early on.
Look for the following signs you require furnace repair, then give New Era Plumbing & HVAC a call today.
Your system is 7+ years old.

You notice unusual smells wafting from the unit.

You experience difficulty starting it up.

You haven't had a furnace service appointment in a year or longer.

Your furnace's pilot light is discolored or weak.

You aren't getting hot air or warmth from your furnace.

The furnace has poor airflow. 

Your monthly energy bills have sharply increased.

Your carbon monoxide detector is tripping.

You hear peculiar noises from your system.

Your furnace shuts off often and without reason. 
We will do everything in our power to repair your furnace so you can enjoy many more years of use. However, your unit's age and condition could cost you more money than it is worth to save it. If replacing the old system is the best course of action, we'll suggest a great new unit and provide immediate installation services. 
Free replacement
estimate
Furnace replacement as low as $5,500.*Price may vary depending on the system. Terms and conditions apply. Contact us today for a personalized quote tailored to your specific system needs.
Heater Repair Near Me | Dracut, MA
New Era Plumbing & HVAC offers trusted furnace, heat pump, and heater servicing to resolve problems of all sizes. No matter what kind of heating system you have, we have the proper equipment, tools, and experts to fix it. We arrive promptly at your property and see what is preventing your heater from working correctly. 
Spending time in your home without a fully operational heating system can be unbearable and dangerous. When cold New England weather strikes, the need for heater repair becomes more prominent. Fortunately, you can call us for 24/7 heater servicing and book an immediate appointment.
The Importance of Heater Preventative Maintenance
Adding heater maintenance to your routine is one of the most effective ways to extend your system's lifespan and save money. If you're in need of "heating maintenance near me," look no further than New Era Plumbing & HVAC for reasonably priced and fast maintenance services. You can schedule appointments once or twice a year to prepare your heater for the upcoming season. 
Why should you make booking heater maintenance a priority?
It prevents unexpected breakdowns

.

 During maintenance, our team can see if any parts, such as the circuit board, need replacing. You're less likely to have your heater stop working unexpectedly if you stay on top of repairs and understand its condition.

It can extend your system's lifespan

. 

Purchasing a heater is a large investment, so it's reasonable that you want to enjoy your unit for as long as possible. Routine maintenance can make your heater last even longer than the expected 15 to 20 years!
You'll keep your family safer

. 

No one wants to breathe dirty and dusty air, but neglecting maintenance can lead to pollutants circulating in your home. During your appointment, our team will clean your entire system and replace the dirty air filter. 
It ensures your heater is at its top efficiency

. 

An HVAC professional can determine whether or not your system is truly efficient and may make suggestions for how to improve. We will inspect all parts and clean internal components that prevent efficiency.
Don't hesitate to schedule your maintenance services with our team! It's never been easier to tune up your furnace in Massachusetts. You can conveniently book a maintenance appointment online or call us at (978) 593-2294 to speak with our friendly staff. 
Why Work with New Era Plumbing & HVAC for Furnace Services
Have you performed numerous searches for "heater repair near me" and are struggling to choose between your options? If you have a commercial business or residential property in Dracut, MA, or the nearby areas, you need our professional HVAC business. Many of your neighbors have worked with New Era Plumbing & HVAC for their heating, plumbing, cooling, and indoor air quality services.
At New Era Plumbing & HVAC, we pride ourselves on putting our customers first and creating complete indoor air comfort. We offer affordable prices, are accessible 24/7, and go above and beyond for 100% satisfaction. We also use only the best parts and equipment for our services.
You'll find numerous reasons why working with our business is the best choice. We'll exceed your expectations and become your go-to heating and cooling company you can count on for future needs. Consider our company and give us a call to schedule furnace repair services today!
Good Reputation

 

– We have hundreds of positive reviews from our past clients, explaining what it was like to work with us. We work with many MA homeowners and businesses and are well-known in the area. We also have been working here for 15+ years!

Core Values

 

– Our business embodies our core values with all that we do; it is how we hold ourselves to excellence. These values include working together, loving family, having faith, showing empathy, providing service, giving humbly, and valuing expertise. 
Customer Satisfaction

 

– We aim for the best services possible and to create outstanding experiences for all of our clients.
Flexible Financing

 

– Convenient financing options help take the stress off of paying for essential HVAC services in Massachusetts. We offer easy monthly payment plans and work with your budget. Furnace maintenance or repairs will be more affordable.
24/7 Availability

 

– Our team understands that emergencies and the need for HVAC services can happen any time. You can reach out to us 24/7 when you need our help to fix or replace your furnace in Massachusetts. We'll quickly spring into action and help!
FAQ's Regarding Heating Repair
As an experienced and reliable plumbing and HVAC company in Massachusetts, we have the answers to common heating questions. It's always good to have some knowledge about your heating system so you can keep your unit in superior condition. 
Contact Our Top-Rated Furnace Repair Company in Dracut, MA
Our HVAC business is transparent about all the work we perform and never settles for anything less than perfection. Whether we're installing a new furnace at your home or tuning up your business's heater for the winter, you can guarantee superior services and top-quality work. Our staff has dealt with a wide range of furnace issues during our years of working in Massachusetts, so we feel 100% comfortable resolving your concerns!
You can contact New Era Plumbing & HVAC in Dracut, MA, for excellent furnace services at affordable prices. Get immediate answers to your questions from our trusted team. Fill out our online form to book an appointment or call our expert technicians at (978) 593-2294 for quick and easy furnace repair!