Serving Dracut, MA residents for 15+ years!
#1 Tankless Water Heater Installation in Dracut, MA, With Over 600 5-Star Reviews
If you want hot water on demand, try a tankless water heater installation—call us today!
Do you have to navigate hot water shortages every day? If you are timetabling showers and laundry to make sure you have enough hot water, you might want to consider our tankless water heater installation services in Dracut, MA.
Why consider the switch to a tankless water heater? At New Era Plumbing & HVAC, we've helped many homeowners say goodbye to hot water shortages with this new technology. We can help you pick the most efficient unit and expertly complete the installation to give you a consistent supply of hot water for a long time to come.
Why not schedule an appointment with our tankless water heater installers to discuss the options?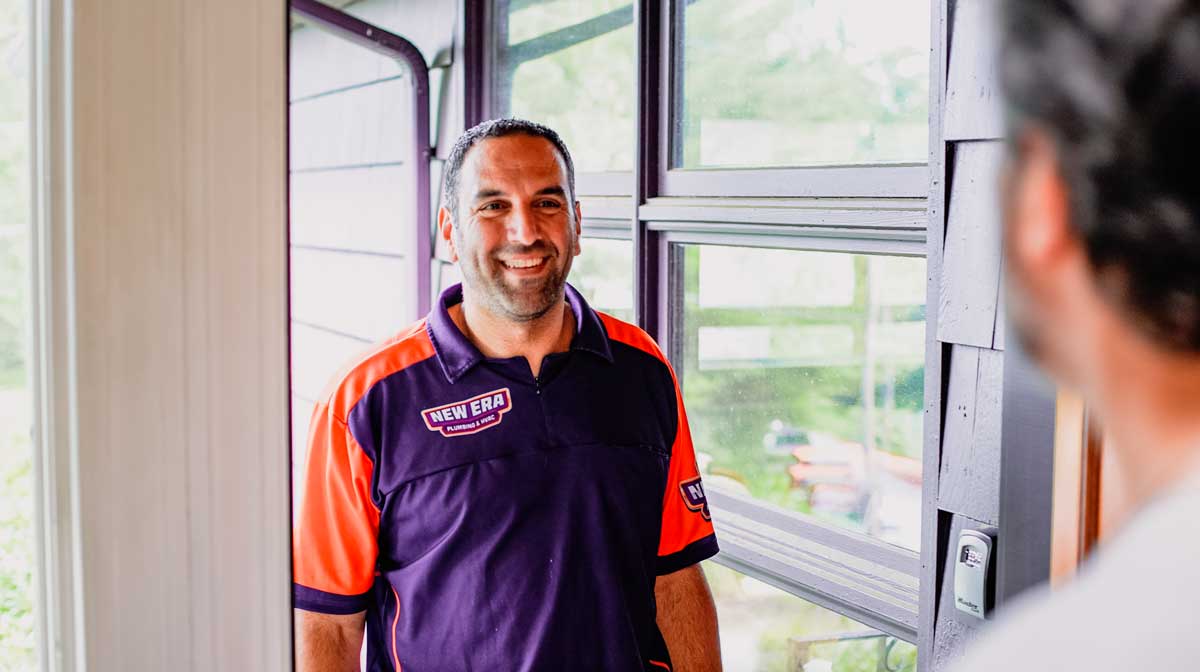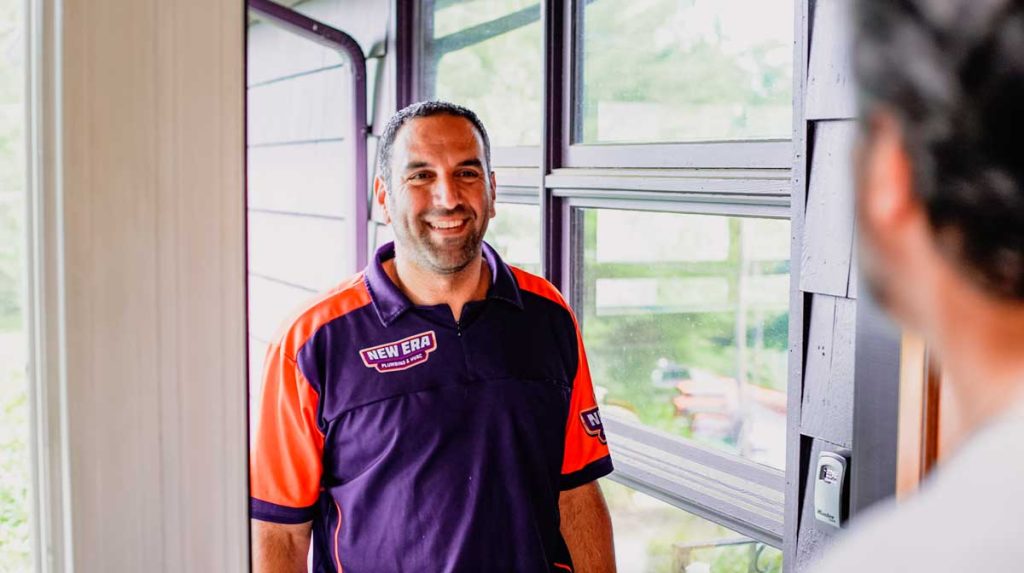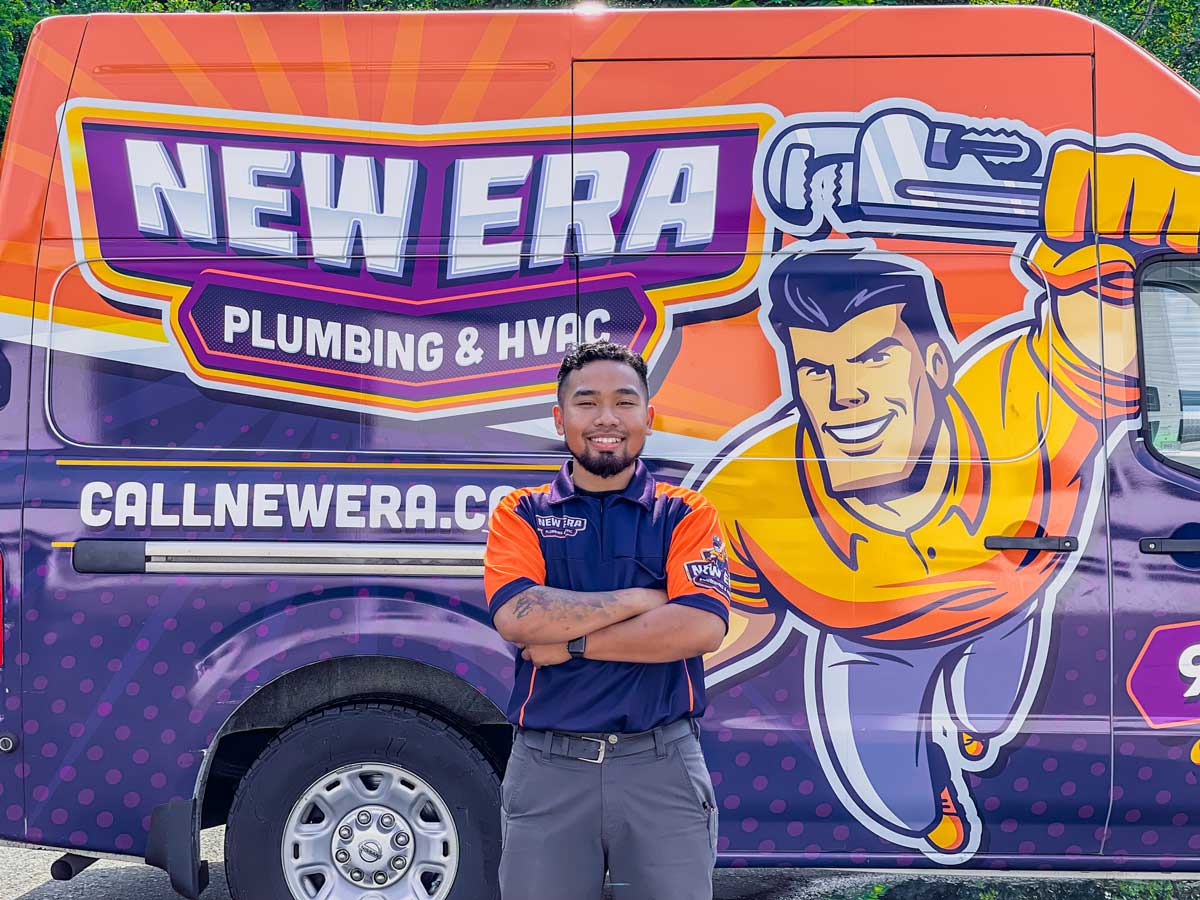 What Are the Advantages of Tankless Water Heaters?
Tankless water heaters are an excellent alternative to traditional water-heating systems. Below are some of the top advantages we share with our Dracut customers about tankless water heaters:
Lower utility bills

. Tankless water heaters don't need to constantly heat water in a tank. They only heat the water as it passes through a heat exchanger and a simple network of pipes. As a result, you are sure to notice a reduction in your utility bills.

Compact enough for small spaces

. These water heaters don't have a tank and work on a network of water lines, a heat exchanger, and similar elements. That means we can even install it in a small closet, freeing up space in your home.

Clean hot water on demand

. You won't have to worry about bacteria or other growth in the storage tank if there isn't a tank. Instead, the water flows straight through the heater's pipes as you turn on a hot water faucet anywhere around the home.

Leak-resistant systems

. Conventional water heaters commonly leak as they age. Even minor leaks can be severe because there is a lot of water sitting in the tank. A tankless water heater presents no such risks, with an unlikely leak only possible as the system is in use.

Surprising longevity

. Most conventional water heaters can only keep going for 10 to 12 years. Tankless units last up to 20 years with regular maintenance.

Eco-friendly source of hot water

. Did you know that tankless water heaters are great for the environment? The system consumes less electricity and minimizes water waste. Also, since these units can last up to two decades, your home won't be contributing to landfill issues any time soon.

A variety of options

. Some tankless water heaters burn natural gas, while others run on electricity. You can also find them in different sizes from a wide range of manufacturers.
Free replacement
estimate
Need Boiler Repairs? Get $100 OFF!
Tankless Water Heater Installation Experts in Dracut, MA
Looking at the benefits above, it seems like a great idea to switch to a tankless water heater for your home in Dracut, MA. If you have an underperforming conventional water heater or want to install a new system, call our qualified professionals. New Era Plumbing & HVAC has a team of highly experienced professionals who understand tankless hot water heater installation inside and out. 
Here are some top reasons to trust us with your next water heater installation project or repair:
High standards

. If we wouldn't install the system in our own homes, we won't recommend it to our customers. That's why we carry water heaters from leading brands.
100% satisfaction

. We thoroughly analyze your hot water needs before recommending a unit. We then complete the installation following industry best practices. If you're not happy with our tankless water heater or installation, our work isn't finished.
Flexible maintenance plans

. Like all other systems in a home, Dracut homeowners need to maintain the water heater to keep it working at optimum capacity. We design a custom maintenance plan for your system to save you money on repairs long term.
Trained and insured technicians

. Our team is trained, certified, and insured. And no job is too big or small for us to handle.
Local services

. If you need assistance with your water heater or plumbing, we'll be there when you need us in Dracut, MA.
How Much Does a Tankless Water Heater Installation Cost?
The cost of your tankless water installation will depend on factors like the tank size, model, and fuel source. If you choose an electric heater, you may have to include the cost of upgrading your electric infrastructure.
Be sure to chat with our professionals to learn more about your options in Dracut, MA.
Enjoy Continuous Hot Water in Your Home With the Ideal Tankless Water Heater System
Savvy homeowners don't have to worry about their hot water systems or that system's impact on the environment. "Tankless water heater installation near me" is a great solution!
Call New Era Plumbing & HVAC at (978) 593-2294 today for tankless water heater installation excellence in Dracut, MA.