Your Trusted Local Plumbers in
Reading, MA
Upgrade To High Efficiency Boiler And SAVE $3,000!
Need Boiler Repairs? Get $100 OFF!
Reliable and professional plumbing services
When it comes to keeping your water flowing and toilets flushing, you don't want to cut corners. We're talking about having the very best plumbers on your side: New Era.
Our professional plumbing company guarantees premier results. We've got the skill set, the background checks, and a wide range of services ready to keep your system in tip-top shape.
Our local plumbers are trained to tackle everything from emergency plumbing repairs to commercial plumbing for businesses. Whether it's for your home or business, we're the ones who've got your back.
For plumbing services that don't give you a headache, New Era is your number one choice for a plumbing company in the Reading area!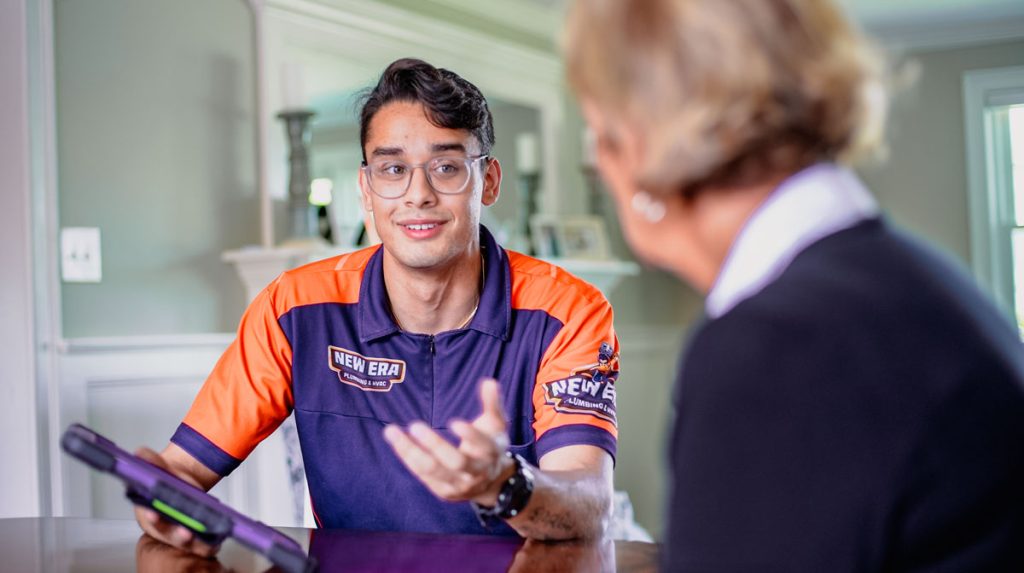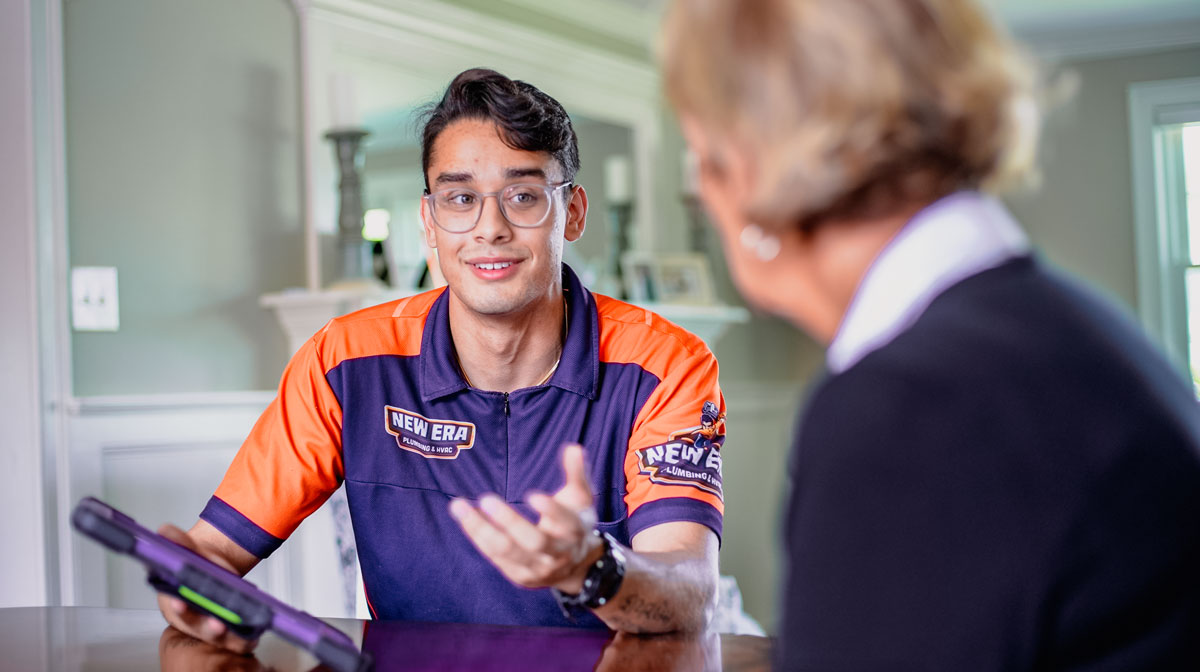 Your plumbing questions answered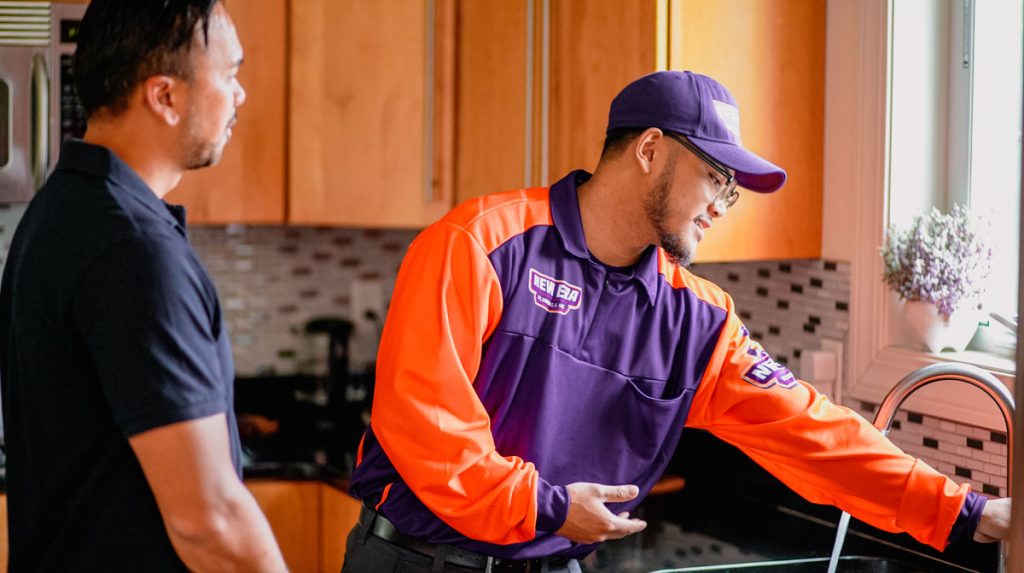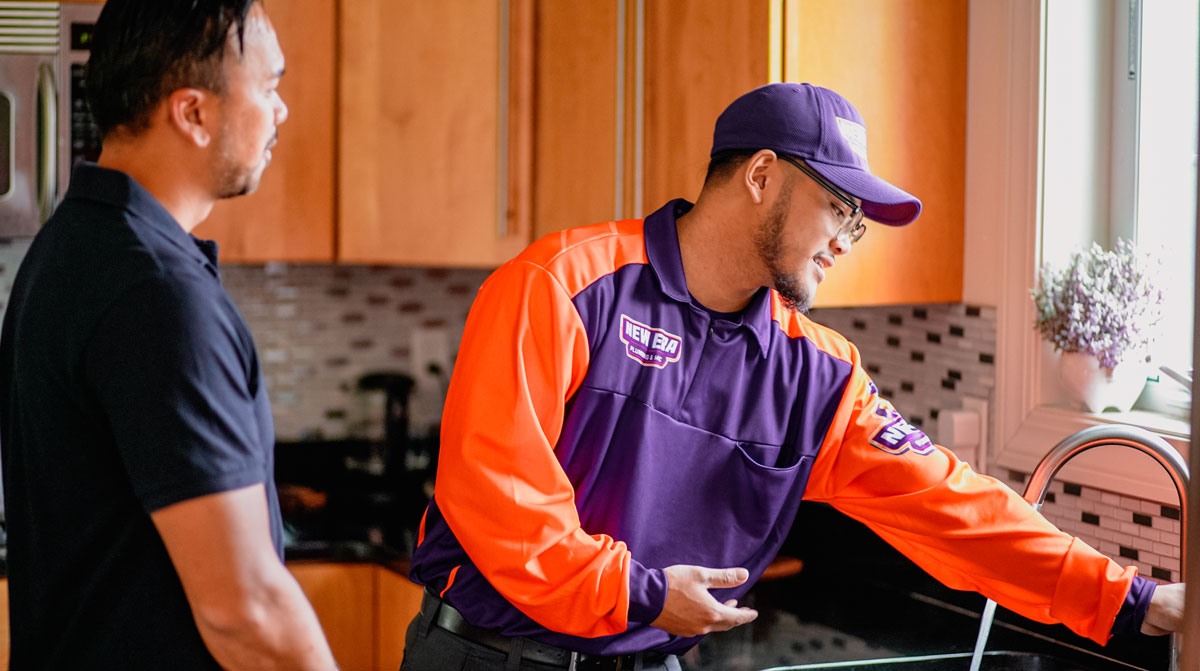 OUR COMMERCIAL PLUMBING SERVICES
Reading's top commercial plumbing solutions
If you're running a restaurant, retail store, or office building in Reading, a properly functioning plumbing system is essential. That's why we're here 24/7 to handle all your commercial plumbing needs.
Businesses can't afford downtime. That's where we come in. Our local plumbers are trained in all aspects of commercial plumbing. Whether you need routine plumbing repair or you're looking to overhaul your entire system, we have the plumbing contractors for the job.
Let's talk about what you might run into. Clogged sinks in the break room? Leaky faucets in the restroom? Whether your business is large or small, we offer a wide range of plumbing services tailored just for you. So, don't settle for less; go with New Era's pro plumbers for all your commercial plumbing needs.
OUR RESIDENTIAL PLUMBING SERVICES
Taking care of homes with residential plumbing in Reading, MA
Nothing disrupts your peaceful home like residential plumbing issues. Whether it's hot water going cold or an unexpected leak messing with your day, you better have expert local plumbers in your corner, like New Era.
We provide a wide range of residential plumbing services. From meticulous plumbing repairs to major overhauls of your system, we get it done, and we get it done right. We also conduct rigorous background checks on all our plumbers to ensure you're getting the best service. No job is too small or too big for us.
We've got your back with emergency plumbing repair
Keeping your home and businesses safe, clean, and dry is our mission at New Era. We specialize in all kinds of plumbing repairs, be it residential or commercial, so you can trust you're in good hands. And for the most urgent repair cases, we have a 24-hour emergency plumber always on standby.
When it comes to emergency plumbing situations, we at New Era extend a helping hand. We've stitched a network of trust across Reading by being the emergency plumber that's always ready, always reliable. Our commitment to being your beacon in those urgent moments means our emergency plumbing services aren't just a service—they're a lifeline.
We've also built our reputation by keeping things straightforward. When it comes to plumbing repair pricing, we lay it all out—crystal clear upfront estimates without hidden fees. You know what you're paying for, and you get top-notch plumbing services to match.
We offer flexible scheduling options that let you pick the time slot that best fits your day for your plumbing repair. No need to build your day around us; our plumbers show up when it works for you. And we'll be there on time, with all the plumbing service blueprints and tools we need to get your system back in shape.
Don't gamble with other plumbing companies for emergency plumbing repair. Our customers call us the best plumbing company in Reading for a reason. So, make the call today!
EXPERIENCED PLUMBING CONTRACTORS
Reading's most trusted plumbing contractors
New Era is the local plumber you want on speed dial. And it's not just about fixing leaks or clogs; it's about offering top-notch service by plumbing contractors you can rely on.
We stay ahead of the curve, leveraging cutting-edge technology to ensure your plumbing system works efficiently and effectively. It's all aimed at providing the best possible solutions for our clients. Our plumbing contractors will dive deep into your specific setup, offering personalized advice to get everything running smoothly.
When you bring us into your home or business, you're not just getting a plumber, you're getting a team of well-versed plumbing contractors with over 15 years of experience.
We take our work seriously, but we don't brag about it. We serve your needs and let the quality of our plumbing service do the talking. When you hire New Era, you get plumbing contractors who really know their trade.
So, ready to get your plumbing running like it should? Give our local plumbers in Reading a shout!
What to expect during a plumbing service
If you're looking for the best plumbers in Reading, you've come to the right place! We're not like other plumbing companies, when faced with an issue, our 24-hour emergency plumbers roll up their sleeves and conduct a thorough assessment of your system. These local plumbers know what they're doing; they've been around the block for more than 15 years.
Customized plumbing service solutions
After we've got a good read on your situation, we tailor our approach to match your specific needs. Our customized emergency plumbing service solutions are the real deal—thoughtfully designed by seasoned plumbing contractors to set your system straight.
Efficient execution and completion
Time's money, and we get that. We jump right into action, implementing the plumbing repair your system needs. From residential plumbing to commercial plumbing, we're efficient and precise. Before you know it, you'll be back to enjoying hot water, a well-functioning water supply, or a clean drain, without a hitch!
Quality assurance and follow-up
Our job isn't done until we know you're satisfied. Our regular and emergency plumbers conduct rigorous quality checks and follow-ups to make sure everything's in place. After all, we pride ourselves on being the best plumbers in the area, and our reputation didn't build itself.
Ready to make a smart choice for your plumbing services? Give us a call today!
Our regular and emergency plumbing contractors specialize in residential and commercial plumbing repair and other plumbing services. We offer transparent pricing for your peace of mind.
YOUR GO-TO PLUMBING COMPANY
Why hire us for plumbing services in Reading, MA
When it comes to plumbing services, you've got plenty of choices. But why settle for mediocre when you can go with New Era, the best plumbers in town?
We bring over 15 years of plumbing service experience to the table. That's a decade and a half of solving problems, big and small. Do you have a tricky plumbing repair on your hands? Our seasoned local plumbers have the know-how to tackle it.
Quality is our promise. From the initial diagnosis to the final plumbing service, our workmanship speaks for itself. That's how we get consistent 5-star reviews, adding up to over 600 positive endorsements. We arrive geared to work and don't keep you waiting. From residential plumbing to commercial plumbing, we've got Reading covered.
You're not just another transaction to us; you're part of the New Era community. We treat your home with the same care and respect as we would our own because we're all neighbors at the end of the day.
So, yes, why hire just any plumbing company when you can go with the best plumber in town? Trust New Era for your wide range of plumbing service needs in Reading, MA, and be part of a community that values quality, timeliness, and a solid work ethic.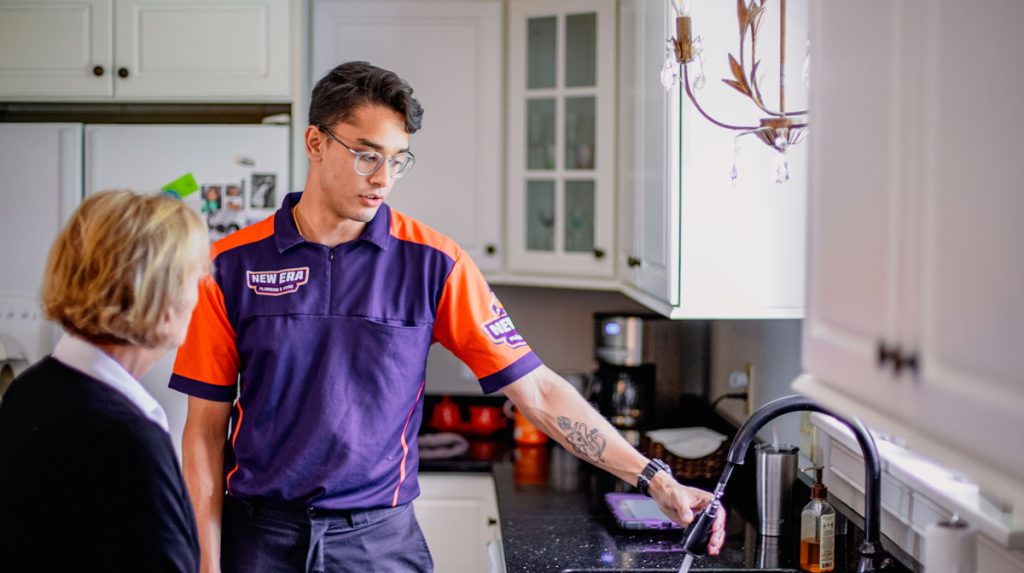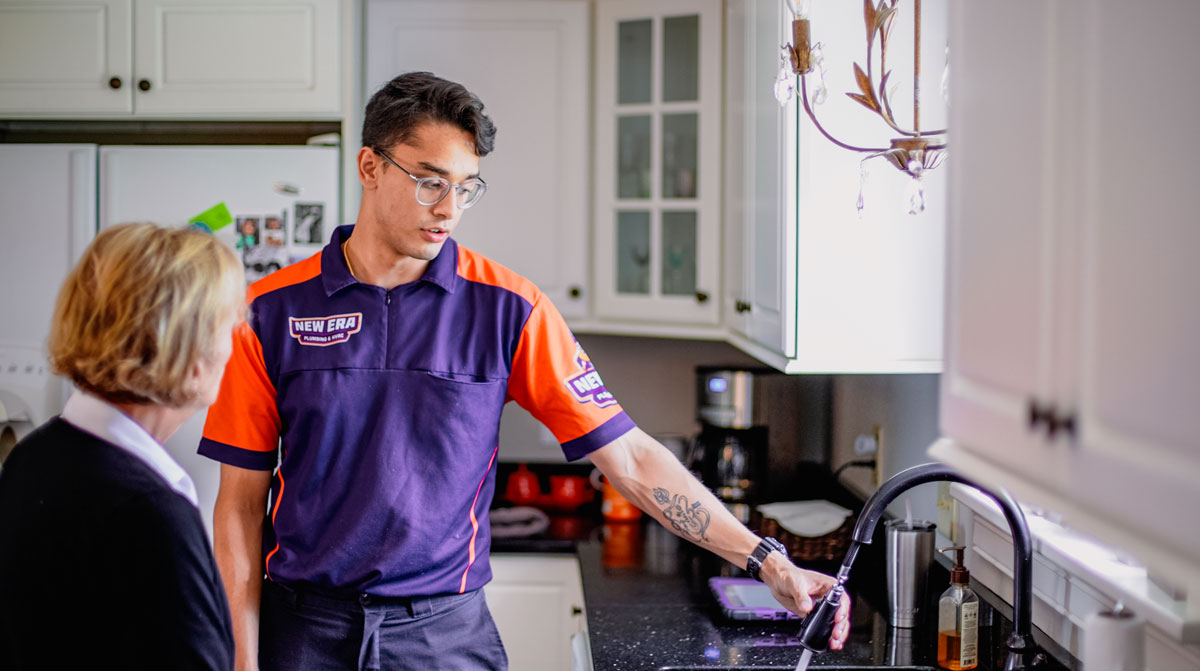 Other services in Reading, MA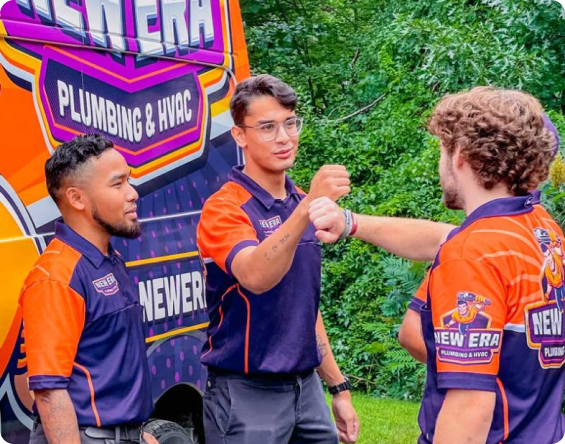 The best plumbing services in Reading, MA
Need a reliable emergency plumber who gets the job done right? We're here to shake up your expectations about what a plumbing company should be.
If you want a plumbing company that values you, delivers a wide range of high-quality plumbing services, and genuinely cares about your property, then give us a call. Join the hundreds of satisfied customers who've experienced the New Era difference!
Plumbing Service Near You