Need a Plumber in
Lowell, MA?
$199 Automatic Water Shut-Off System Prevent water damage during emergencies.
Get $100 Off Whole-House Water Filters. A Cleaner Tap Every Time
A Reliable, Locally-Owned Plumbing Company that Cares
In need of a reliable plumber in Lowell, MA? With over 15 years of experience, New Era is one of the premier plumbing companies in Massachusetts.
Our licensed plumbing contractors are highly skilled and knowledgeable, capable of handling a wide range of residential and commercial plumbing services. Whether it's a leaking faucet, water heater repair, slow draining sink, or a full-blown pipe burst, you can count on us to provide professional, quick, and efficient solutions.
We prioritize high efficiency and top-notch quality in all our services. But above all, we believe in being friendly, approachable, and caring. We strive to ensure full customer satisfaction by delivering a neighborly approach backed by unrivaled professionalism.
When you choose New Era, you can have peace of mind knowing that you are in the hands of the best plumbers in Lowell, MA. Contact us today and experience our exceptional service firsthand!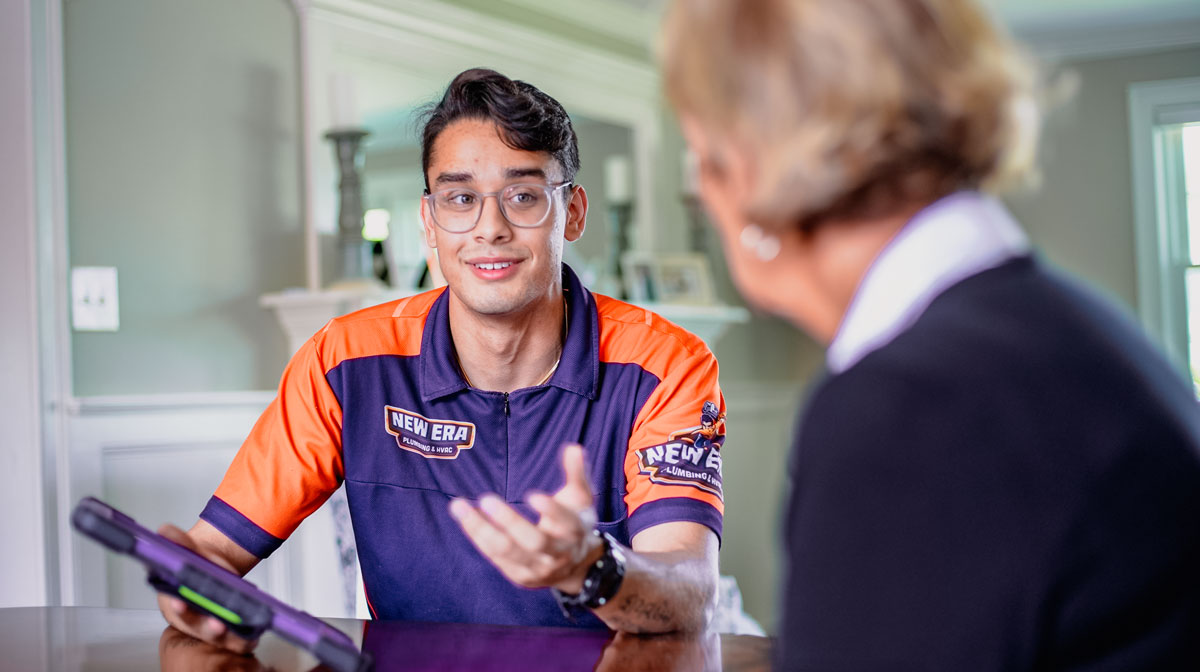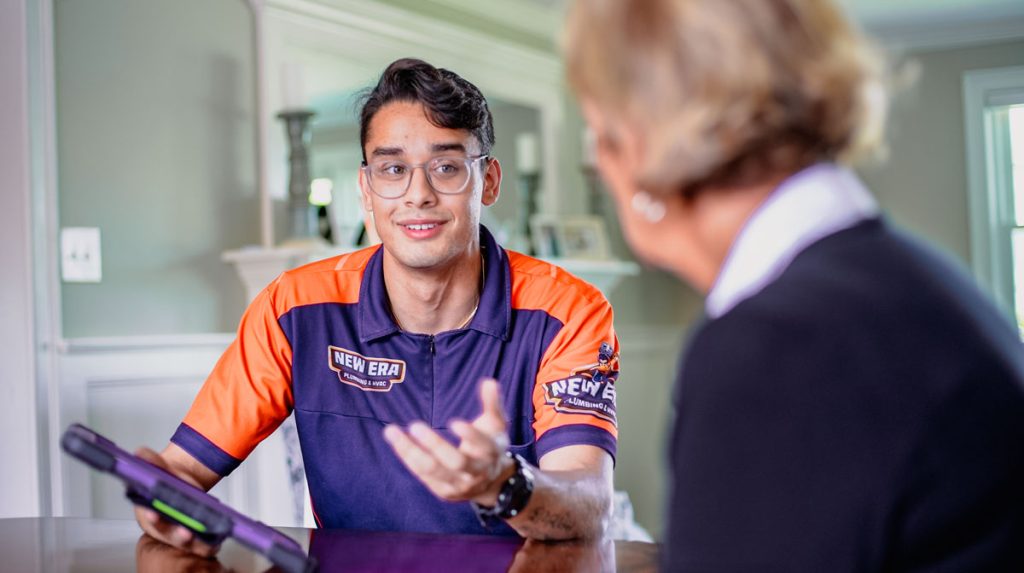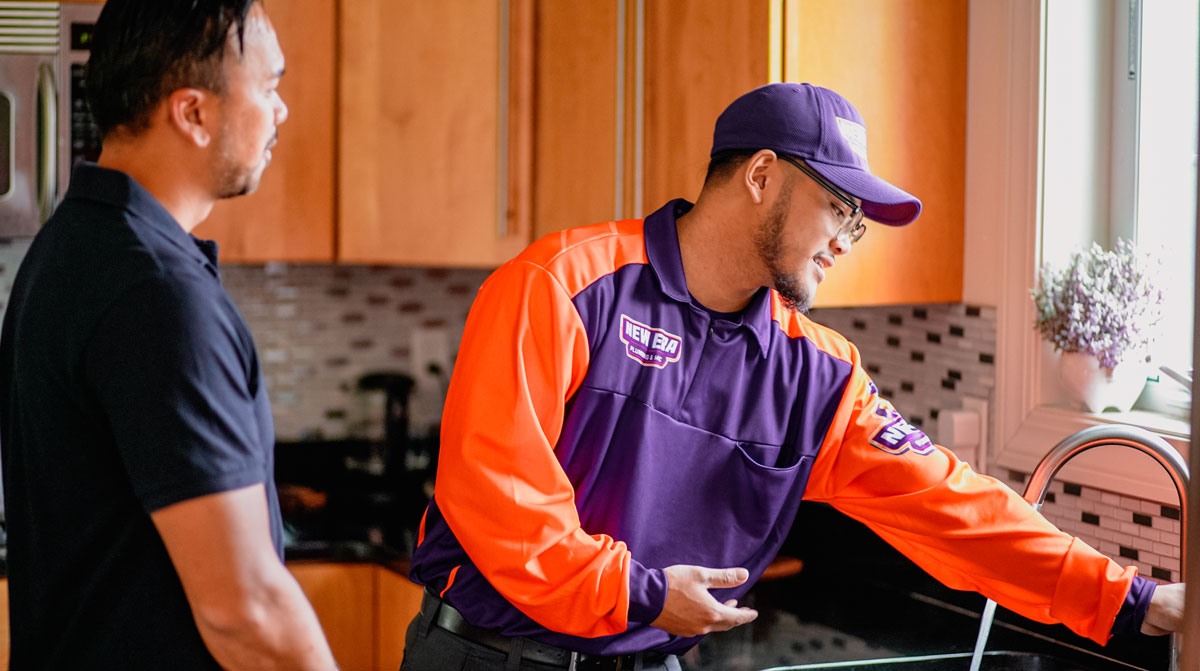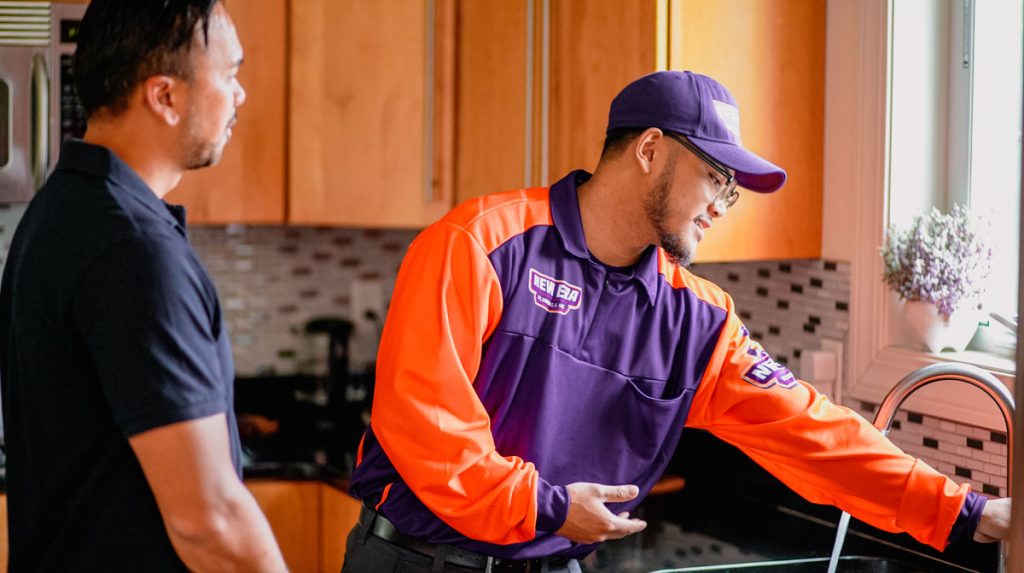 Expert Residential Plumbing Repairs
Whenever you are in need of a trustworthy residential plumber in Lowell, MA, just call New Era. We're not just one of the leading plumbing companies in the area; we're committed to our community, delivering exceptional residential plumbing repair, installation, or maintenance services right when you need them.
Here's a glimpse of our extensive range of services for your home:
Fixture installations: sinks, faucets, showers, etc.
Comprehensive pipe repairs and maintenance
Faucet maintenance to prevent leaks and drips
Drain cleaning for smooth, clog-free pipes
Water heater repair and maintenance, ensuring hot water when you need it
And much more!
Our team of professional plumbing contractors treats every home with respect, tackling each plumbing repair or issue with a blend of expertise and genuine care. From minor plumbing repairs to extensive replacements and installations, our focus is on delivering high efficiency and lasting solutions.
Top-tier Commercial Plumbing Services
When it comes to top-quality commercial plumbing services, New Era is the name you can trust. Our skilled plumbers in Lowell, MA, provide comprehensive solutions for a range of commercial spaces, such as office buildings, restaurants, and retail spaces
Our commercial plumbing services include:
Drain and sewer line cleaning and repair
Garbage disposal installation, repair, and maintenance
Water heater repairs & replacements
With New Era on your side, your business benefits from more than just high-quality plumbing repair or installation services. We offer seamless solutions that can improve efficiency and help prevent future plumbing repairs. Our team not only addresses your immediate concerns but also understands your business's unique needs and plans for helping you save money in the long term.
Common Signs You Need To Call a Plumber in Lowell, MA
Detecting the common signs of plumbing issues is vital to maintaining your home or business in top form. Here are some indicators it's time to call professionals plumbing contractors:
Slow drains: If your sink or bathtub is taking longer than usual to drain, it might indicate a blockage.
Frequent clogs: Regular clogs, especially across multiple drains, can be a sign of a more severe problem in your sewer line.
Low water pressure: This could be due to a leak in your pipes or a problem with your water heater, which needs repair.
No hot water: A lack of hot water might mean it's time for water heater repair or replacement.
Dripping faucets: These not only waste water and raise your bills but could also point to more significant plumbing repair needs.
Unusual noises: Bubbling, gurgling, or knocking noises from your pipes can be a sign of air in the lines, or worse, a potential leak.

Whether it's for residential or commercial plumbing repairs, when you notice these signs, don't hesitate to call New Era, your reliable, knowledgeable, and caring plumbers in Lowell, MA. We are a plumbing company you can trust!
Trustworthy and Knowledgeable Plumbing Contractors
At New Era, we take pride in being the go-to plumbing company in Lowell, MA. Our team of reliable and professional plumbing contractors in Lowell, MA, stands out for their genuine commitment to ensuring your comfort and peace of mind.
With our friendly and knowledgeable professionals, we believe in going the extra mile for our customers. Whether it's responding to urgent calls promptly, navigating homes during renovations with the utmost care, or even showering your beloved pets with extra affection while we're there, we provide a personal touch to our plumbing services.
We know that every plumbing system is unique, especially in older homes. However, our technicians are well-equipped to tackle even the most complex plumbing repair or installation challenges. They meticulously analyze the issue, providing clear explanations and upfront estimates before rolling up their sleeves to get the job done efficiently.
Frustrated with previous plumbers who don't follow through? New Era offers a breath of fresh air. When you encounter critical issues like urgent water heater repair, we prioritize your call, promptly evaluate the situation, and offer an on-the-spot quote.
Professionalism is at the core of all our commercial or residential plumbing solutions. We respect your home and demonstrate it through details like the use of shoe guards to ensure cleanliness during service. From unclogging toilets to rebuilding their internals, we approach each task with precision and responsibility. Our reputation is built on our kindness and respect towards our clients and their property.
Our Reputation as a Reliable Plumbing Company
With over 15 years of providing top-tier plumbing services in Lowell, New Era has carved out a reputation that speaks volumes about our commitment to our customers. Our high-efficiency, approachable, and professional plumbing contractors have garnered over 600 outstanding reviews.
Our friendly plumbing contractors prioritize clear communication, explaining every aspect of the process and following up to ensure your continued satisfaction. We are a plumbing company that stands by its workmanship and offers a complete satisfaction guarantee on all services rendered.
Don't let plumbing repair or installation issues put a damper on your comfort. Reach out to New Era, where caring and professional plumbers in Lowell, MA are ready to assist!
You can also take advantage of our comprehensive financing options, thanks to our partnership with GreenSky, making your plumbing project more affordable.
Why Choose New Era as Your Go-To Plumbers in Lowell, MA?
At New Era, your reliable plumbers in Lowell, MA, our experienced plumbing contractors provide top-notch residential and commercial plumbing services.
We use the latest technology and equipment to ensure efficient service delivery.
Our team is committed to explaining issues and proposed solutions in a friendly and clear manner.
We offer comprehensive financing options, making your plumbing repair or replacement projects more manageable financially.
We care for you and our community. Rest assured, we'll go the extra mile to ensure full customer satisfaction.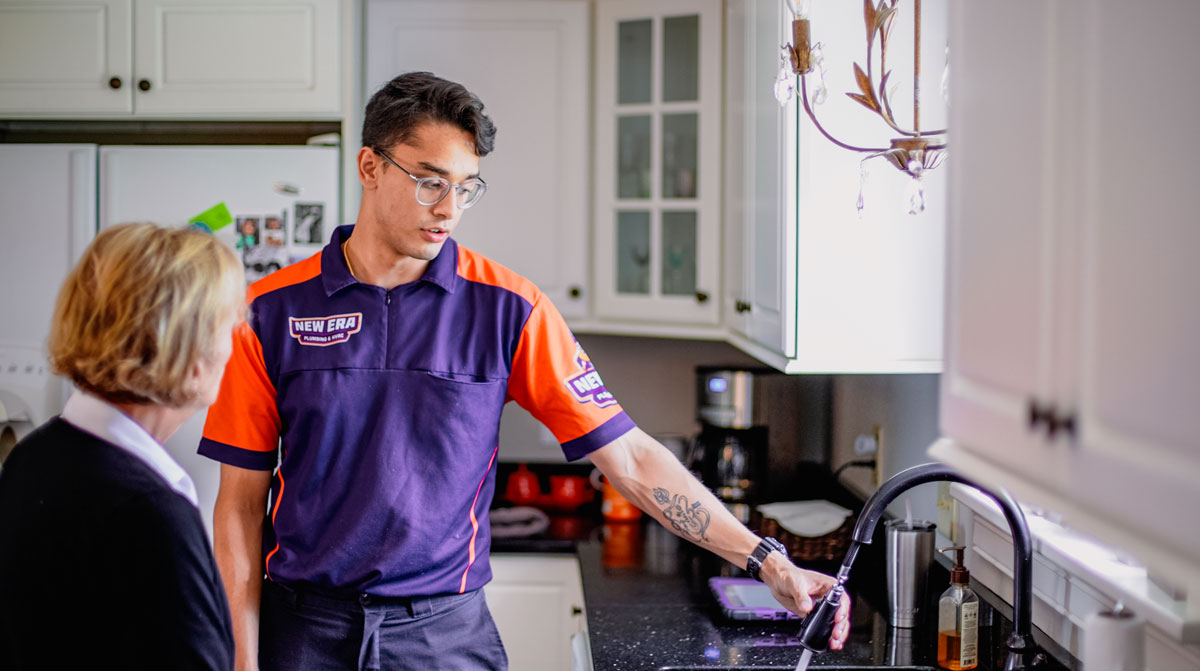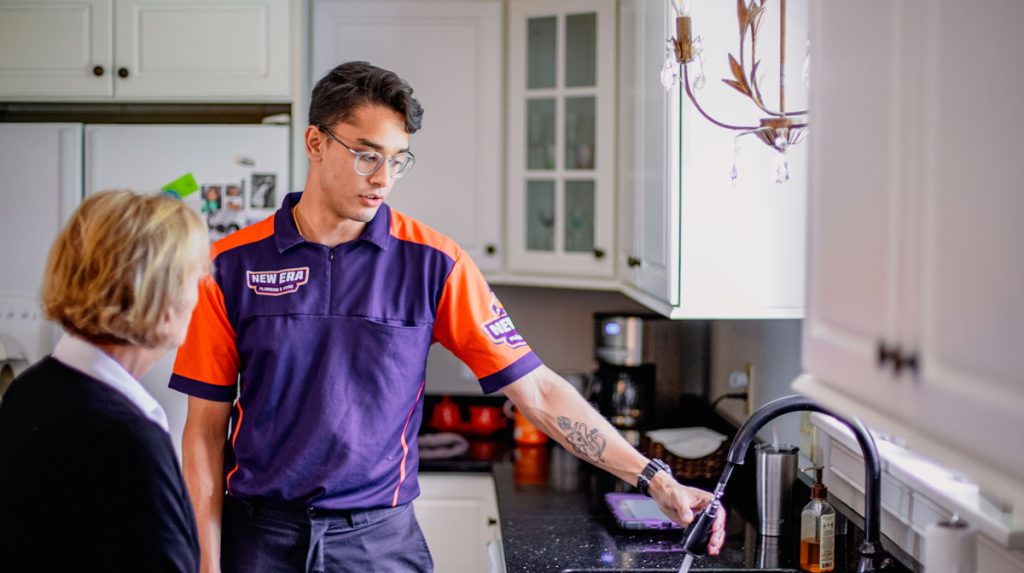 Other services in Lowell, MA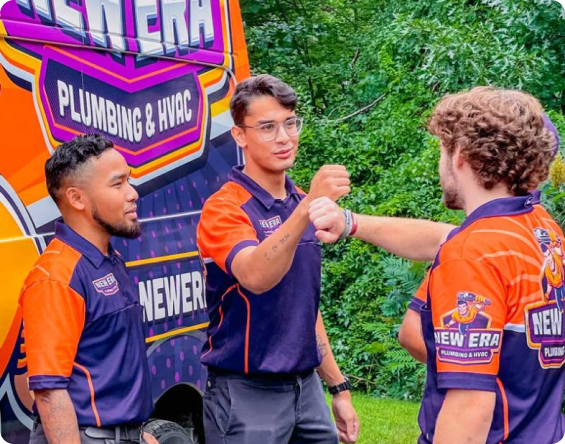 The Best Plumbing Services Near Lowell, MA
At New Era, your plumbing needs are our top priority. To experience the service difference of our trusted plumbers in Lowell, MA, call us today. Let our experienced plumbing contractors guide you through any commercial or residential plumbing issue, providing you with clear, reliable, and professional solutions.
Acton
Amesbury
Andover
Burlington
Chelmsford
Concord
Georgetown
Haverhill
Lawrence
Pelham
Rowley
Salem
Tyngsborough
Westford
Windham