Serving Dracut, MA residents for 15+ years!
Warm and Cozy Home, All Winter Long
Keep Your Home Warm and Cozy with Expert Furnace Maintenance
Tired of shivering through the winter? New Era Plumbing & HVAC is here to help! With over 15 years of experience, we're your go-to experts for top-notch furnace maintenance services in Dracut and the surrounding areas. Our skilled technicians know what it takes to keep your furnace running smoothly and efficiently, so you can enjoy a warm and cozy home all season long.
We proudly serve residents in Hudson, Pelham, Salem, and Windham, New Hampshire. Don't let furnace troubles leave you in the cold – give us a call at (978) 593-2294 and let our team of experienced pros take care of all your furnace tune-up needs. You'll be glad you did!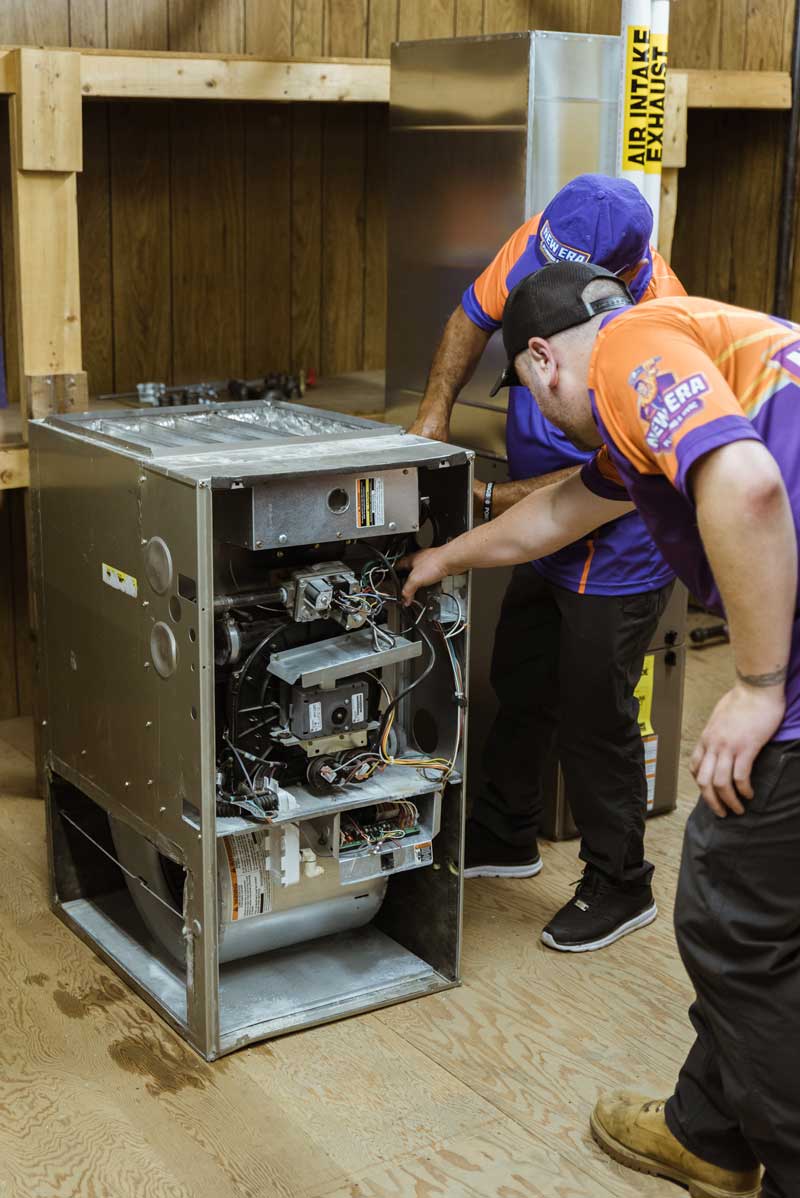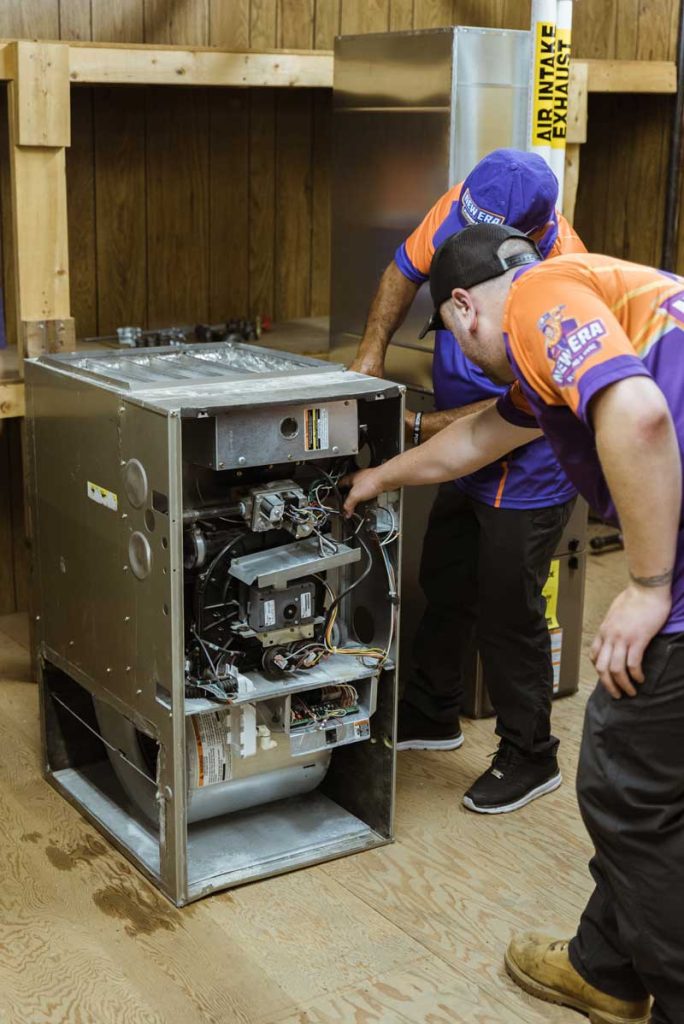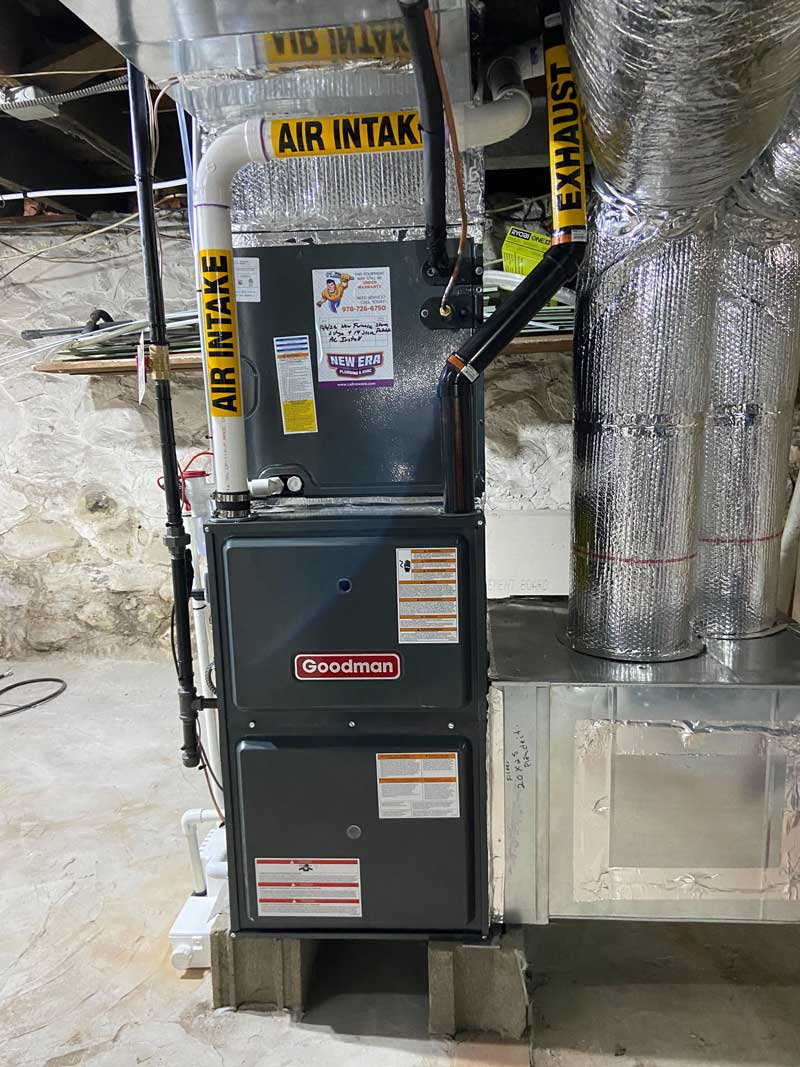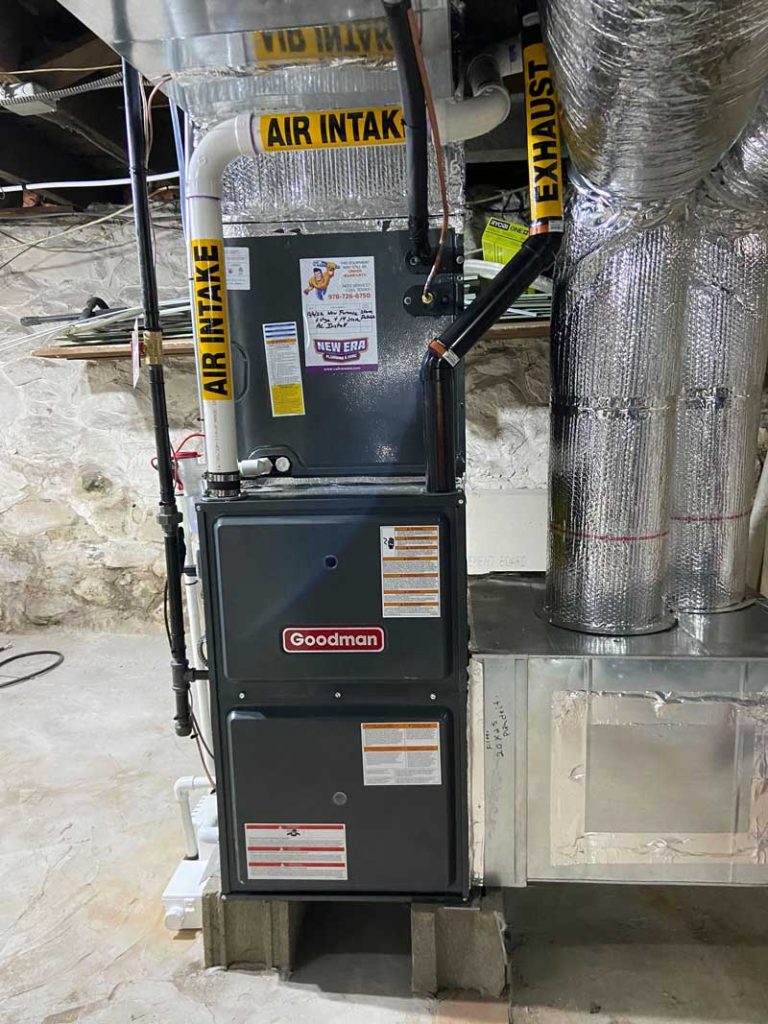 Is Your Furnace Struggling to Keep You Warm?
If your furnace isn't heating your home evenly or you've been noticing some weird noises coming from it, you're not alone. These are common furnace problems that can leave you shivering and frustrated. Frequent cycling, where your furnace turns on and off too often, is another issue that can disrupt the warmth and comfort of your home.
A cozy home is essential, especially during those chilly winter months. Don't let furnace troubles stand between you and a warm, inviting living space. It's time to take action and ensure your furnace is in tip-top shape for the cold days ahead.
Free replacement
estimate
Furnace replacement as low as $5,500.*Price may vary depending on the system. Terms and conditions apply. Contact us today for a personalized quote tailored to your specific system needs.
Don't Let Furnace Problems Put Your Comfort and Wallet at Risk
Turning a blind eye to furnace issues? That's a risky move! Ignoring furnace problems can lead to expensive repairs or even a complete system replacement. On top of that, a struggling furnace can drive up your energy bills, making your wallet feel the chill as well. And let's not forget, a poorly maintained furnace can have a shorter lifespan, meaning you'll need to replace it sooner than expected.
Regular maintenance is key to preventing these headaches. By staying on top of your furnace's needs, you can save money, extend the life of your system, and ensure a cozy, comfortable home for you and your family. Don't wait for disaster to strike – be proactive with your furnace maintenance!
Trust New Era Plumbing & HVAC for Dependable Furnace Maintenance
With over 15 years of experience under our belts, New Era Plumbing & HVAC is the go-to company for top-notch furnace maintenance. We're a locally-owned and operated business, dedicated to delivering superior service and the highest quality workmanship to our community. Our team of experts is committed to keeping your home warm and cozy all winter long.
Serving Hudson, Pelham, Salem, and Windham, New Hampshire, we're always ready to help our neighbors with their furnace needs. Your satisfaction is our top priority, and we'll go above and beyond to make sure you're happy with our work. Give us a call at (978) 593-2294 to experience the New Era Plumbing & HVAC difference.
What Sets Our Furnace Maintenance Services Apart?
When you choose New Era Plumbing & HVAC for your furnace maintenance needs, you're not just getting a standard service. We go the extra mile to ensure your furnace is running at its best. Here's what sets us apart:
Comprehensive inspection

: Our technicians thoroughly examine your furnace to identify any potential issues, ensuring optimal performance throughout the heating season.

Expert cleaning and tune-ups

: We clean and fine-tune your furnace to help it run more efficiently, lowering your energy bills and reducing the risk of breakdowns.

Personalized recommendations

: Our team provides tailored advice on how to maintain your furnace system and extend its lifespan, so you can enjoy a warm home for years to come.

Convenient scheduling

: We offer flexible appointment times and always arrive promptly with the necessary tools to restore your furnace system.
When it comes to furnace maintenance, we've got you covered. Experience the New Era Plumbing & HVAC difference for yourself and see why we're the best choice for your home.
Understanding the Value of Furnace Maintenance
Investing in regular furnace tune-up might seem like an extra expense, but it's actually a smart move for your wallet. Here's why:
Prevent expensive repairs: Regular maintenance helps catch issues before they turn into costly repairs, saving you from unexpected expenses.
Extend system lifespan: A well-maintained furnace lasts longer, meaning you won't have to replace your system as often.
Improve energy efficiency: When your furnace is running at its best, it uses less energy, which translates to lower utility bills.
In the long run, routine furnace maintenance is a wise investment that pays for itself. Not only does it save you money on repairs and energy costs, but it also helps you enjoy a cozy home without worry.
Helpful Tips for Homeowners
Between professional furnace maintenance visits, there are a few simple steps you can take to keep your system running smoothly. Here are some tips to help you out:
Replace filters regularly: Dirty filters restrict airflow and force your furnace to work harder. Check and replace your filters every 1-3 months, depending on usage and filter type.
Keep vents clear: Ensure that all vents and registers are free of obstructions, like furniture or curtains, to promote proper airflow.
Test your thermostat: Periodically check your thermostat to make sure it's functioning correctly and keeping your home at a comfortable temperature.
By following these basic maintenance tips, you'll be able to maintain your furnace's performance and efficiency. Just remember, professional furnace maintenance is still essential for optimal system health and longevity.
furnace maintenance contractor
How to Choose the Best Furnace Maintenance Contractor: A Quick Guide
Selecting the right contractor is crucial for ensuring your furnace system is well-maintained and efficient. To help you make the best choice, follow these five tips:
Check their experience: Look for a contractor with a proven track record and years of experience in the industry.
Read customer reviews: Browse online reviews and testimonials to gauge the contractor's reputation for quality work and customer satisfaction.
Verify licenses and insurance: Confirm that the contractor holds proper licensing and insurance to protect you and your property.
Request written estimates: Obtain written quotes from multiple contractors to compare prices and services.
Assess their communication and professionalism: Gauge the contractor's responsiveness, punctuality, and willingness to answer your questions.
By considering these factors, you'll be better equipped to choose an HVAC contractor that will provide reliable, high-quality heating maintenance services. Remember, investing in the right contractor is essential for keeping your furnace in peak condition.
Keep Your Home Warm and Cozy with New Era Plumbing & HVAC
Don't let furnace issues leave you out in the cold! Give us a call at New Era Plumbing & HVAC, and let us show you how our expert services can make all the difference. Reach out to us at (978) 593-2294 or schedule an appointment online. With our help, you'll be able to:
Enjoy a toasty and comfy home
Save some cash on energy bills by making your furnace more efficient
Make your furnace system last longer
Dodge those pricey repairs and annoying breakdowns
Choosing New Era Plumbing & HVAC for your furnace tune-up needs is like investing in a cozy home and peace of mind. So, what are you waiting for? Pick up the phone, and let's make your home the warm and welcoming space you deserve all winter long.
Frequently Asked Questions: Get the Scoop on Furnace Maintenance
Got questions about furnace maintenance? No problem! We've got answers to some of the most common questions we hear from homeowners like you:
Got more questions? Don't hesitate to give us a call. We're here to help you stay warm and cozy all winter long!