Serving Dracut, MA residents for 15+ years!
#1 Heat Pump Installation in Dracut, MA, With Over 600 5-Star Reviews
For the same heating and cooling power without growing utility costs, reach out for a new wave of energy efficiency!
Living in Dracut, MA, where we experience all four seasons, it feels like we're constantly toggling between our heating and cooling units without much of a break. The costs for running these units not only build up over time but also increase yearly as prices for these nonrenewable fuels skyrocket.
If you want to break the cycle and stop sacrificing comfort, trust New Era Plumbing & HVAC for a heat pump installation. For over 15 years, our trained and experienced technicians have dedicated themselves to the highest standards and customer satisfaction, leading to over 600 5-star reviews. With that know-how, we'll determine if mini-split systems make the right choice for your home.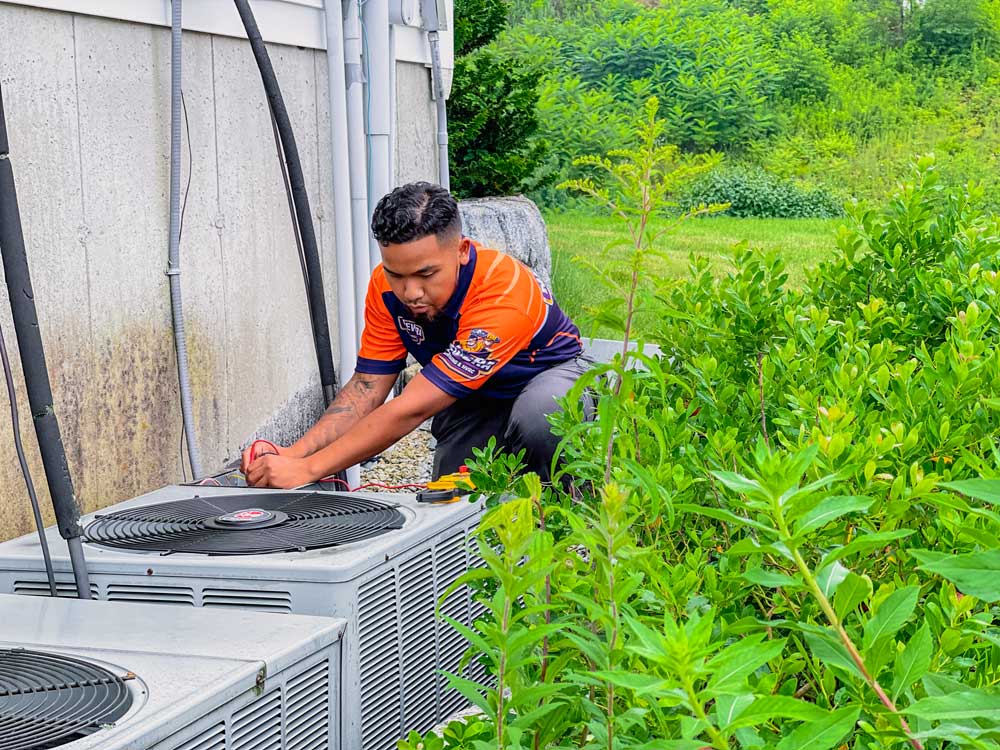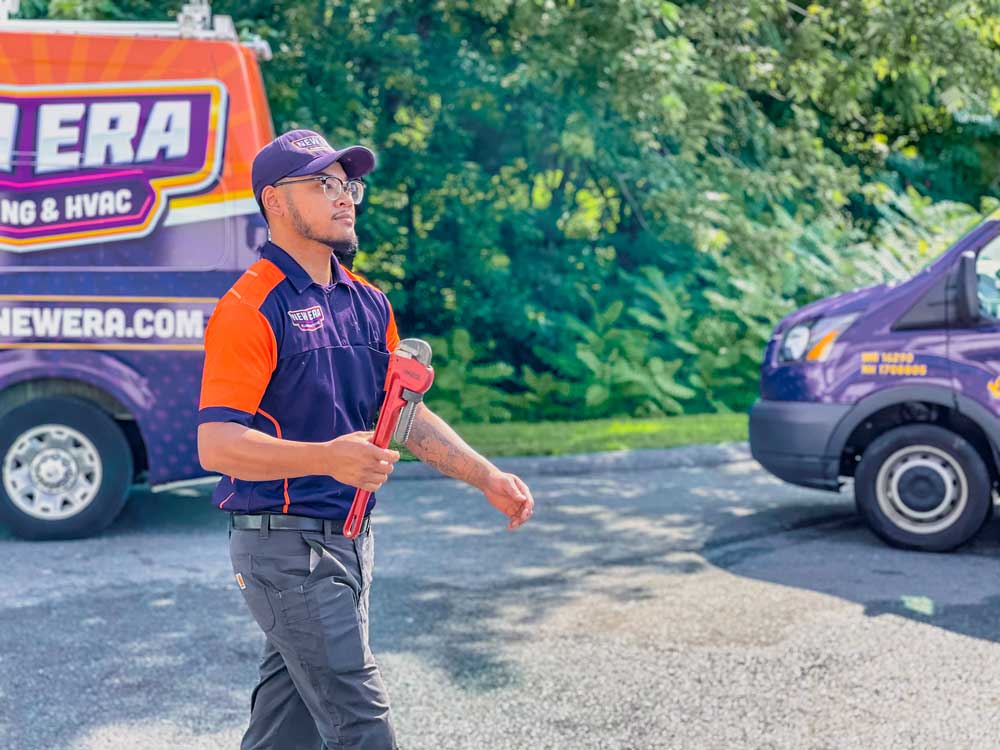 What Is a Ductless Mini-Split Heat Pump?
Like a traditional heat pump, the mini split moves rather than produces warm air for the perfect indoor climate. Heat pumps simply use refrigerant to absorb the warmth, whether inside or outside, and redisperse it wherever necessary. For instance, they'll attract heat, which still exists in outdoor air in the winter, filter it indoors, and once in reverse, suck warm air out of your home during the summer.
However, a ductless mini-split heat pump differs from its traditional counterpart in installation location and manner of air dispersion. Technicians usually install the latter in the basement, especially when dealing with geothermal or water-sourced heat pumps that absorb heat from the ground or a nearby body of water, respectively.
Mini splits connected to the outdoor unit appear on walls, ceilings, and floors like ductless mini-split air conditioners. They also disperse air like these cooling units, blowing air from the indoor air-handler unit directly into the room rather than through air ducts that move the air throughout your residence. Connect multiple indoor units to one outdoor compressor or condenser if you have a big area to cool.
Free replacement
estimate
Furnace replacement as low as $5,500.*Price may vary depending on the system. Terms and conditions apply. Contact us today for a personalized quote tailored to your specific system needs.
why choose ductless mini split
Why Choose a Ductless Mini-Split System?
Compared to furnaces and air conditioners that burn additional electricity or fuel to create your desired air temperature, a ductless mini-split system helps you save on utility bills by transferring quality air. You should also consider a heat pump installation for the following:
Because they work with electricity rather than oil, gas, or coal during the winter, unlike furnaces, you never have to worry about running out of fuel or creating a large carbon footprint.
A ductless mini-split installation provides cost-effectiveness and efficiency for homes without the added expense of incorporating and maintaining air ducts.

The noise-less indoor component and small outdoor attachment make the unit unnoticeable for your family and visitors.
Like a ductless mini-split air conditioner, you can install an air handler in each room if you have a larger home to create different temperature zones for each individual. Otherwise, install one air handler in a smaller home and leave all interior doors open for central heating and cooling. 
Its lifespan rivals that of a central heating and cooling unit, lasting 12 to 15 years and sometimes longer with adequate and regular maintenance.
Ductless Mini-Split Installation Services
If you believe a heat pump installation is right for your house, call on a specialized team to help you find the appropriate unit. Our team will assist with determining whether a single, dual, or multi-zone system works best, depending on the layout of your residence and your heating and cooling needs.
Single-zone system

:

With one air handler and condenser unit, this smaller system heats and cools one room. It best suits those with compact living areas or who spend most of their time in one location.

Dual-zone system

:

With two air handlers attached to one outdoor unit, this pump alters the air in two separate zones. Set them to the same or different temperatures, depending on your needs.
Multi-zone system

:

This more complicated system has multiple air handlers attached to a larger outdoor compressor for central heating and cooling without ducts.
Our professionals will also measure your room or home's square footage to determine the appropriate system size according to BTU output. Next comes the installation process, where we place brackets on an indoor wall for the air handler and drill a three-inch hole to run the drain tubing and a condensate line through. We then place the outdoor unit on the ground, exterior wall, or roof and run the pipes to it.
Bring Your Home Into the New Era of Energy Efficiency!
From space heaters to ductless mini-split ACs, our team conducts all HVAC installations, maintenance, repairs, and replacements to prepare your home for every upcoming season. To learn how much a ductless mini-split costs or for a heat pump installation, contact New Era Plumbing & HVAC in Dracut, MA. We provide flexible financing and 24/7 assistance, so call (978) 593-2294 today!