Serving Dracut, MA residents for 15+ years!
#1 Air Conditioning Installation Company in Dracut, MA, with Over 600 5-Star Reviews
Are you looking to schedule dependable air conditioning installation for your home or business in MA? Call New Era Plumbing & HVAC at (978) 593-2294 to find the right air conditioner for you and schedule an installation appointment!
New England residents know how hot and unbearable the summers in Massachusetts are. Many residents spend time at the beach and flock to the water to beat the heat. Our team will install central air or mini-splits, so you can enjoy cool indoor air during high temperatures.
We work with a wide range of reputable air conditioning brands and have extensive knowledge of the top models and systems. We can make careful recommendations for your AC installation or perform repairs on your current system. You can reach our Dracut team 24 hours a day, seven days a week, so you don't have to go a day without cool air.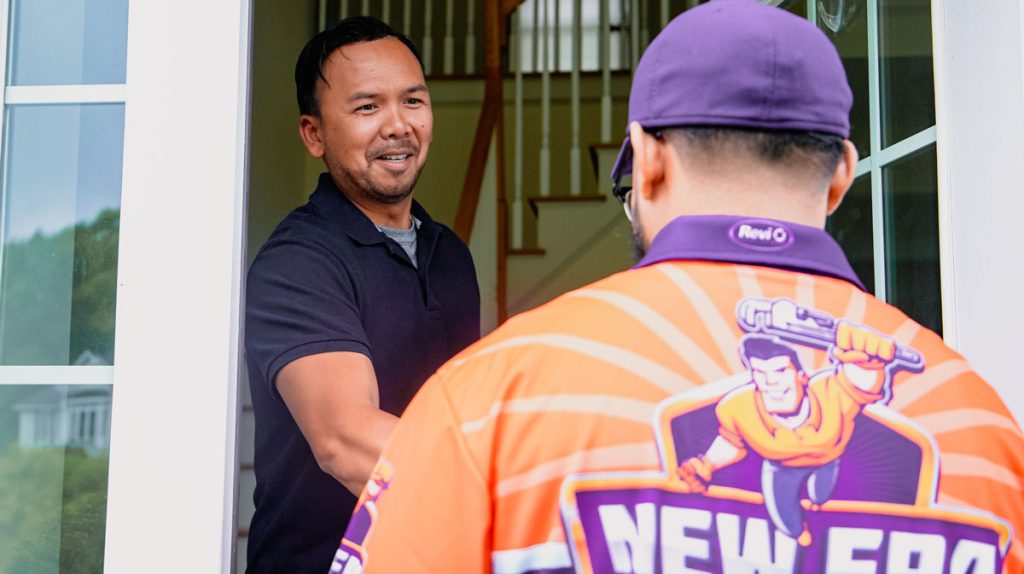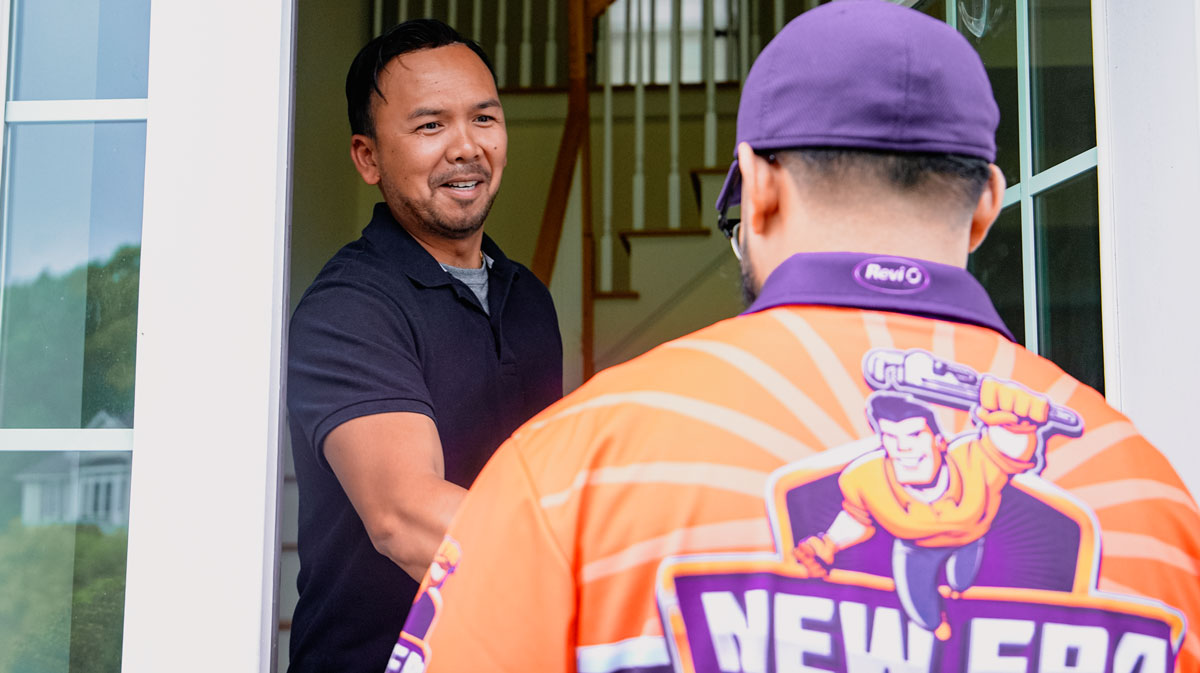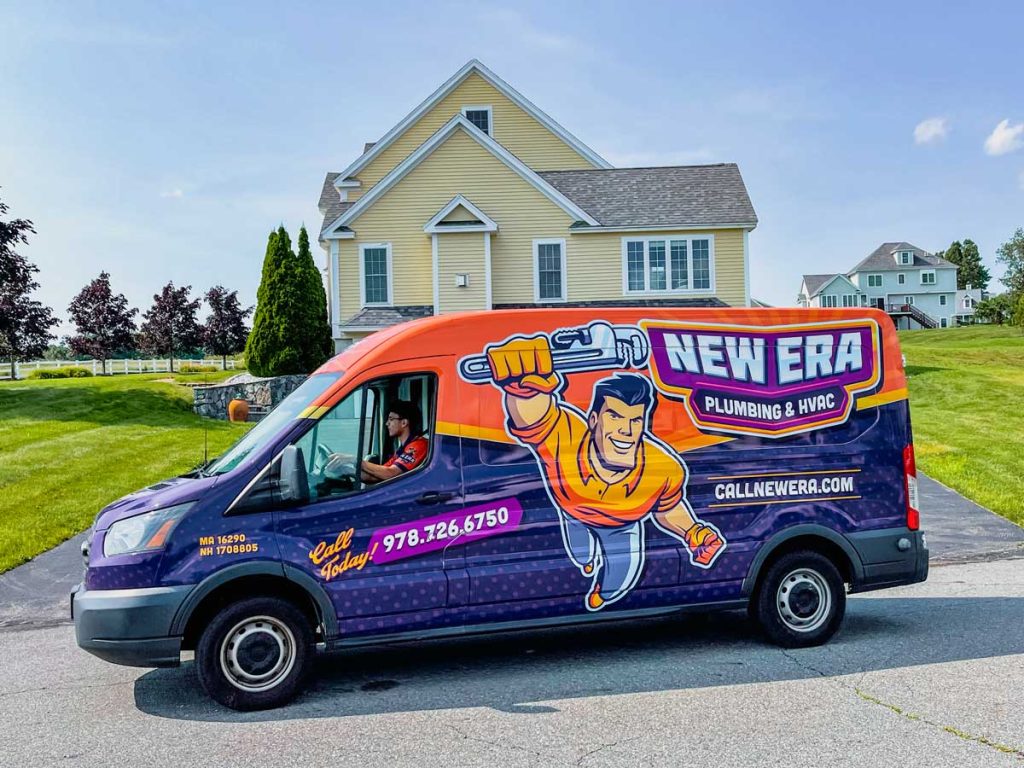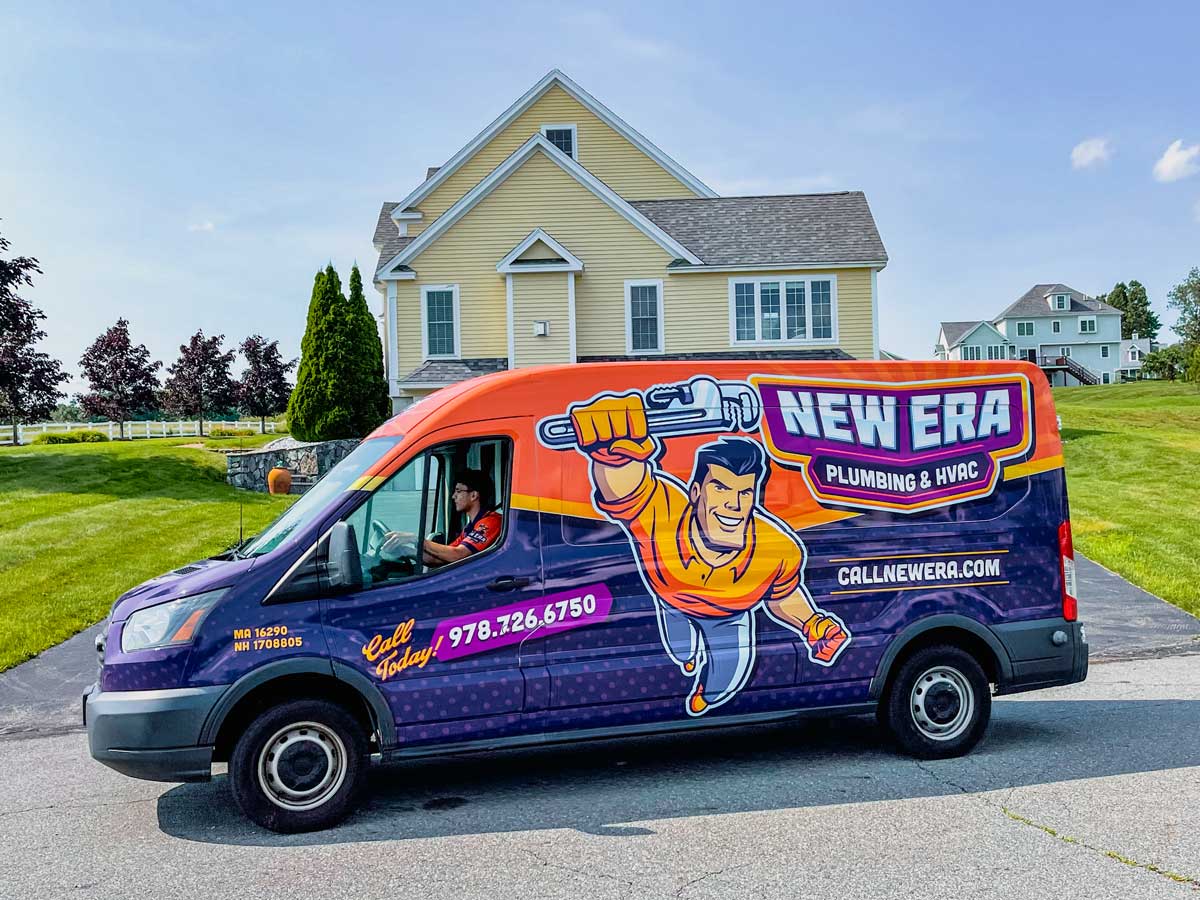 Our AC Installation Services
When you need AC installation, you might want to replace your old system with the same type and brand you had before. Many homeowners feel comfortable with what they know and are skeptical about trying something new. However, you might enjoy a better system with a higher SEER rating (Seasonal Energy Efficiency Ratio) and save more money than ever before.
You can create zones from multiple rooms in your home and precisely control air distribution. During central air conditioning installation, we connect the new system to your ducts.
While central air conditioning is one of the more expensive options, homeowners find it pays off. You could save on energy costs and notice an improved indoor air experience. Ask our team about our central air conditioning options to see if it is right for you.
These AC systems consist of an indoor unit and outdoor compressor system with air handlers in each zone. You don't need any ductwork for ductless mini-splits and can enjoy cooling in new construction or basement areas. Ductless ACs have great energy efficiency. 
Signs You Need Air Conditioning Replacement Services
While you diligently schedule AC repairs as the need arises, you might be avoiding the inevitable. Your air conditioner eventually requires replacing to provide your property with cool air and comfort. Choosing a replacement air conditioner can be intimidating, but New Era Plumbing & HVAC makes it easier by presenting multiple options and price points. 
Air conditioners have an average lifespan of 15 years, but maintenance can make them last longer. You aren't doing yourself any favors by keeping an old, ineffective AC unit in your home or business. Scheduling new air conditioning installation might be the answer to your frequent AC repairs. 
Look for the following signs you should consider AC replacement, then give our team a call.
Short Cycling 

– An air conditioner will constantly turn on and off when it is short cycling. Your home won't reach the temperature you want and will still have high humidity. Internal issues may lead to the need for AC replacement.
Warm Air

 

– Air conditioners should produce cool air at your desired temperature. When your AC blows warm air, a professional technician should look at your system. Sometimes waiting a few seconds does the trick, but this is not always the case.
Expensive Energy Bills

 

– Energy bills should stay within a steady range throughout the year. If you notice a sharp increase in your monthly amount, the reason may be your old AC. Outdated air conditioners struggle to run and put more strain on your entire system.
Inefficiency

 

– You can expect air conditioners with a SEER rating of 15 or higher to run well. Consider the rating of your current unit; if it is 13 or less, it is not up to date with current SEER standards. See how making the switch will help you by calling our team. 
Costly Repairs

 

– Do you find yourself frequently calling for repairs but are not noticing any changes? You could be throwing your money down the drain by not replacing your old unit. No matter how many repairs you perform, it might be time to get a new AC.
Old Age

 – If your AC has been reliable and working fine, you might not consider replacing it. However, you'll start to notice it struggling to operate. For air conditioners that are 15+ years old, you can save money by investing in a new and advanced AC unit. 
Air conditioning replacement services present the perfect opportunity to switch your system type. If you've only used window units, it might be a good idea to look into central air conditioning. You can improve your home's energy efficiency and save more money in the long run.
Air Conditioning Repairs, Maintenance, & Inspections in MA
You need to keep your AC in optimal condition after its installation. Whether you need unexpected repairs in the middle of July or a quick tune-up before the warmer months, our technicians can handle it all. We are trained to resolve the most complicated problems and find smart solutions.
Air conditioning maintenance is vital to keeping your system running for years to come. You can extend your AC's lifespan and get more out of your unit with professional maintenance. During these appointments, we will clean, repair, and inspect all internal and external components. 
You'll find many causes for why air conditioners stop working, but our staff can resolve all of them. Whether you have a dirty air filter, faulty wiring, or a refrigerant leak, you won't have to wait long for us to fix your air conditioner. We'll get your AC up and running again with just a few steps.
How Much Does AC Installation Cost in Massachusetts?
It is difficult to pinpoint the exact price of your air conditioning installation services, as no two situations are the same. There is not typically one scenario across the board, but you can expect an honest price with us. Several critical factors contribute to AC installation costs, such as:
Labor Costs & Company

 

– The price you will pay for air conditioning installation services first depends on which company you choose. You can compare service costs for multiple HVAC companies, but the cheapest isn't always the best deal. A qualified professional may present a higher price, but you are less likely to hire someone else to fix their work. 
Energy Efficiency

 

– The more energy efficient your new AC is, the more expensive the installation will be. A high SEER rating will help you save money and enjoy a better system. While you'll pay more upfront for excellent efficiency, you might also qualify for money-saving programs to upgrade your AC, such as incentives, rebates, and special offers.
System Size

 

– A smaller AC will cost less to install, but the price will vary because of size. Our air conditioning experts can determine which size unit is suitable for your business or home. Size can also depend on the type of AC you choose. 
Labor & Parts Warranties

 – You can buy two warranties with your AC installation. The installation contractor typically offers a labor warranty, while the AC's manufacturer provides a parts warranty. These run for a specific period of time and protect your investment.
At New Era Plumbing & HVAC, we'll present you with a transparent service quote. When we arrive at your home or business, our expert technicians will examine your existing cooling system and determine its condition. They will offer advice and suggest ideas for your new air conditioner, explaining the types you might benefit from and their price ranges.
Once you decide which type of AC you want, how many units you need, and the installation time, our staff provides an upfront and honest quote. You determine whether or not you want to move forward and schedule your installation appointment. We'll swiftly and flawlessly install your new AC unit!
Air Conditioning Installation Near Me | Contact New Era Plumbing & HVAC
New Era Plumbing & HVAC is your go-to heating and cooling business serving Dracut, MA, and the surrounding areas. We can help with your home improvement projects by addressing your cooling system needs. Our air conditioning contractors have provided AC installation, repair, replacement, and maintenance services to Massachusetts residents for 15+ years. 
We aim to exceed your expectations and alleviate the stress you might feel when dealing with an HVAC issue. You deserve the best indoor comfort with a trusted cooling system, and our team can help. Check out customer reviews to see why clients love working with us in MA!
Are you ready to book the best air conditioning installation services in Dracut, MA? Contact New Era Plumbing & HVAC to work with a licensed, trusted technician! Call us today at (978) 593-2294 or schedule your service consultation online.