Serving Dracut, MA residents for 15+ years!
Upgrade Your Home's Plumbing with New Era's Whole Home Repipe Services
Experience a Safe and Efficient Home with Whole Home Repipe Services
Tired of dealing with inconsistent water pressure and constant leaks? New Era Plumbing & HVAC is here to help! With over 15 years of experience serving Dracut and the surrounding regions, we specialize in whole home repipe services that'll transform your plumbing system and make your home safer and more efficient.
Our locally-owned and operated company is dedicated to delivering top-notch plumbing, HVAC, and drain services to residents in Hudson, Pelham, Salem, and Windham, New Hampshire. We'll arrive on time with the right tools to restore your plumbing system and give you peace of mind.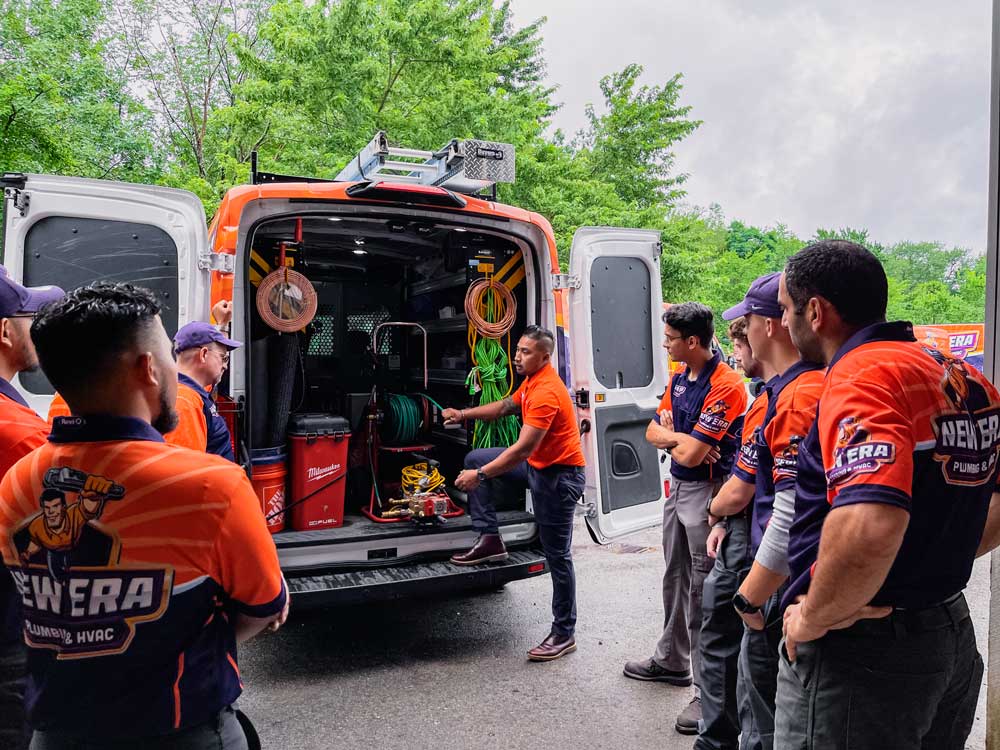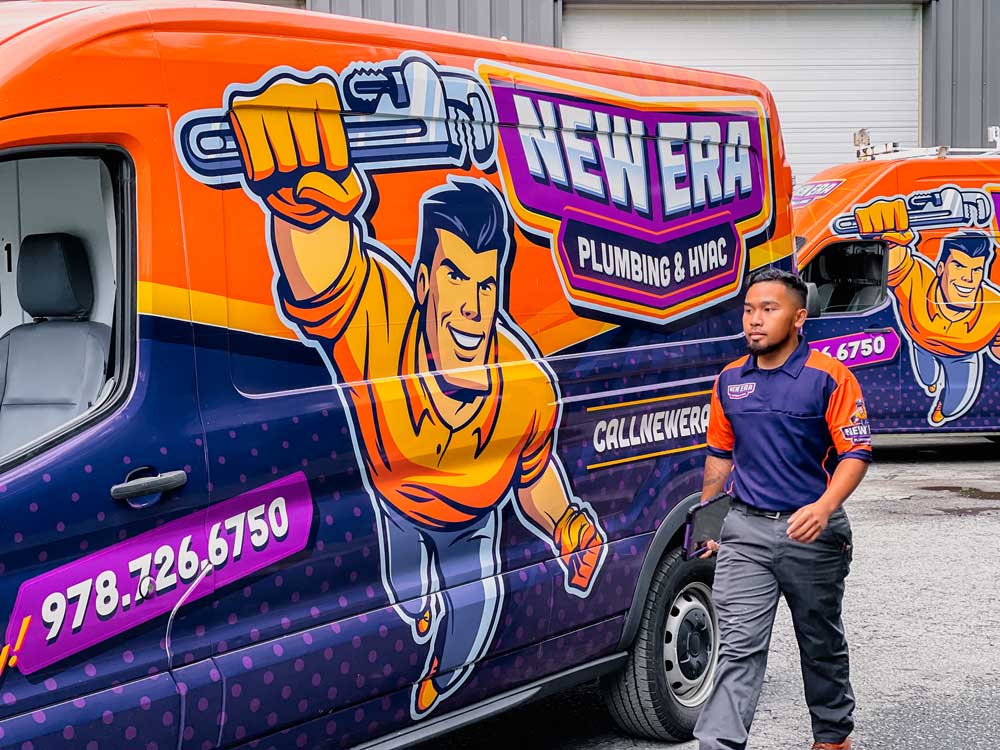 Aging Pipes? Persistent Leaks? It's Time for a Whole Home Repipe
If you're dealing with constant leaks, rusty water, or low water pressure, it might be time to consider a whole home repipe. Old and damaged plumbing systems can wreak havoc on your home, leading to costly repairs and headaches. Outdated materials like galvanized pipes can corrode over time, causing a host of problems that only get worse if left unaddressed.
Don't let your home's plumbing issues spiral out of control. A whole home repipe can eliminate these problems, improving your home's safety, efficiency, and overall value. It's an investment in the long-term health and functionality of your property, ensuring you can enjoy worry-free living for years to come.
Don't Let Plumbing Problems Cause Damage and Discomfort
Nobody wants to deal with the stress and mess caused by outdated and failing plumbing systems. Not only can they lead to frustrating issues like leaks and low water pressure, but they can also cause serious damage to your home. Water damage from persistent leaks can rot wood, weaken your home's structure, and even promote mold growth, putting your family's health at risk.
On top of that, the constant need for repairs can be a major inconvenience and financial strain. It's time to stop letting plumbing problems disrupt your life and take control of the situation. A whole home repipe can save you from the hassles of dealing with persistent plumbing issues and the potential damage they can cause to your home.
A Whole Home Repipe Can Improve Your Home's Safety, Efficiency, and Value.
Investing in a whole home repipe has numerous benefits that will make your life easier and improve the overall value of your property. For starters, better water pressure means you can finally enjoy those relaxing showers you've been missing out on. A new plumbing system also means reduced leaks, saving you from constant repairs and the threat of water damage.
Moreover, a repipe can increase your property value, making it more attractive to potential buyers if you ever decide to sell. With a modern and efficient plumbing system, your home will be safer, more comfortable, and a better investment for the future. Trust New Era Plumbing & HVAC to deliver the high-quality repipe services you need for a worry-free home experience.
Why Choose New Era Plumbing & HVAC for Your Whole Home Repipe Project?
When it comes to something as important as a whole home repipe, you need a team you can trust. That's where New Era Plumbing & HVAC comes in. Our commitment to excellence and customer satisfaction sets us apart. Here's why we're the best choice for your repipe project:
Experienced technicians: Our team of skilled and knowledgeable technicians is dedicated to providing top-notch service and ensuring your repipe is done right the first time.
Quality materials: We use only the highest quality materials, so you can be confident in the longevity and performance of your new plumbing system.
Cutting-edge technology: Our commitment to staying updated on the latest advancements in plumbing ensures that we can offer the most efficient and effective solutions for your home.
Fair, Transparent Pricing for Whole Home Repipe Services
At New Era Plumbing & HVAC, we believe in providing our clients with the best value for their money. That's why we're committed to offering competitive and transparent pricing for our whole home repipe services. Here's what you can expect from us:
Upfront pricing: We'll provide you with a clear, detailed estimate before we start any work, so you know exactly what to expect.
No hidden fees: We're dedicated to being transparent with our pricing, which means no surprise costs or hidden fees when the job is done.
Competitive rates: Our commitment to offering fair pricing means you can trust that you're getting the best value for your investment in a whole home repipe.
Choose New Era Plumbing & HVAC for your repipe project, and enjoy the peace of mind that comes from working with a trusted, reliable team.
Top Tips for Maintaining Your Plumbing System After a Whole Home Repipe
After investing in a whole home repipe, it's essential to keep your new plumbing system in tip-top shape. Here are some maintenance tips to help you prolong the life of your new plumbing:
Regular inspections: Schedule routine plumbing inspections to catch any issues early and prevent costly repairs.
Be mindful of what goes down the drain: Avoid putting grease, food particles, and harsh chemicals down your drains to prevent clogs and damage to your pipes.
Install a water softener: Hard water can cause mineral buildup in your pipes, which can lead to decreased water pressure and eventually, pipe damage. A water softener can help prevent these issues.
How to Choose the Best Plumbing Contractor for Your Whole Home Repipe Project
Finding the right plumbing contractor for your whole home repipe project is crucial. Here are some tips to help you choose the best contractor for the job:
Check for licensing and insurance: Make sure the contractor is properly licensed and insured to perform whole home repipes in your area.
Read reviews and ask for references: Look for reviews online and ask for references from previous clients to ensure the contractor has a history of successful repipe projects.
Get multiple quotes: Obtain quotes from several contractors to compare pricing and services, but remember that the cheapest option may not always be the best one.
By following these tips, you can find the perfect plumbing contractor to handle your whole home repipe project with confidence and expertise. Trust New Era Plumbing & HVAC to get the job done right, and enjoy the benefits of a reliable, efficient plumbing system for years to come.
Trust New Era Plumbing & HVAC to Transform Your Home with Expert Whole Home Repipe Services
With over 15 years of experience, New Era Plumbing & HVAC has the expertise and dedication to provide superior whole home repipe services to our valued clients. We're committed to the communities we serve and go above and beyond to ensure your home's plumbing system is efficient, safe, and long-lasting. Ready to transform your home? Give us a call at (978) 593-2294 to schedule a consultation and let our skilled technicians help you with all your repiping needs.
Whole Home Repipe Questions Answered: Get the Information You Need