Hudson AC Installation & Replacement
New Era is Hudson's preferred AC installation company, serving the community for over 15 years.
Hudson's Top-rated Air Conditioning Installation Service
As the premier air conditioning installation company in Hudson, MA, New Era brings a depth of knowledge and skill to every air conditioning installation. We offer a full range of AC installation services, from AC installation of ductless mini splits to AC unit replacement, ensuring comfort and energy efficiency for all our clients.
Understanding that a reliable AC system is vital to maintaining a comfortable home or office environment, New Era takes great care in every new AC installation for our Hudson friends and neighbors. Our experience extends to AC thermostat installation, essential for precise temperature control and optimal energy use.
When it comes to AC filter replacement, our work demonstrates our commitment to your air quality and system longevity. Our air conditioner installers stand ready to provide an outstanding air conditioning installation service that's trusted by the Hudson community.
See for yourself why Hudson home and business owners alike call New Era their neighborly AC installation company. Our air conditioning installation pros embody professionalism, care, and reliability in every interaction. With every AC installation we do, we are here to ensure your comfort, understanding the importance of a well-functioning, efficient AC system.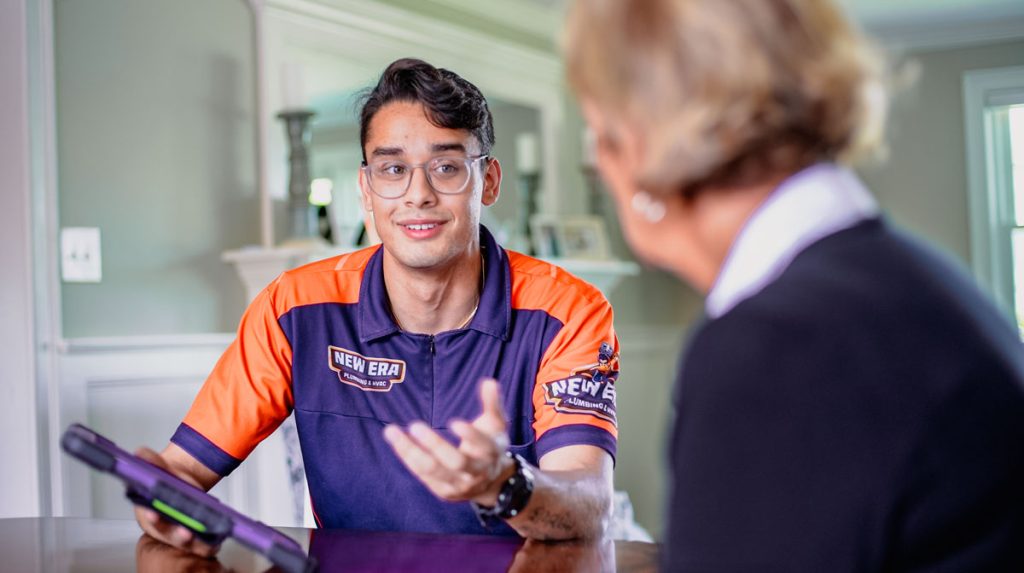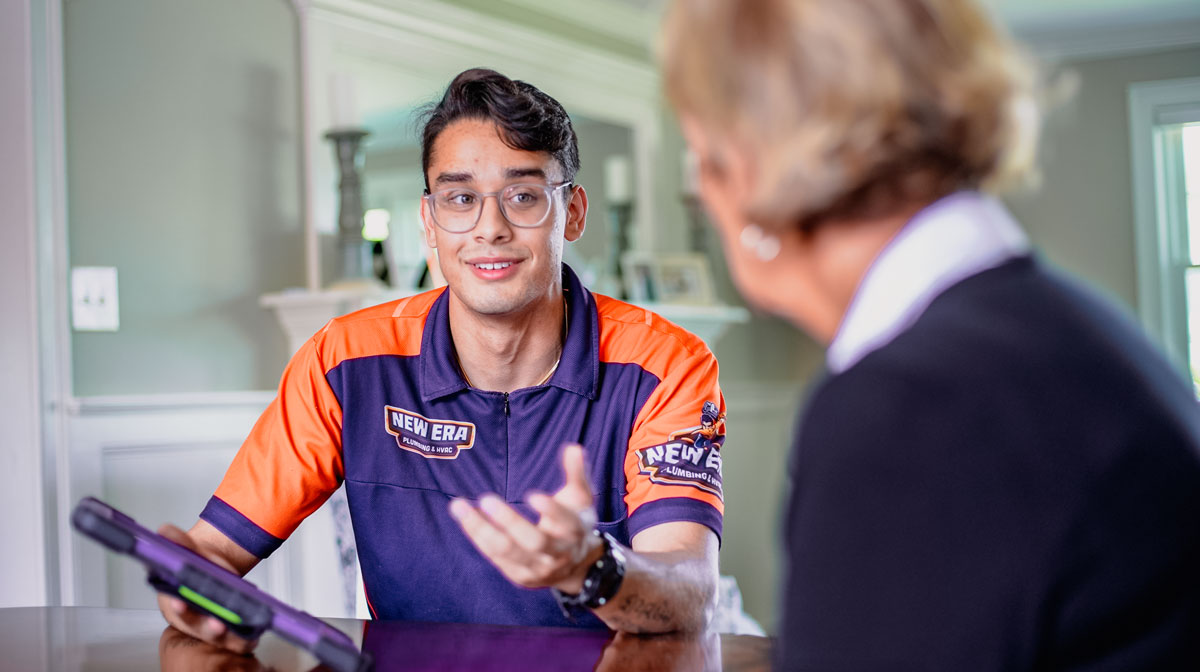 Free replacement estimate
Free Tune-Up with Any Heating Repair $129 tune up fee will apply if no repairs are needed.
Hudson Air Conditioning Installation: FAQ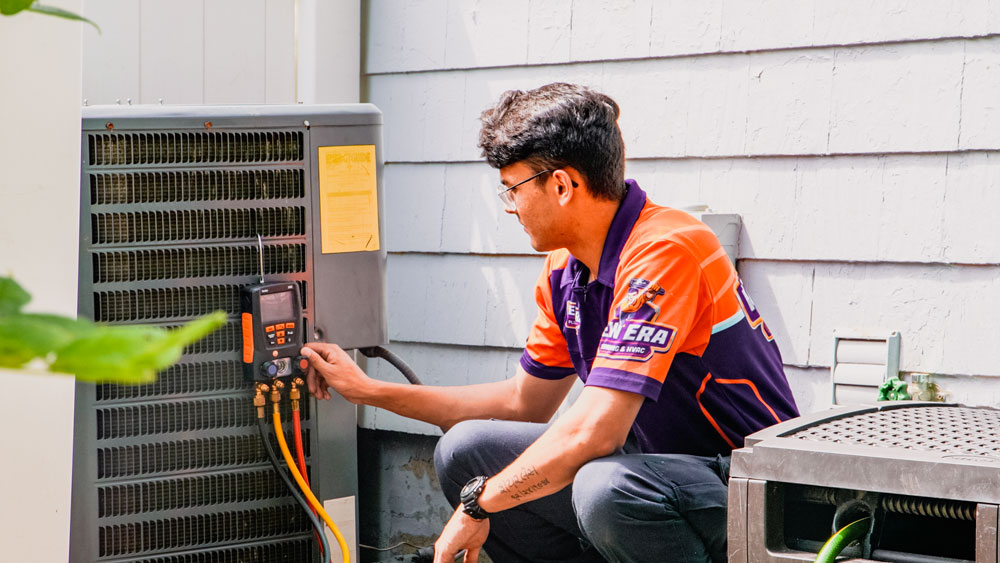 Professional Air Conditioning Installation
When you choose New Era for your air conditioning installation, you're choosing a service that prioritizes meticulous care and high-quality results. Our process starts with a detailed assessment of your space and cooling needs, laying the foundation for a seamless new air conditioning installation.
Each air conditioning installation is handled with the utmost precision. We work with high-quality, eco-friendly equipment, from central air systems to ductless mini split AC installation, ensuring energy-efficient performance and longevity. We adhere to a well-structured approach, aimed at minimizing disruption and maximizing your comfort.
Experience a difference with New Era's air conditioning installation service, marked by a steadfast commitment to excellence and a neighborly approach. Trust us to deliver not just a service, but a cool, comfortable environment that you can rely on, season after season.
Efficient Air Conditioner Replacement
Navigating the decision to replace an outdated or frequently malfunctioning AC system can be daunting, but New Era is here to guide you. An efficient AC replacement can enhance your comfort, reduce energy costs, and prevent those unexpected breakdowns that disrupt your peace of mind.
Our wide array of energy-efficient and cost-effective air conditioner replacements guarantees a match for every need and budget. From compact mini-split systems to high-capacity central air units, we have it all.
At New Era, we make the transition to a new AC unit installation smooth and hassle-free. Our skilled professionals diligently handle each AC unit replacement, ensuring a flawless installation and setup. With New Era, you're not just replacing your AC system, you're investing in a cooler, more comfortable future.
Navigating the local climate's unique challenges, New Era stands as a beacon of reliable and efficient AC services in Hudson, MA. Our distinct edge lies in our tailored approach to air conditioning installation, where we meticulously align our solutions to meet your specific cooling needs.
We stand apart from other air conditioning companies by our commitment to customer satisfaction, a fact reflected in our excellent reviews. We consider every positive feedback as a testament to our dedication and a nudge to raise the bar even higher.
Whether it's a new air conditioning installation, an AC replacement, or a precise AC thermostat installation, our services are designed with your utmost comfort in mind. At New Era, we don't just sell services, we provide a cool, comfortable experience that stands the test of time.
Experts in Commercial & Residential Air Conditioning Installation
Each air conditioning project holds its unique demands – a truth New Era understands profoundly. And we know what an important factor AC can be when it comes to keeping your Hudson business running smoothly. Our offerings span across commercial AC installations are honed to suit the requirements of each sector, and there's no job too big for New Era's team of AC installation pros.
Commercial installations often entail larger units and complex ductwork to meet higher cooling demands, while residential setups require a more discreet and aesthetic approach. Irrespective, each new air conditioning installation we undertake is bespoke, designed around our customer's individual needs.
It's not just the AC installation we focus on. We will be there for the upkeep, too. We ensure your comfort through our efficient AC replacement services for your Hudson business. Trust New Era to treat every cooling need with the tailored solution it deserves.
Trust Us to Handle Your AC Installation & Replacement Needs
With New Era, your comfort is never a compromise. Our reputation in Hudson, Massachusetts, stands on the bedrock of quality air conditioning services, be it a fresh unit setup or an efficient AC replacement. As your neighborly AC installation company, we understand the nuances of Hudson's climate and offer solutions that make you feel at home, every season.
Our services are not just about the now. We are always looking forward into the future for our clients, too. Your new AC installation will stand the test of time, offering reliable cooling and cost savings. So, if you're ready to enhance your living space with an optimal cooling solution, New Era is just a call away. Experience the New Era advantage today!
Identifying when it is time to call an AC professional is vital to ensure the air quality of your home remains healthy. Don't hesitate to schedule an appointment with us as soon as you identify the first signs of a potential need for AC replacement.
Why Choose New Era Plumbing & HVAC?
What are the top reasons homeowners trust our drain cleaning professionals in Hudson, MA, and surrounding areas?
We are licensed plumbers who are bonded and insured.
We are local, friendly experts.
We are honest and dependable.
We guarantee competitive, upfront pricing.
We offer emergency drain cleaning service when you need us.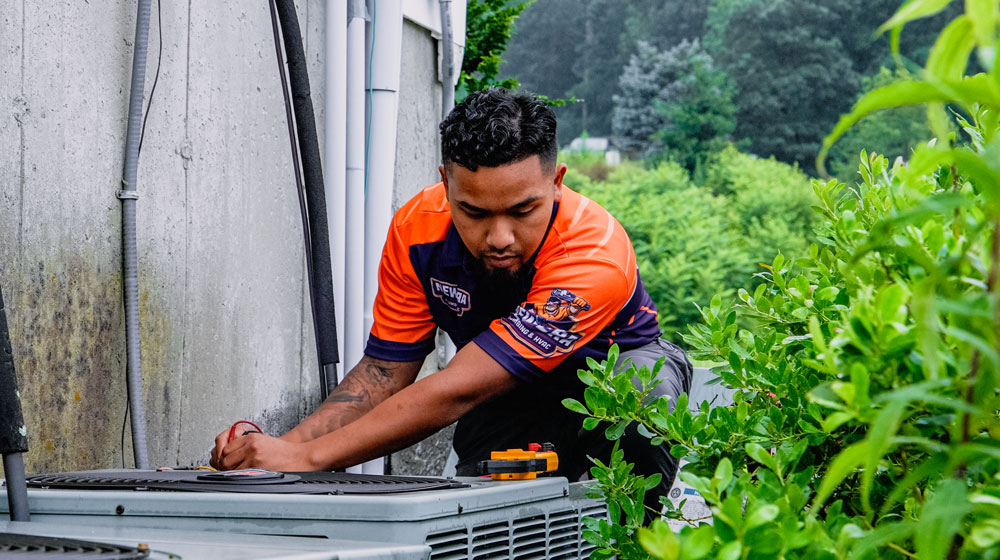 Other services in Hudson, MA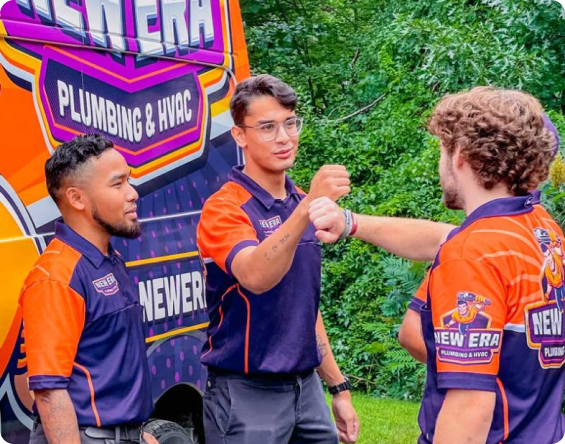 Rely on your trusted AC services provider in Hudson today!
Don't let an inefficient AC unit ruin your comfort, we are the quick and efficient AC service provider in Hudson, MA and the surrounding areas.
Acton
Amesbury
Andover
Burlington
Chelmsford
Concord
Georgetown
Haverhill
Lawrence
Pelham
Rowley
Salem
Tyngsborough
Westford
Windham