Expert AC Repair in Groton, MA
New Era brings you professional, friendly air conditioning repair services for a comfortable home!
Trustworthy Air Conditioning Repair Contractors in Groton, MA
When it comes to air conditioning repair, New Era has your back! From the friendly voice on the phone to our skilled technicians knocking on your door, we're all about delivering customer satisfaction and professionalism with a big smile.
With over 15 years of experience serving the Groton community, we care just as much about being approachable and down-to-earth as we do about providing quality air conditioner repair. With a deep understanding of how HVAC systems work, our team can tackle any cooling issue, and are on hand 24/7, because your comfort is our top priority.
Whether it's ductless mini-split repair or problems with your central air, trust New Era to keep you cool and comfortable all summer long. We're here to make AC repair a breeze!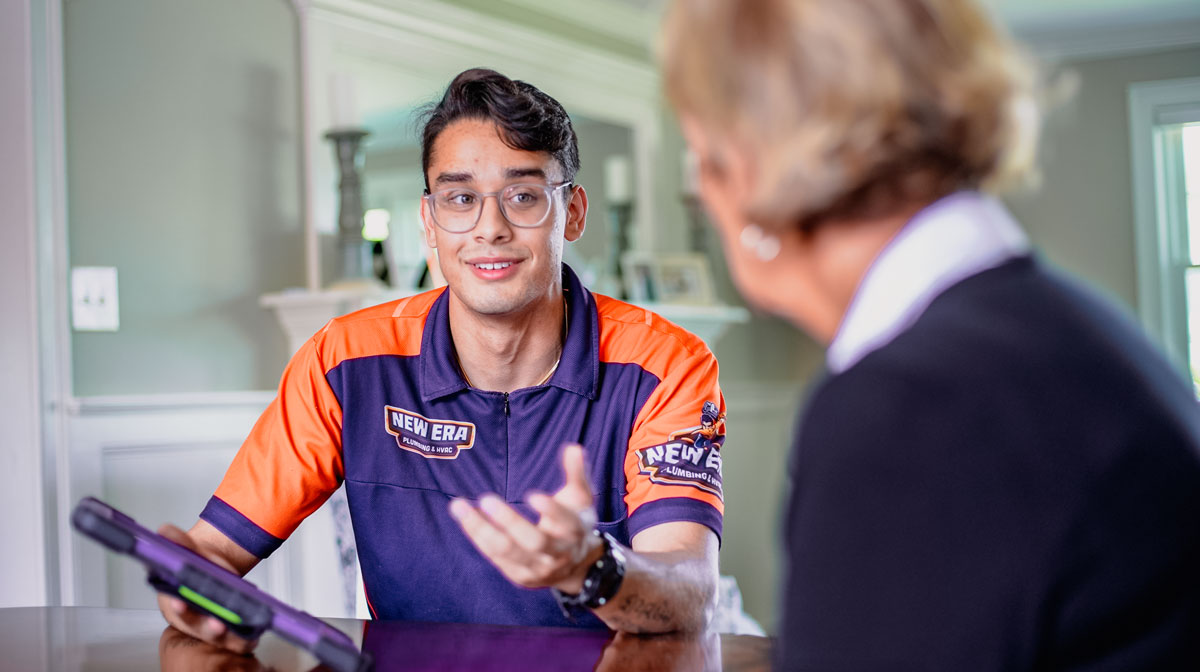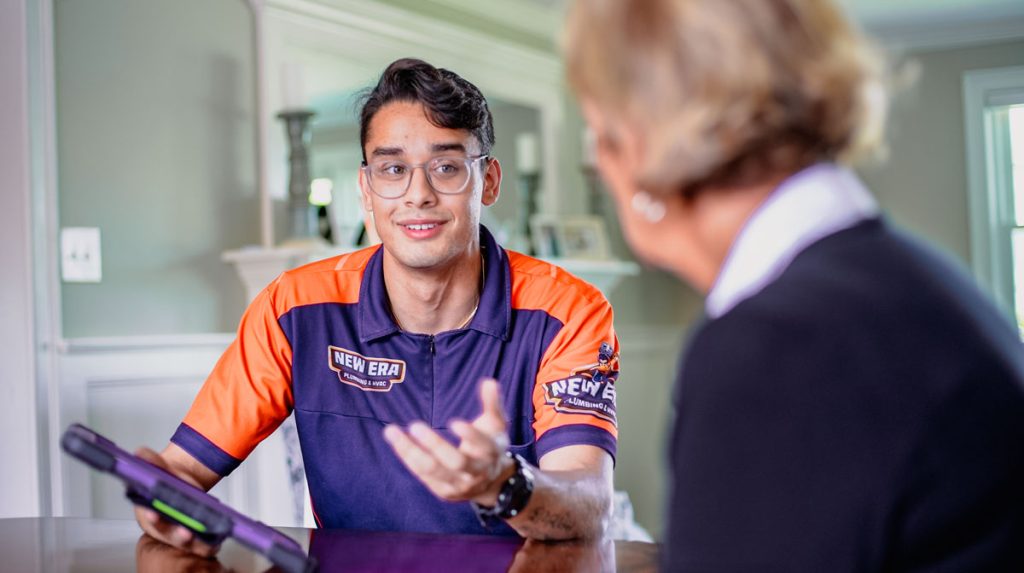 Free replacement estimate
Free Tune-Up with Any Heating Repair $129 tune up fee will apply if no repairs are needed.
Air Conditioning Repair in Groton FAQs
Our Air Conditioning Repair Services
We're all about providing high-quality AC repair services in Groton. From troubleshooting central air systems and getting ductless mini-split units back in shape, we've got you covered, no matter what. Here's what you can expect from us:
We've got extensive solutions for air conditioner repair, covering all kinds of brands and models.

Our services are lightning-fast and super efficient, we've got over 600 five-star reviews to prove it!

Our team is experienced and highly trained, ready to tackle any AC challenge and get your comfort levels back on track.
So, remember, when you're sweating it out because of a stubborn AC unit, the team at New Era is standing by to help!
AC Repair and Diagnostics in Groton
We're all about using the latest and greatest equipment and diagnostic techniques to tackle AC issues. Our team of skilled technicians can quickly sniff out underlying problems, saving you a boatload of time and cash in the long run. Here are some common reasons why you might need us to come for AC repair:
Dirty or Clogged Air Filters. When your air filters get clogged with dirt, they reduce airflow, which means your AC won't be running at peak efficiency. Neglecting to clean or swap out filters can lead to some major headaches down the line. Before you know it, you might be caught with Issues such as premature breakdowns or poor air quality, which can lead to coughing and sneezing, difficulty breathing, recurring headaches, nausea, and in severe cases, lung disease.
Low Refrigerant. Refrigerant is the lifeblood of your AC unit. It's what turns hot air from outside into the cool breeze you enjoy inside. If your AC isn't cooling your air properly, it might be running low on refrigerant. That can happen due to leaks or simply the refrigerant running out. But fear not! Our technicians will swoop in, run their diagnostics, and get that refrigerant topped up in no time.
Frozen Evaporator Coils. Your unit's evaporator coils contain refrigerant that absorbs heat from the air. But when those coils freeze up, trouble starts brewing. It's usually caused by low refrigerant levels or clogged ducts. If you ignore the problem, that ice buildup can wreak havoc on your unit and affect its efficiency.
Fan Problems. Your AC unit has two fans — one on the inside, blowing cool air into your home, and one on the outside, expelling hot air. But if either of those fans decides to stop working, things can go south real quick. Overheating, lackluster cooling, and even compressor failure can become your new headaches. If your AC fan is acting up. it could be a faulty motor, worn-out belts, or just too much dirt and debris. Lucky for you, New Era has the skills to sort it out.
Thermostat Malfunctions. The thermostat is the mastermind behind your AC's every move. It's the one that decides when to cool things down and when to give your AC unit a breather. Loose wiring, old batteries, or bad calibration can mess with its performance, and that means your AC won't be performing at its A-game. But don't worry, our air conditioning repair team in Groton is here to take care of those electrical hiccups and get things back on track.
Drain Back-ups. Your air conditioner's drain line is there to help with condensation; sometimes, it can get clogged up. Mold, dirt, and icy buildups are the typical culprits. Blocked drains lead to standing water, which can damage your air conditioner's internal components and make the air inside your home humid.
Signs You Need Air Conditioner Repair
Is your air conditioner acting like it's got a mind of its own, or perhaps it's just not keeping the summer heat at bay like it used to? Then it might be time to give it some much-needed attention from our team of air conditioner repair pros in Groton. Here's a list of some tell-tale signs that may suggest it's time for an air conditioner repair:
Inconsistent Temperatures.

If your house feels like a rollercoaster of temperatures — icy in one room and steamy in another — it's a clear sign that something's off with your AC. This is often caused by a broken thermostat, or clogged filters or ducts.

Strange Noises. Your air conditioner is meant to be a smooth, quiet operator. But if it's making noises such as squealing, grinding, or clattering, it's definitely time to bring in the experts.
Odd Smells. Funky odors coming from your AC? That's never a good sign. A burning smell could spell trouble in the electrical department, while a musty stench might mean mold's making itself right at home.
High Energy Bills. If your energy bills are skyrocketing, you've got an efficiency issue on your hands. This can be due to a number of things, so your best bet is to call a professional to get it back in shape.
Low Airflow. When your AC isn't blowing air as strongly as it should, it's time to investigate. Blockages in the ductwork, a motor that's seen better days, or a cranky compressor could be the culprits. 
Moisture Buildup. If you're spotting pools of water or leaks around your AC, that's a red flag. It could mean there's a refrigerant leak, which is bad news for both your health and the environment. Time to take action!
Frequent Cycling.

Your AC should have a nice rhythm, cycling on and off to keep things cool and comfy. But if it's cycling more often than usual, it's a clear sign that it's time to call the team at New Era.

Your AC Unit's Age. If your air conditioner is older than 10 years and causing frequent problems, it might be telling you it's time to retire. Regular issues mean it's on its last legs. Our team of air conditioner repair pros in Groton will help you determine whether it can survive with just a fix, or if it's time for an upgrade.
Call Us Today for The Most Reliable AC Repair Services in Groton!
Get Reliable AC Repair From New Era Plumbing & HVAC
Your air conditioner is a necessity when the summer heat hits. At New Era, we're all about keeping your home cool and cozy, and your system energy-efficient. We're not just here for quick fixes; we're here to provide air conditioning repair solutions that keep your system running reliably and your bills in check.
No need to break a sweat when your AC decides to act up; our team is on standby 24/7, ready to save the day with emergency AC repair in Groton. We're your friendly neighbors who come to the rescue, making sure your cooling system is up and running in no time.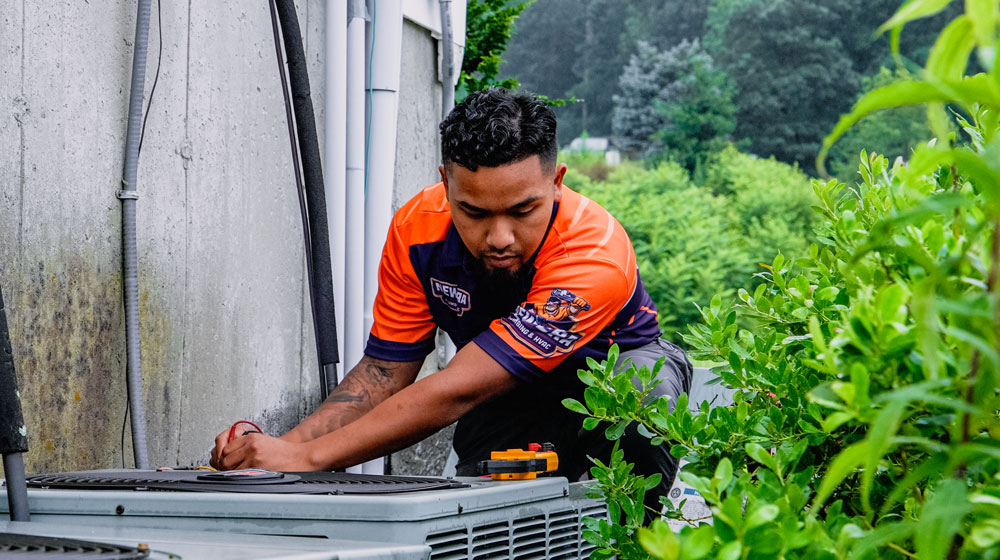 Other services in Groton, MA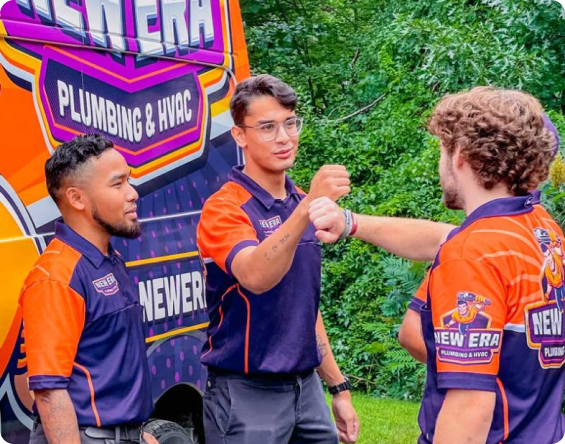 The Best AC Repair Near Groton
Tired of battling with a temperamental AC? We offer quick and easy repair solutions if you're in Groton, MA, or the surrounding communities.
Let us give you a helping hand! Reach out to New Era to get a quote today and get your comfort back on track.
Acton
Amesbury
Andover
Burlington
Chelmsford
Concord
Georgetown
Haverhill
Lawrence
Pelham
Rowley
Salem
Tyngsborough
Westford
Windham